Optoma was in a good mood, especially when they found we were aware of the recent press release that highlighted its new UHD projectors which are being offered at surprisingly affordable prices – a development that we believe is enabled by TI's resolution doubling technology and an apparent decision to enable better pricing for UHD.
The UHZ650 is a laser-phosphor-based version of a previous chassis that will launch in the fall and is likely to be available at around $5,000. Features include better than Rec. 709 colour support with 81% of Rec 2020 now, and 83% coming.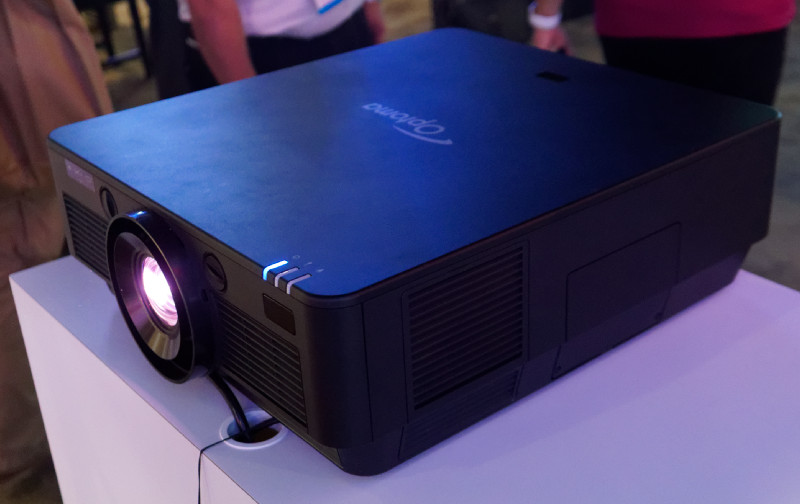 In July there will be a new lamp-based UHD DLP projector that will offer 4,500 Ansi lumens of output and will have good features for installation including motorised lens shift and zoom (with a zoom ratio from 1.2 to 2.3+. This will be very competitive for retail and other applications that might be considering a 2 x 2 video wall, for example. It should cost $6,999.
The ZU850 has been out for a while and is for the Pro AV market. Optoma is adding a 'periscope' lens with 0.36 throw ratio and which should be available in Q3 for somewhere around $10,000. The company was very positive about the applications for UST lenses in A/V and rental/staging in applications such as house of worship, where a display can be hidden close to the screen and not need to be visible. The same kind of configuration can be used in staging.
The company was showing a display of four ZH400 FullHD L/P projectors (which was released in March and shown at ISE (DuraCore from Optoma Offers 5 Year/30K Hour Warranty) which were being blended to produce a single display, using Optoma's GB200+ blending and warping box. The image was shown on roll-based touch projection screen that was being used in a 23′ (7 m) wide configuration. The material is available in a range of sizes and uses PCap touch technology. At the moment the product is not yet shipping, so final pricing has not been set. Estimates were 'around $1,500 for a 100″ area'.
Optoma used multi projectors with a R2R PCT touch screen. Image:Meko
On the booth, Optoma was working with Global Imagination which has developed a rear projection sphere display that uses an Optoma projector and a special fisheye lens to create a sphere of anything from 60″ (1.5m) to 72″ (1.8m) diameter. Global (check CES) said that the big boost in VR and 360 deg content was meaning that it has seen a big boost in enquiries and its installations are now seen by around 40 million people per year around the world. The company can add touch if it is needed.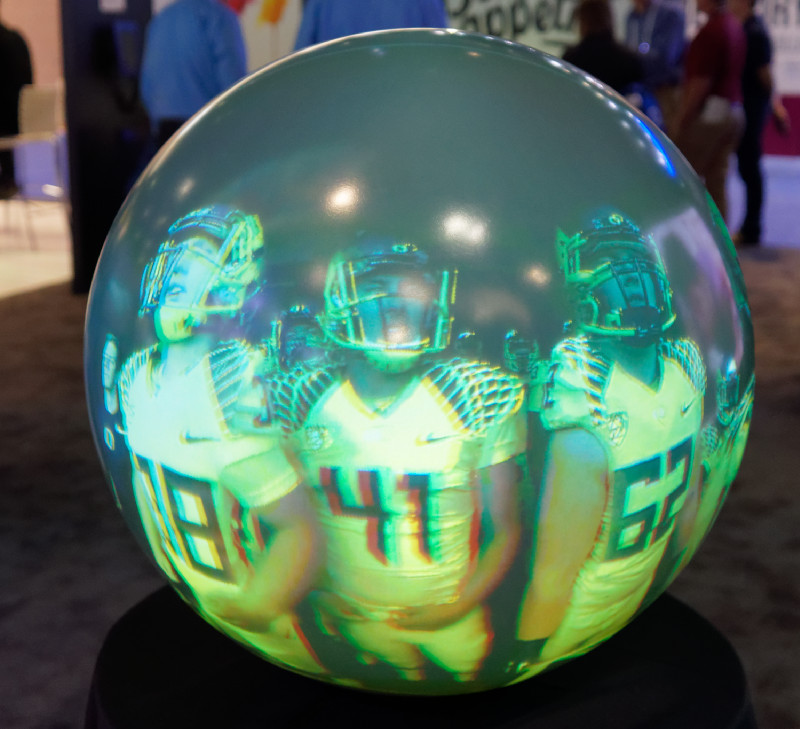 Optoma showed this sphere which is illuminated with a fisheye lens. Image:Meko
We have previously reported on the app developed for 'Le Petit Chef' in Dubai and which uses projection mapping to create images of a small animated chef on the plates of diners, using projectors mounted in the ceiling. (Le Petit Chef Keeps Diners Entertained) It's easy to see how this kind of application could really add to the experience of dining out, especially for families, in restaurants.

This Petit chef mapping project shows little characters that walk around the plates and interact with objects on the table. Image:Meko
Later this year, Optoma will launch a new projection mapping app.