Optoma, a division of Coretronic (see separate article) introduced five new projectors at ISE. They were:
The new flagship ProScene model ZU850,
A professional 4K UHD projector – the 4K500,
The new ProScene ZH400UST ultra short throw laser projector,
The new 4K UHD UHD60 home cinema projector and
The new GT1080Darbee short throw gaming projector
The ZU850 is the only projector that is available now and has its specifications on the Optoma website. It is a professional installation projector with WUXGA (1920 x 1200) resolution that uses a 0.67" DMD. It has 8,000 ANSI lumens, 2,000:1 native contrast (2,000,000:1 dynamic). The light source is MCL technology (Multi Colour Laser), which Optoma's parent company Coretronic calls MCLA (Multi-Color Light Architecture). This system uses red and blue lasers and derives its green light from a blue laser and green phosphor. (Upcoming Projector Technology from Coretronic) Optoma says the ZU850 has a 30,000 hour lifetime. The projector has what Optoma calls Dura-Core, which is a combination of Coretronic's sealed light engine technology that provides IP5X or IP6X protection against dust plus the very long life Coretronic MCL system. The ZU850 is specified for a 30,000 hour lifetime. Five different throw ratio zoom lenses are available that provide throw ratios from 0.75:1 – 5.5:1. Optoma provides a 5 year or 30,000 hour light source warranty (whichever comes first) and a 3-year Optoma Express advance exchange warranty on the projector.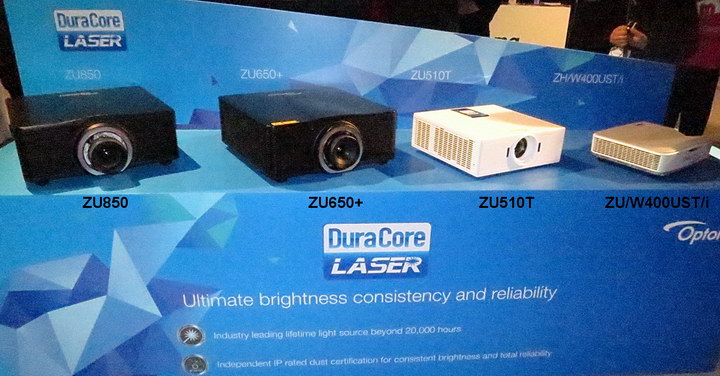 Optoma DuraCore Laser projectors at ISE
The 4K500 projector is a 4K UHD (3860 x 2140) single panel DLP projector that uses pixel-shift to achieve the full UHD resolution. Not much information was available on this projector although it is said to have 4000 lumens output.
Like the 4K500, not much is known about the ZH400UST projector. It is a DuraCore design so it will have blue and red lasers plus green phosphors and a sealed single panel DLP light engine. It has 1080p resolution and is said to have 4000 ANSI Lumens. It is expected to sell for €4399 next month. At ISE, it was shown in Optoma's "Retail Zone" where 4 ZH400UST projectors were edge blended into two large images intending to show a possible retail application.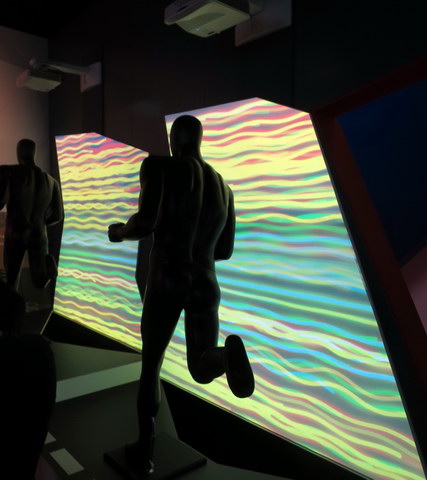 At ISE, a pair of Optoma ZH400UST projectors demonstrate how they can produce a typical retail digital signage image.
A pre-production version of the UHD60 home cinema projector was shown earlier this year at CES with a US target price of $2,799. This was said to be the first UHD home cinema projector selling for under $3000. The UHD60 will be available in Q2 2017. Full specs on the UHD60 have not been released but its lumen output is believed to be in the 2500 – 3000 range.

Optoma UHD60 projector and the image it produced at ISE
The GT1080Darbee home cinema and gaming lamp-based projector was also shown earlier at CES. It will be available in Q2 for $699. The projector is a short throw single chip DLP projector designed to be the successor to the GT1080e. It offers 1080p resolution (1920 x 1080), Rec. 709 colorimetry, dual HDMI ports, 3,000 lumens output and a 25,000:1 contrast ratio. The Optoma GT1080Darbee features a new Enhanced Gaming Mode with a 16ms response time while the integrated DARBEE Visual Presence image enhancement technology is said to bring revolutionary levels of depth and realism to the images.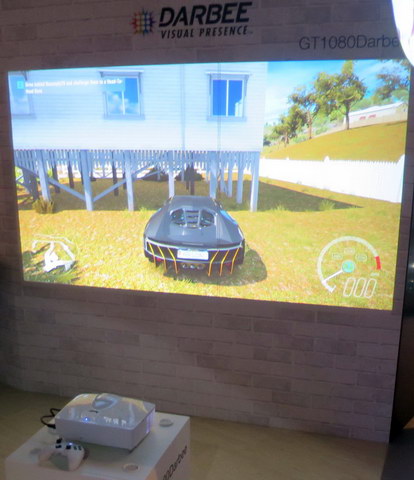 Optoma GT1080Darbee gaming & home cinema projector at ISE
Another application of Optoma projectors in the retail zone was the use of an Optoma microprojector to illuminate the company's NuForce range of earphones. The projector was programmed to selectively illuminate the earphones in order to call attention to them in a retail POS application. –Matthew Brennesholtz
Optoma Projector illuminates one set of NuForce earphones in a retail environment.