LG Electronics USA introduced a luxurious 118-inch LG Magnit 4K MicroLED residential display at the 2023 CEDIA Expo, targeting the high-end home theater and digital art market. The monster is priced at $237,000 and is positioned between LG's larger 136-inch Magnit MicroLED display and its award-winning 97-inch LG Signature OLED M wireless TV.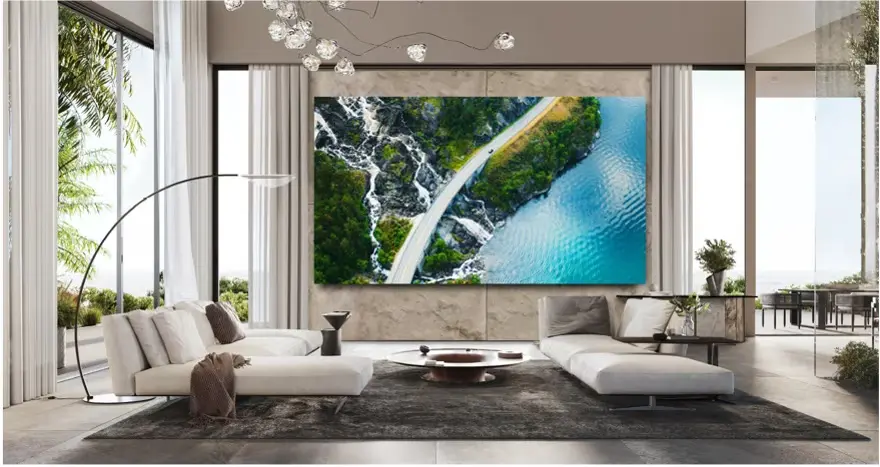 The new display boasts features including a 0.6 mm pixel pitch and 4K resolution. Using robust chip-on-board LED technology combined with AI-enhanced processing through the webOS smart TV software, the LG Magnit has 8 million-plus MicroLED pixels, each roughly the width of a human hair. Enhanced high dynamic range capabilities provide greater shadow detail, and LG's Alpha 9 processor offers noise reduction, color saturation, and contrast optimization based on environmental conditions.
The 120-Hz display delivers a brightness of 250 nits. It also comes with two 50-watt integrated speakers, and it supports WiSA connectivity, giving compatibility with high-fidelity wireless speakers such as the Bang & Olufsen Beolab 50 speakers.
For home theater integrators, the display's two-cabinet design simplifies the installation process, significantly reducing setup time compared to other modular LED displays. Only specially certified LG Magnit integrators will handle the installation.
In addition to the 118-inch Magnit, LG showcased other products at the CEDIA Expo 2023, including its 97-inch LG Signature OLED M wireless TV, which offers a groundbreaking wireless connectivity solution for real-time video and audio transmission up to 4K 120Hz.
| Feature/Specification | Details/Description |
| --- | --- |
| Display Type | MicroLED |
| Price | $237,000 |
| Size | 118-inch (approximately 9.8 feet diagonally) |
| Technology | DVLED (direct-view light-emitting diode) |
| Pixel Count | Over 8 million Micro LED pixels |
| High Dynamic Range (HDR) Compatibility | HDR10 and HDR10 Pro |
| Processor | LG's Alpha 9 with AI deep learning |
| Special Features | Ambient light sensor, AirPlay 2 and Miracast technology, Art Gallery and My Digital Picture Frame, webOS™ 23 interface, pre-loaded apps |
| Refresh Rate | 120-Hz |
| Brightness | 250 nits |
| Sound | Integrated 50-watt speakers |
| Mounting Options | Stand or Wall mount |
| Connectivity | WiSA, AirPlay 2, Miracast, 4 HDMI in ports, digital audio out, 2 USB in, RS232C port, LAN input |
| Bundled Offers | Collaboration with Bang & Olufsen: Beolab 90 home speaker for the 136-inch 4K display sold through Bang & Olufsen stores |