In case you missed it (…and anyone on-line at 12:15 AM PST last Friday did) the pre-order party for Apple's newest iPhone X with 5.85-inch full edge-to-edge AMOLED screen sold out in the first quarter-hour of availability.

Popularity of the generation 10 iPhone was never really in doubt since the September announcement that included a new IR-based face recognition system (and chip) with a focus on augmented reality (AR). News of the pre-order response drove the Apple stock price to new heights, but there are still nagging concerns over effects on the long term AMOLED panel supply on the iPhone X and the state of the overall OLED smartphone display market.
For starters, Samsung is said to be the supplier of a whopping 97% of all global AMOLED panels, according to Display Supply Chain Consultants (DSCC) the market research firm headed by display industry veterans Ross Young, Bob O'Brien and Yoshi Tamura. Their post-announcement blog was spot on with panel source news that included Samsung as the source not only of the display but also the touch panel and new cover glass lamination process touted by Apple. They also reported force touch panel maker TPK's contribution and reckon the display full package (touch panel and cover glass) cost in the $120 range, and significantly contributing to the whopping +$1,000 retail price tag.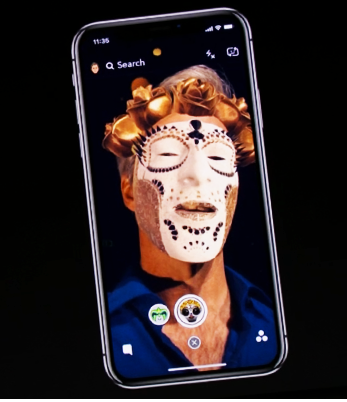 New IR based face recognition system in iPhone XIt is the quick 15 minute sell-off of a not yet known number of iPhone X devices that still has some analysts scratching their heads. While the total inventory was not reported by Apple, component supply side numbers from DSCC indicate a very slow ramp of 1 million AMOLED panels beginning in July, possibly due to difficulty in major component integration. That total grew to 5M in August, according to the group and hit 13M in September. Total Q4 production of Apple iPhone X AMOLED panels is slated at 50M.
Current iPhone specs with new X model first to offer AMOLED screen, Source: DSCCAt present, Samsung is the only AMOLED supply game in town, and Apple knows it. According to the South China Post Cupertino, CA based Apple cut a $9B deal with the Korean panel maker for production and supply of the OLED displays. Long-term, Apple is hedging its bets with a Bloomberg report as early as February 2017 that BOE is ramping a Gen 6 AMOLED panel plant to supply Apple display panels beyond the 2018 time frame, as Chinese companies play catch-up with Samsung's AMOLED processing.
Keep in mind that the iPhone X is the first Apple smartphone to ship with an OLED panel. In 2016, most of the 264M units (about 72%) went to Samsung with Guangdong, China-based Oppo and Vivo smartphone makers splitting 22% of that display component market evenly. The other six percent of AMOLED smartphone panels went to Huawei (2%) and remaining brands according to DSCC.
So fanboy's coast-to-coast are now being told to wait their turn in the queue, for the hottest technology to ship from Apple in years; its new AMOLED screen wireless charging, improved camera and battery all serve to whet the appetite of Apple enthusiasts (yes me too) worldwide. The company is on track for another stellar run up of stock price / market value and perhaps even ushering in a new augmented reality era empowered by a device you fit into the palm of your hand–all over again. –Stephen Sechrist
Analyst Comment
Japanese sources have suggested that Apple will only be able to supply around 20 million handsets in 2017 – there have been issues in assembling the cameras and facial recognition, it seems. There is a significant gap, therefore, between the number of panels and the number of phones. (BR)
Apple Tours the World in Support of AR
iPhone X Available for Pre-order from Friday
IHS Predicts Global AMOLED Production Will Quadruple by 2022
Global AMOLED Panel Production Capacity Set to More Than Quadruple Over Next Five Years, IHS Markit Says
Apple Investigating Swollen Battery Issue on iPhone 8 Plus
Foxconnto Ship 2-3 Million iPhone X Handsets Ahead of Release
First Shipment of iPhone X Leaves Foxconn Factories
Nikkei Sees Apple as the Next Semiconductor Superpower
iPhone X Production Plagued by 3D Camera Sensor Delays
Teardown Reveals That iPhone 8 Plus Costs $295.44 to Make
Apple Supply Delay Not Because of OLED Supply
IHS Markit Teardown Reveals What Higher Apple iPhone 8 Plus Cost Actually Buys