As organic light-emitting diode (OLED) displays are used in more smartphones and high-end flat panel TVs, panel makers have boosted their investments in new OLED display fab construction.
As a result, the global production capacity of AMOLED panels — including both red-green-blue (RGB) OLED and white OLED (WOLED) — is forecast to surge 320 percent from 11.9 million square meters in 2017 to 50.1 million square meters in 2022, according to new analysis from IHS Markit (Nasdaq: INFO), a world leader in critical information, analytics and solutions.
The production capacity of RGB OLED panels will increase from 8.9 million square meters in 2017 to 31.9 million square meters in 2022 while that of WOLED panels is set to grow from 3.0 million square meters in 2017 to 18.2 million square meters in 2022, says the latest Display Supply Demand & Equipment Tracker by IHS Markit.
The two market leaders — Samsung Display and LG Display — have taken different paths: Samsung is focusing on RGB OLED panels for mobile devices, and LG on WOLED displays for TVs. To cope with the trend of RGB OLED replacing the liquid crystal display (LCD) in smartphones and other mobile devices, especially for the full-screen and flexible feature of OLED panels, LG Display has started to manufacture RGB OLED panels in 2017. Meanwhile, Chinese panel makers, including BOE, ChinaStar, Tianma, Visionox, EverDisplay, Truly and Royole, are all expanding the production capacity of RGB OLED panels, targeting the mobile market.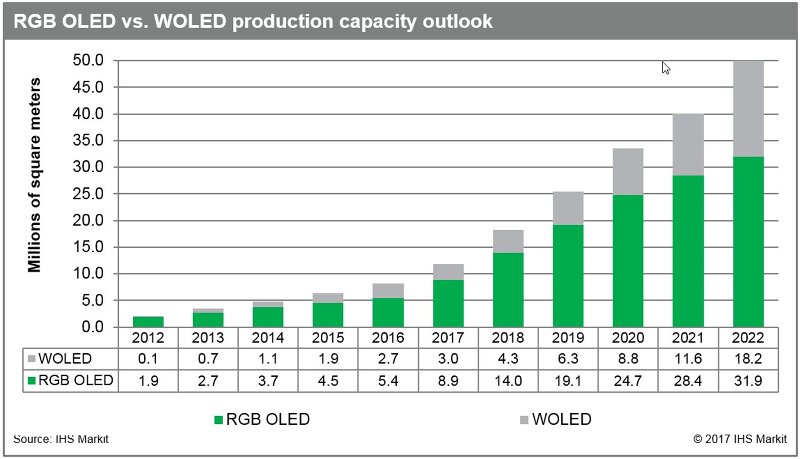 "It takes more than $11.5 billion to build a Gen 6 flexible OLED factory with a capacity of 90,000 substrate sheets per month, and this is a much larger investment required than building a Gen 10.5 TFT LCD fab with the same capacity," said David Hsieh, senior director at IHS Markit. "The learning curve costs for the mass production of flexible OLED panels are also high. The financial and technological risks associated with the AMOLED panels have hampered Japanese and Taiwanese makers from entering the market aggressively," Hsieh said. "In other words, the capacity expansion of AMOLED display, whether it is RGB OLED or WOLED, is only apparent in China and South Korea."
Samsung Display will remain the dominant supplier of the RGB OLED panels for smartphones. Its RGB OLED panel capacity will grow from 7.7 million square meters in 2017 to 16.6 million square meters in 2022, IHS Markit says. Even though many Chinese panel makers are building RGB OLED fabs, each of their production capacity is much smaller than that of Samsung Display. Due to the gap in their production capacities, they will target different customers: Samsung Display will mainly focus on two major customers — Samsung Electronics (the Galaxy) and Apple (the iPhone), while Chinese makers will be targeting at Chinese smartphone makers at a smaller scale. These include Huawei, Xiaomi, Vivo, Oppo, Meizu, Lenovo and ZTE, and white box makers.
South Korea's panel makers are estimated to account for 93 percent of the global AMOLED production capacity in 2017, and their share is expected to drop to 71 percent in 2022. Chinese players (BOE, ChinaStar, Tianma, Visionox, EverDisplay and Royole) will account for 26 percent in 2022 from 5 percent in 2017.
"Many interpret the strong expansion of RGB OLED capacity in China as a threat to South Korean makers. It is indeed a threat. However, while South Korean companies have high capacity fabs with high efficiencies, China's OLED fabs are relatively small and dispersed across multiple regions and companies," Hsieh said. "Also, while the Chinese makers could expand fabs with government subsidies, the operating performance will completely depend on the panel makers themselves. How long it will take until they could sustain the business, getting over the challenges with learning curve costs, initial low yield rates and capacity utilization, is still an open question."
The Display Supply Demand & Equipment Tracker by IHS Markit is a comprehensive guide to fab activity, capacity, utilization, supply/demand, capital spending, financial information and relevant news analysis for the entire FPD supply chain. With quarterly coverage of all industry participants and key analytical metrics, this report delivers the most current and complete view of both the supply and demand sides of the industry.
About IHS Markit

IHS Markit (Nasdaq: INFO) is a world leader in critical information, analytics and solutions for the major industries and markets that drive economies worldwide. The company delivers next-generation information, analytics and solutions to customers in business, finance and government, improving their operational efficiency and providing deep insights that lead to well-informed, confident decisions. IHS Markit has more than 50,000 key business and government customers, including 85 percent of the Fortune Global 500 and the world's leading financial institutions. Headquartered in London, IHS Markit is committed to sustainable, profitable growth. www.ihsmarkit.com