Amid rising concerns about the availability of LCD panels from Korean firms, television brands are revising their sourcing strategies to make greater use of Chinese suppliers, according to IHS Markit | Technology, now part of Informa Tech.
Korean LCD TV panel makers are undergoing fab restructuring and shutdowns in 2020. This event is likely to result in changes to the supply chain that will spur TV makers to seek alternative supply bases that are both reliable and competitive enough to ensure they meet their increased shipment targets in 2020, as reported by the TV Display & OEM Intelligence Service.
"With only a limited number of choices available for panel supply, TV makers are turning to Chinese companies to meet their display needs," said Deborah Yang, director of display supply chain at IHS Markit | Technology. "Intense competition among major Chinese suppliers and the arrival of new players is resulting in a sharp increase in the availability of panels from China."
The global top-three TV brands are set to increase their purchasing from Chinese suppliers to 62.6 million displays in 2020, an increase of 35 percent from 2019.
Chinese firms emerging as world-class LCD-TV panel suppliers
The competition between major Chinese suppliers BOE Technology and China Star Optoelectronics Technology is intensifying, particularly in the realm of LCD panel supplies from Gen 10.5 fabs. Meanwhile supply availability is improving at emerging Chinese panel makers such as HKC, Nanjing CEC-Panda LCD Technology and Xianyang Caihong Optoelectronics Technology (CHOT).
These developments will help promote sales to global TV brands like Samsung, LG Electronics and several Chinese firms.
Although panel supply still exceeds demand, top-tier TV brands are signing long-term supply agreements with both captive and selective external panel suppliers to ensure they get the highest priority business in 2020. Current supply dynamics and competitive changes have led the brands to rethink their purchasing plans for this year as well as the future.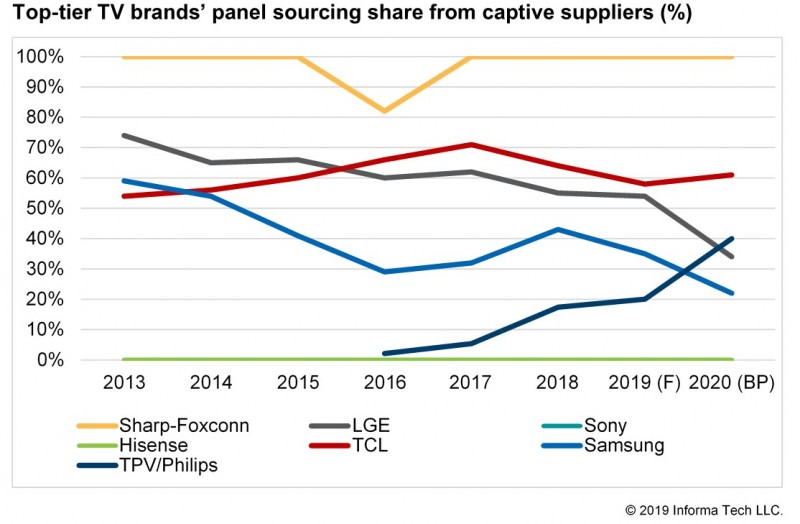 Get FIT
In-house support, both on the supply and demand sides, is becoming critical. As such, it is important for LCD panel suppliers and TV makers together to build a strong fully integrated TV (FIT) business model.
The strong supply push from panel makers and strong demand pull from TV brands together can streamline supply chain efficiency and drive cost efficiency.
However, if the supply chain node is weakened, it could burden the participants. Most leading TV makers have diversified panel sources, and they aim to gain stronger sourcing power to enhance their own competitiveness. However, they do not necessarily carry the responsibility of consuming excess panel supplies from captive suppliers.
"When the market becomes dominated by a few powerful players, TV makers and panel makers may face various dilemmas and risks as they attempt to hold on to bargaining power," Yang observed.
In 2020, Samsung's panel sourcing from its captive supplier, Samsung Display, will be further reduced. Samsung Display has plans to convert its LCD TV panel capacity to quantum dot displays. Additionally, the availability of Samsung Display's LCD-TV panels will be limited from this year onwards, significantly cutting down its panel supply to external customers, particularly Chinese TV makers.
LG Electronics' sourcing volumes from LG Display will also be slashed in 2020. Nevertheless, LG is likely to purchase from external vendors such as BOE Technology, HKC and Nanjing CEC-Panda LCD Technology to make up for the possible loss of LCD TV panel supply availability from LG Display in 2020.
?TV Display & OEM Intelligence Service
The TV Display & OEM Intelligence Service from IHS Markit | Technology provides access to industry-leading research on panel supplier-TV OEM relationships worldwide. This service features monthly and quarterly TV display market trackers covering nine TV display makers, 30 TV brands and more than 25 TV OEMs, along with pricing for the top-five TV display models.