After a year of sustained strong growth in 2018, shipments of smart watch displays have continued to rise in 2019, reaching 57 million units in the third quarter, according to IHS Markit | Technology, now part of Informa Tech.
Shipments rose by 34 percent year-on-year in the third quarter. For the entire year of 2019, shipments are expected to soar to 195 million units, up 31 percent from 149 million in 2018. This follows even more impressive growth of 42 percent in 2018.
"The smart-watch display market is enjoying a phase of staggering growth, with demand rising by 20-fold during the five-year period from 2014 through 2019," said Hiroshi Hayase, senior director of small and medium displays at IHS Markit | Technology. "In 2014, global smartwatch display shipments totaled just 9.4 million units. Shipments surged to nearly 200 million in 2019 as these watches have become more useful and functional."
Active matrix organic light-emitting diodes (AMOLEDs) remain the preferred display option for smart watches, given their thinner form factor compared to TFT-LCDs.
Since smart-watch displays are smaller than 2-inches in size, display makers serving this market must purchase legacy Gen 3 and Gen 4 fabs suitable for producing tiny screens.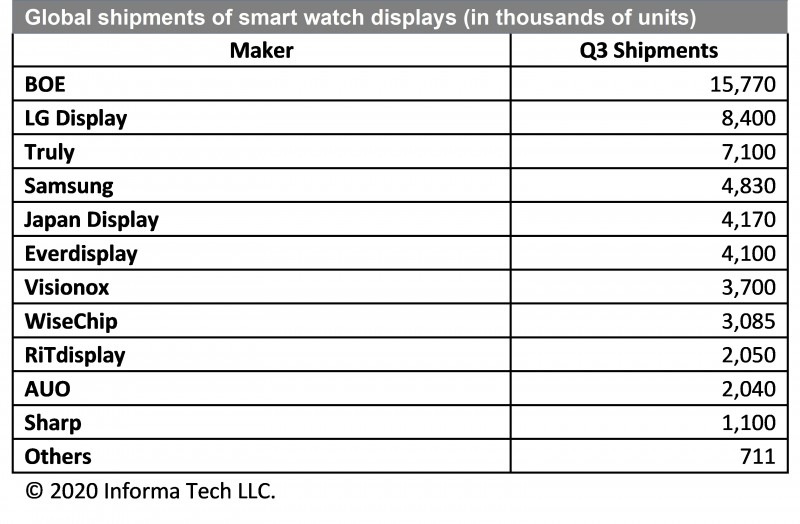 Chinese electronic components producer BOE led the smart watch display market in the third quarter, with a 28 percent share of shipments. BOE was followed by LG Display at 15 percent and Truly at 12 percent. The bulk of smart watch display shipments during this period were sent to Chinese smart phone brands Huawei and Xiaomi.
"Fast becoming one of the most popular wearable devices, smartwatches now are loaded with functions as a result of enhanced synchronization with smartphones," Hayase said. "Social media, email and message notifications, fitness and health tracking, GPS navigation and mobile payments are just some of the growing list of features that are making life easier and helping users to stay connected—as well as entertained."
Small Medium Display Market Tracker
The Small Medium Display Market Tracker by IHS Markit | Technology presents quarterly updates of all small medium display shipment and revenue by supplier, technology, size and resolution, including with all applications such as smartphones and smart watches.