Samsung is designating 50 existing uBreakiFix stores in the US as flagship Samsung repair locations by the end of 2023. These flagship stores will be equipped with specialized equipment, parts inventory, and Samsung training, enabling them to provide efficient same-day repair services for Samsung flagship devices. The stores will feature increased Samsung branding, including a recycling drop box for small electronics, making e-waste recycling more accessible. In 2023 alone, these stores have collected 49,000 pounds of e-waste.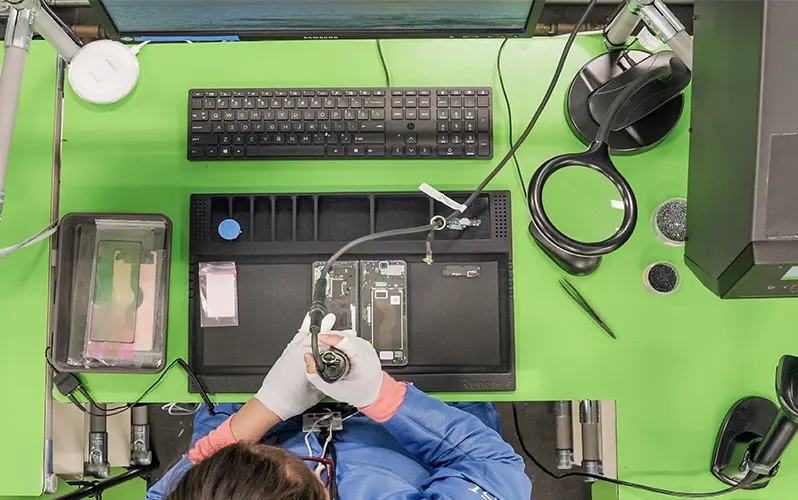 uBreakiFix currently completes 94% of walk-in repairs on Samsung devices on the same day. The partnership's objective is to serve more Galaxy customers in various communities across the nation. Five flagship locations were already soft launched in Dallas, Houston, San Antonio, Orlando, and Los Angeles during peak phone repair season.
The selection of flagship stores is based on Samsung repair metrics, including repair volume, turnaround time, and customer satisfaction, as well as their location within major metropolitan areas for maximum outreach. These stores will have additional Samsung repair equipment, specialized repair jigs, and increased inventory stock by model and color. They will offer best-in-class service for Samsung devices, handle higher repair volumes, and pilot test new repair types before nationwide expansion.
The collaboration between Samsung and uBreakiFix also introduces a convenient "We Come to You" service, with 400+ vans available nationwide. Customers can have a professional repair technician meet them at their preferred location, be it home, office, or a coffee shop, to complete the mobile repair on-site. The service is easily accessible through both uBreakiFix.com and Samsung.com, with a simple four-step booking process. Samsung boasts of having the number one care network in the country with over 10,000 Samsung Mobile certified technicians.
Since 2018, uBreakiFix has been an authorized repair provider for Samsung Galaxy smartphones. The program was later expanded to include Samsung Galaxy Watch4 and Watch5 series, as well as all Galaxy Buds models, Samsung PCs, Chromebooks, and foldable screen protectors. All Galaxy repairs at uBreakiFix are conducted by certified experts using genuine Samsung parts, tools, and testing procedures to ensure proper functionality after repairs.
---