Appotronics has been one of the key companies in the development of the laser phosphor development that is taking over the higher end of the mainstream projector market.
The first product we looked at was a 'technology demo' (so not a final product) that uses a single chip DLP configuration to create a unit with 25,000 lumens, the highest that we have seen from a single chip DLP. The demonstration was also claimed to provide 100% of CLO, which means that it does not have a white segment in the colour wheel. The unit had three large fans on the back (which is not a surprise!).
Although this was just a demo, the company would like to complete development of a commercial product in the future.
This is the brightest single chip DLP projector that we have seen. Image:Meko
The AL-FU13KA is a 13,000 lumen projector that also uses an L/P light source and is available with a choice of six lenses from 0.67:1 to 7.96:1 throw ratio (the unit is compatible with Panasonic lenses) and integrated warping and blending which was being used at the show to create a single image. The unit will start to ship in July and the company told us that it already has had more than 100 enquiries about the product and the product has already got 'good traction' in China.
The company also showed the AL-FU650A (6500 lumens) and AL-UH600 which is a 6,000 lumen unit with a 0.233 UST lens. Both of these are claimed to have 100,000:1 contrast and all have integrated warp and blend.
As well as large projectors, Appotronics had a couple of good looking small projectors that would slide neatly in a bag alongside a notebook PC. The A1 weighs 700g and is just 23mm in thickness. It produces 700 lumens of output at 1280 x 800 resolution. It includes a full Android system (although user reviews on Amazon are very critical of the implementation of the old V4.4 version) and uses a laser light source to give a lifetime of 60,000 hours. Features include 3D support and autofocus and automatic keystone correction. It is available at $699.
The A1 is a neat laser projector. Image:Meko
We also looked at the latest UltraHD laser TV that the company has developed. It is designed to be used with a specific 100″ screen that has high performance in brighter ambient light. The TV costs around $3,000 and the screen adds $1,500.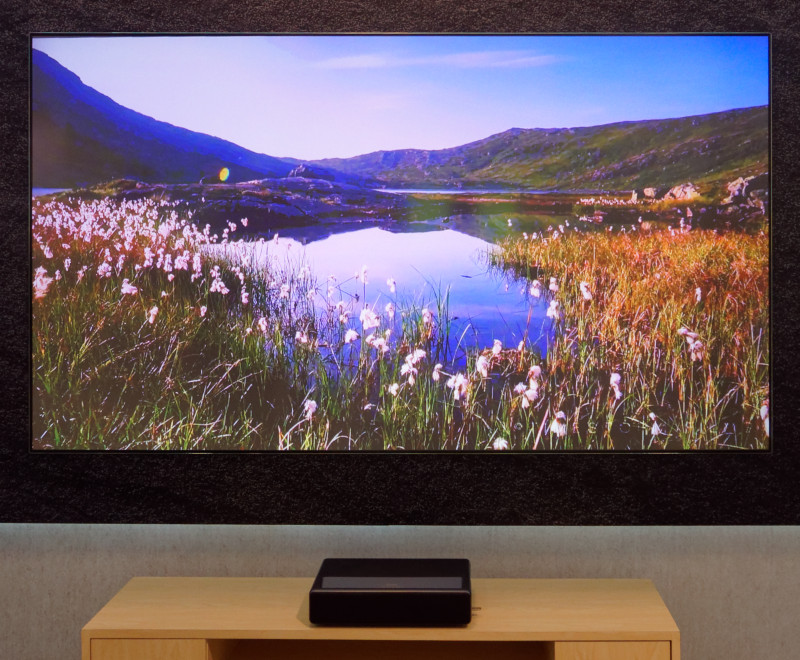 The Wemax TV is around $4,500 including the special screen. Image:Meko