The next speaker was our own Bob Raikes, who outlined that the panel and TV set industry is already geared up for UltraHD and quoted the recent comment from DisplaySearch's Paul Gray that by 2018, all TV panels above 50″ would be UltraHD. The content of Bob's talk is well known to Large Display Monitor readers, so we won't repeat it here. Suffice it to say that he believes that most viewers can see the difference in UltraHD and even if they couldn't, they will buy UltraHD sets anyway.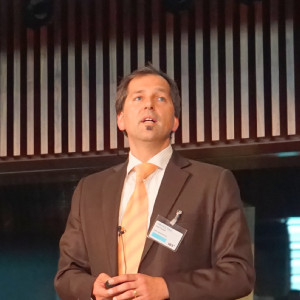 Following his talk, there was a presentation on HDR from Arnd Paulsen of Dolby.
Human vision has a limited dynamic range but that range moves up and down as a "window" on the full range with adaptation of the eye. In cinema and TV, the brightness and colour range is very compressed compared to real life. Displays have developed a long way from the CRT, but the content is still developed for the CRT because that was the display technology when the standards were set. For example, content rendered for Rec. 709 is created at just 100 cd/m².
To deal with this problem, Dolby believes that the display needs metadata that helps it manage the mapping of standard content to the better displays that are now available.
The standards for TV colour and brightness are Rec 709 and BT 2020. New standards from SMPTE are ST2084 which defines the EOTF and Perceptual Quantizers (PQ) which map the signal to the display.
ST2086 is a standard for static metadata. In other words, the data about the content is sent at the beginning of the content so that the display can optimise (of course, this doesn't work very well for live content, where you can't be sure what the range is until the end, although you might be able to make a reasonable guess – Man. Ed.). ST2094 is for dynamic metadata, which allows continuous updating of brightness and colour, is under development.
HDMI2.0a supports PQ and ST 2086. (HDR Formats Come to HDMI) HDMI 2.0a does not need any physical or electrical changes when compared to HDMI 2.0, so some makers may be able to update to HDMI 2.0a with firmware.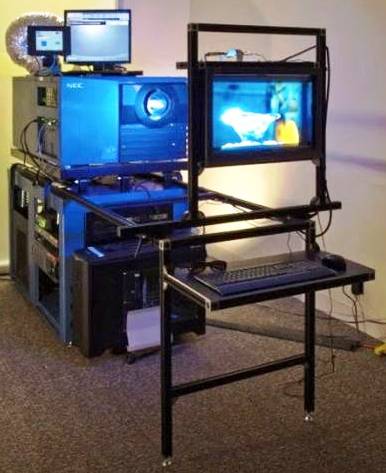 This was Dolby's test rigPaulsen described how Dolby had used a projector shining onto a small display as a backlight so the final image combined the contrast and brightness from both devices. In tests, Dolby found that just 5% of viewers were satisfied with Rec 709 at 100 cd/m² and the brightness needed to go up to 10,000 cd/m² before 80% were satisfied. 90% of viewers preferred HDR over SDR. (I would be surprised to hear this, but I remember nearly 30 years ago showing a new CRT monitor to a customer who complained about the improved brightness and contrast as he "liked the pastels" before! Man. Ed.)
Paulsen said that colour volume is better for assessing the impact of wider colour gamuts than standard CIE charts because it takes into account brightness as well as colour, while CIE charts just show colours at constant brightness. Dolby measured a consumer TV (a Sharp Elite model, by the markings) and found that it could make a much bigger volume than Rec. 709. He then showed real world images of plants, the sky and fire that showed how many of the colours of the content would be outside Rec 709.
He next summarised the different approaches to HDR:
Dolby (any gamut, PQ with metadata 14 bit gamma equivalent in single layer (not backwards compatible) or dual layer (backwards compatible)

Philips (Rec. 709/Rec. 2020 Philips EOTF or PQ – single layer with metadata, 10 bit (alternative baseband and coding system using Y'u'v'

Technicolor (Rec 709/Rec 2020) – dual layer (backwards compatible), 10 bit each layer and single layer with metadata (not backwards compatible) – dual layer (virtual backlight)

BBC – "Gamma-like" 10 bit for distribution and display, 12-bit OETF (acquisition/production)

NHK – "Gamma-like"
HDR10 is for Blu-ray disks and has a 10 bit base layer for HDR, but no defined display mapping (up to the TV maker)
In a question session, Wrede of SES said that broadcasters don't have the luxury of being able to send different streams to different sets, unlike OTT suppliers and that will have an impact on decisions about what standards are chosen.