Yesterday, we reported on the talk by Paul Gray of Omdia at the 4KHDR Summit about the state of the TV market and today we have report on the talk from the same event by Thierry Fautier, past president and chair of the UltraHD Forum. His talk was 'UltraHD – State of the Union'.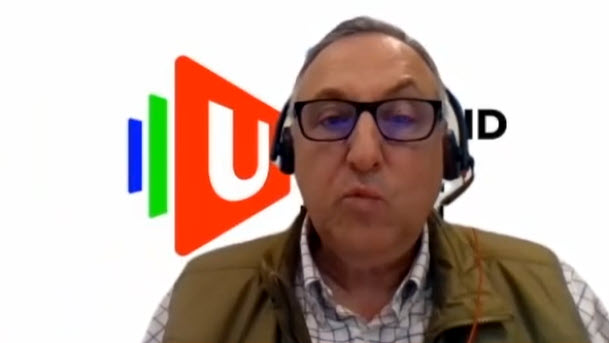 Fautier started by defining UltraHD which is defined by the Forum as
HDR (PQ or HLG) and wide colour gamut (WCG)
1080P minimum resolution and 4K (so not 8K)
HFR at 100 or 120 fps using native or scalable coding technologies
Next generation audio (NGA) – 5.1+ and personalised audio
The Forum has a tracking service to see how many services there are and the tracker has counted 321 services including, B2B, some trials and B2B. The growth in the curve is slowing down so the Forum believes that adoption is reaching maturity after a period of 21% CAGR over the last five years and a CAGR of 30% for the number of households reached. Content is a bit behind the sets and hardware, but is getting there. The service tracker database is accessible to all here. https://ultrahdforum.org/uhd-service-tracker/

Fautier presented a summary of the data. There is a very even split between different broadcast technologies of Terrestrial (DTT), OTT streaming, DTH satellite, IPTV and cable – a result that the Forum didn't expect. The Forum separates service tracking and user tracking. Among the UltraHD services, the biggest single segment is still in SDR (37%) while if you look at subscribers (and here it's hard to get firm numbers, so there is some estimation by the Forum) HDR10 dominates with 38% with SDR at just 16%. Fautier said that consumers are seeing a lot of HDR content (although I'm not sure that you can draw that conclusion from that data – Editor).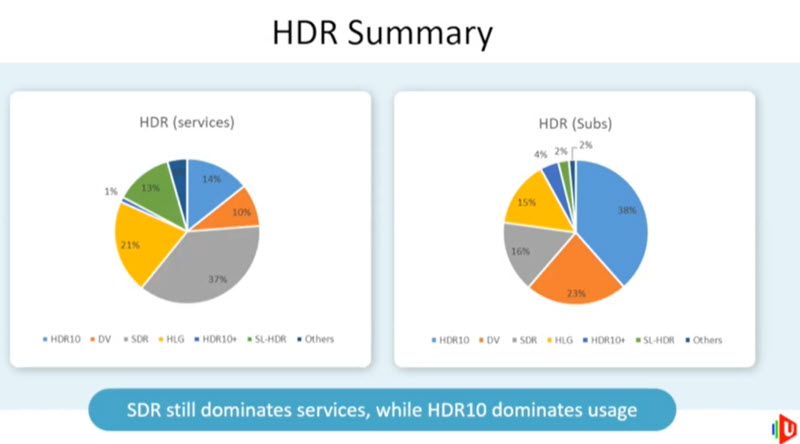 NGA is less clear as services may not be reporting what they are doing so N/A or stereo make up 61% of the services tracked although 47% of subscribers have capability to receive immersive or surround sound.
The Forum has three groups
Guidelines – working on NGA production and colour accuracy in the conversion from SDR to HDR and back. The guidelines have also been updated to reflect Brazil's next generation broadcast technology.

Interoperability – looking at SDR and HDR interoperability and also interoperability with OTT streams in collaboration with DTG in the UK.

Communications (which is the most active part) has a blog and is producing its Newsletter #3 as well as organising demos at IBC 2022, most recently.
After 7 years, all three groups are very active.
At IBC a number of demos were given including HDR colour management and SDR rendering compensation. (we reported on the work using different LUTs in sports transmissions and the work on low latency in our report (IBC 2022 Round-Up – Codecs and Broadcast)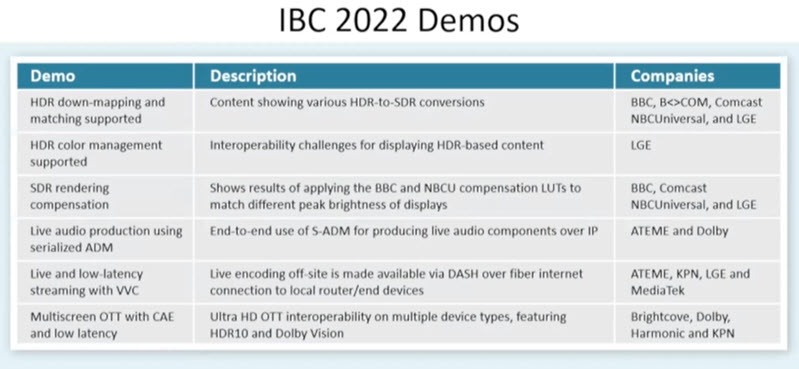 There has been a lot of work since 2021 on IP-based workflows and at NAB, the group showed a demo using ST-2110 based on an HD-HDR sandbox and there is an aim to move this work to 4K and also be open to participants in other IP transport schemes. Fautier presented a diagram showing the signal path that was used at the show and all the different technical equipment. It will be further developed to move from HD to 4K.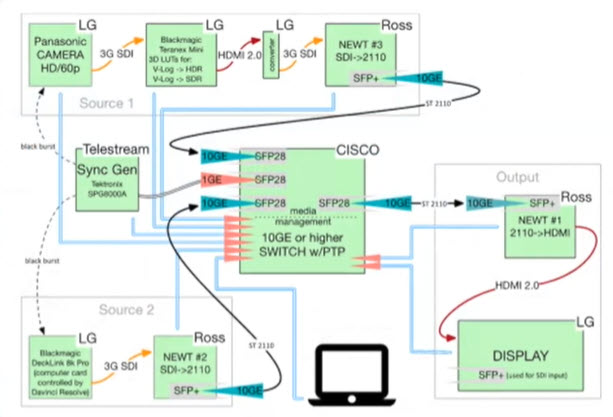 The UltraHD Alliance has defined its 'filmmaker mode' for display device and the Forum wants to have something similar for the broadcast side of the industry and its content. The system needs to work on SD/HDR content devices and the differences in perceived brightness as well as signalling content types to sets. The content needs to work in different ambient lighting. These are complex topics, but are quite popular, so there is a lot of attention in this area at the moment.
The Broadcaster Sub-group has made significant progress in this area and production processes have been outline. There is also agreement on two variants of SDR that are optimised for 100 nits or 200 nits with gamma 2.4 (as discussed at IBC). Compensation LUTs for home viewing and display signalling are still works in progress. At NAB or IBC next year, there should be announcements if things go to plan.
Finally, Fautier looked at OTT implementation (based on the service tracker). OTT has overall around 33% overall share of services as, he explained, there has been a big boost in live OTT content rather than video-on-demand (VOD). (72% VOD/28% Linear per the tracker). In terms of subscribers, 90% are using UHD in VOD, and just 10% live because of the strength of Netflix.
Fautier showed the Video Streaming Services and OTT Device venn diagrams from Yoeri Geutskens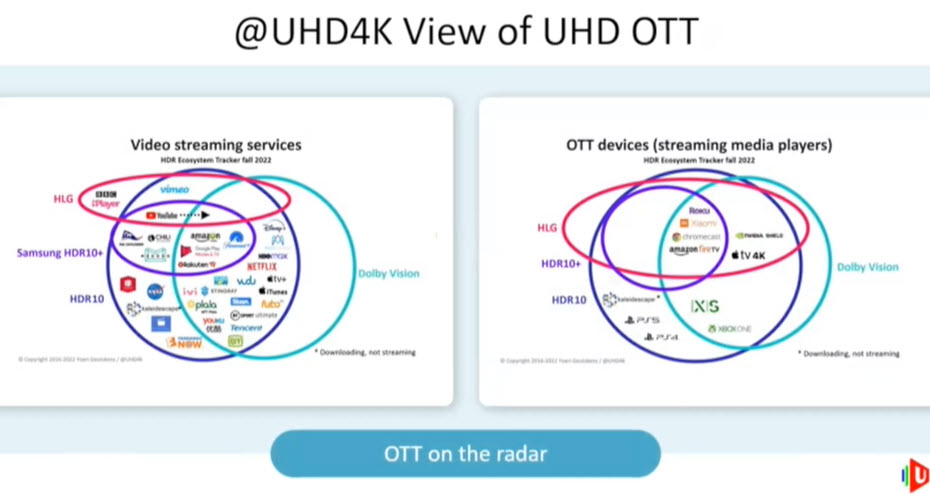 He introduced the UHD Forum blog (which includes a higher resolution version of the HDR and OTT trackers from Geutskens).
Finally, Fautier looked to the future of TV 3.0 and Brazil is developing technology to support hybrid broadcast up to 8K. The decision on modulation is still to be made in April 2023, but transport will use DASH/ROUTE (ATSC 3.0). The video will use VVC + LC EVC (V-Nova) and dynamic resolution enhancement (DRE – Harmonic). Audio will be MPEG-H and HDR will use PQ with optional dynamic metadata (Dolby Vision, HDR10+, SL-HDR2 [Technicolor]). Brazil has a target of 4-5Mbps per UHD channel including live action. It's extremely challenging but there is hope they can get there. (for comparison, Fautier said – in 2018, there were channels with 36Mbps). Again there is information on the blog.