This week the 4KHDR Forum in Spain held its annual long summit – it lasts the week! I picked a couple of talks to listen to online that I thought would be of most interest.

Paul Gray of Omdia is always worth a listen and he spoke about what is happening in the TV market. He started by setting out what happened after the pandemic. Over the time of Covid, consumers fell in love with TV again and there was a surge in set buying, usage and the development of streaming services.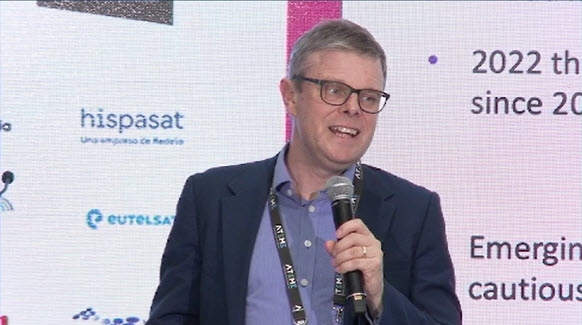 In April this year, though, consumers switched their habits "very, very suddenly" away from home and 'things' to services and holidays. Shortages and logistic challenges had also meant that companies had built up more inventory than usual to deal with those issues. As a result, the second and third quarters were way down and 2022 is expected to end up as the weakest year for TV sales since 2007. Q4 2022 or Q1 2023 will be the lowest point – and how teams do in the World Cup will probably affect regional TV purchase patterns.
Elsewhere, China has seen a falling TV market since 2016/17 and that trend is the same as for smartphones, with consumers setting different spending priorities. Housing costs have weighed on the disposable income for other purchases. Emerging regions have "passed the bottom" and there have been a couple of quarters with some growth.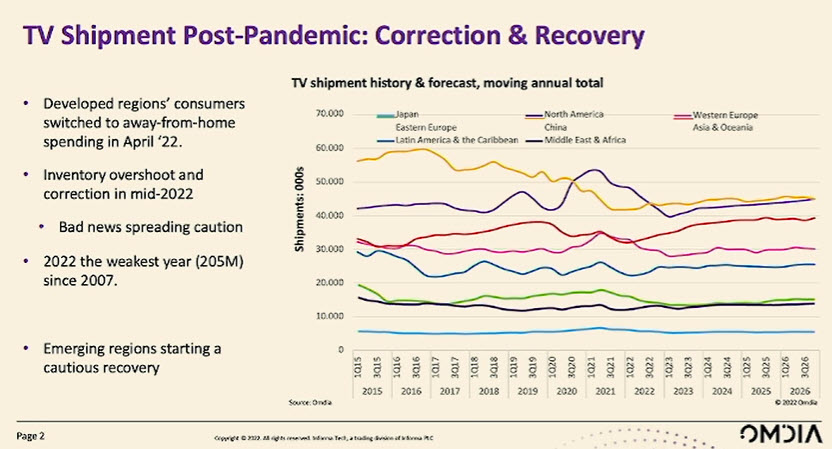 Gray said that in seeking to understand the market, he likes to look at the cost of a family evening out. With cinema tickets, snacks and a 'Big Mac' afterwards, a family evening out in Europe now costs around €200 and for that, you can buy a 32″ TV. So TV is very good value entertainment and that makes it resistant to recession-led contraction.
Turning to technology, UltraHD is squeezing out HD, but there has been no take-off for 8K. TVs of 50″ or above, they are all 4K. UltraHD TVs have maintained their sales despite the overall market challenges and it is the HD market that has been squeezed. That will continue. 8K is very, very small. In Western Europe, the switch to UltraHD is basically complete apart from small sets. North Americans still like bigger sets with 75″ and 85″ the 'hot sizes' in that region. Emerging markets are increasing in UltraHD penetration.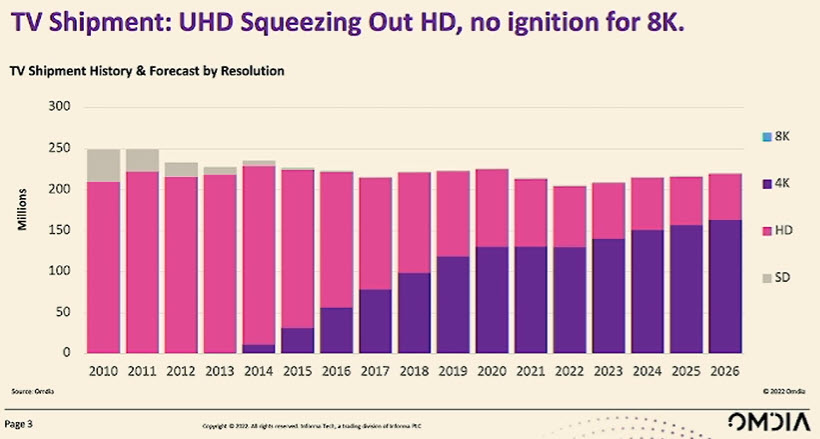 There is a lot of capacity in the supply side to make a lot of much larger TVs. The massive Chinese investment over the last five years has enabled this. "It's a very time to buy a TV – there's money taped inside every one at the moment from somebody".
Looking at penetration of UltraHD, rather than sales, North America is broadly done now, with 80% penetration at the end of the forecast, and is far ahead of other regions. In Europe, the same trend applies, but Germany and Scandinavia tend to have more single person households, and that means less adoption of UltraHD. Chinese buyers buy a lot of TVs, but the sheer number of households means that rural buyers will take a while to update.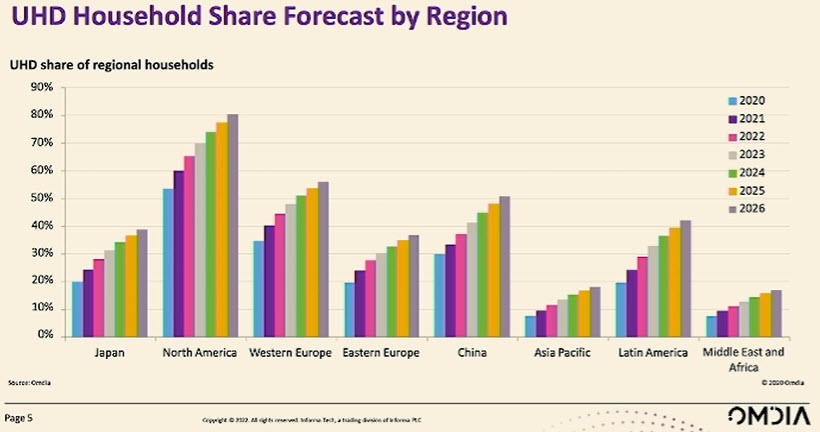 In terms of displays, OLED has done really well in the premium segment. New hybrid QD + phosphor film solutions to provide wide colour gamut (WCG) are bringing that feature in at lower cost (as Pete Palomaki has highlighted on Display Daily – QDs and Phosphors Can Exist in Harmony). That will boost WCG and better colours will mean that the H-K effect kicks in and that can bring energy saving benefits and Gray thinks that there are real opportunities for brands to exploit that.
HDR, on the other hand, has not done so well and miniLED still has cost challenges with power electronics a big factor and still in shortage. Now that all the major players have 'one foot in OLED', there is not the same motivation to drive miniLED, Gray thinks.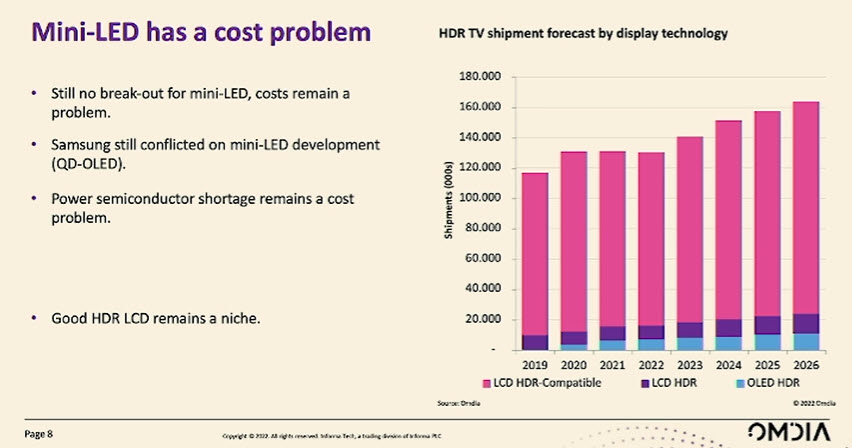 Gray sees 8K as a format that 'needs to find its medium' and as a display and content delivery format is 'not really a TV product'. At the moment the only growing brand is Changhong in China, which is selling incredibly cheaply.
On the content side, consumers are switching to AVOD/FAST as they see tougher economic times, but won't stop watching. Streamers are developing more business models and by 2027, 41% of online video advertising channels will take 41%. UltraHD is no longer seen by streamers as a marketing tool, but as a revenue earning premium segment. Viewers that don't get a premium service in the paid levels from companies such as Netflix, are more likely to drop back to advertising-supported services.
TV makers are now generating revenue from advertising and services and that is changing TV makers to becoming 'gatekeepers' and platform suppliers such as Roku are also involved. There's a big power struggle that is just beginning now over who will win advertising revenue. (BR)