Sweta recently gave a summary of the recent DSCC Global Display Supply Chain Dynamics and Technology Outlook Conference, which took place virtually last month. She covered the TV and IT segments (DSCC Supply Chain Conference: Outlook and Issues for the TV and IT Market) and now I'm covering David Naranjo's look at smartphones.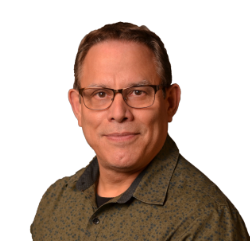 He looked at recent results and also at the technology roadmap. (When you look at how far smartphone displays have got in the last decade, it might be hard to imagine significant developments, but the quest for improvements and productivity gains in manufacture is relentless, even when the market is weak, it seems to me.)
Naranjo started by saying that DSCC expects the overall market for smartphones to drop by 9% this year, with China down 17% because of shutdowns and Eastern Europe down 37% because of the Russian invasion of Ukraine. Even the strong segment of flexible OLEDs will be down this year because of economic headwinds, and overall OLED panels (flexible & rigid) will be down by 13% if foldables are included. Brand inventory build-up is also a factor. LCDs have been on the decline for a while and dropped 7% in 2021, with 6% further expected this year.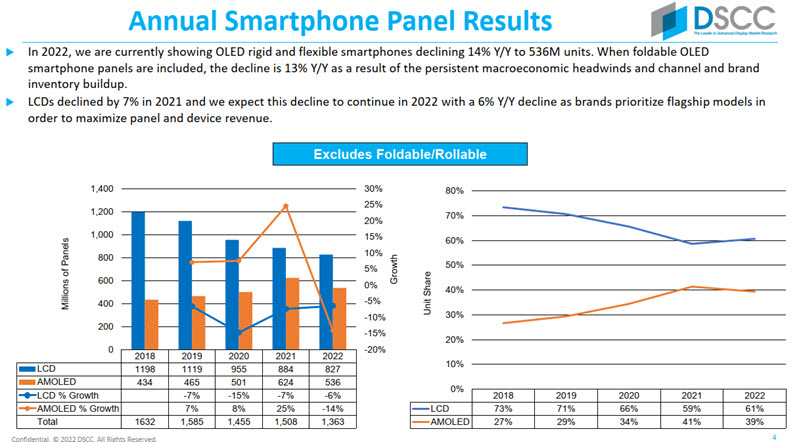 The iPhone series is the biggest single factor and for June-December, the iPhone 14 will be up against the iPhone 13 (although there are challenges because of new lockdowns in China as I write this). The iPhone Pro and Pro Max are up from 51% to 61% as a share of all iPhones this year as the Pro Max is by far the best seller at 35% of all iPhone 14 panel shipments, while the Pro has gone from 23% to 26%. The base model is down 43% in units and has gone down from a 41% share to 20%.
Samsung over the last year has seen the same trend to higher spec models, with the S22 Ultra up to 35% from 30% for the S21 Ultra and with the base model going down from 46% to 34%. However, overall volume has gone down for Samsung.

Apple v Samsung – DSCC showed these charts separately, but the contrast in scale and trend is clear between 2021 and 2022
Looking at OLED panel shipments by panel supplier, the DSCC forecast shows Samsung Display (SDC) remaining dominant at 67% of all shipments this year – a strong performance, but down from 76% in 2020. 46% of the panels that SDC is supplying are going to Apple, while 99% of LG Displays 9% market share is being shipped to Apple. BOE stays just ahead of LGD with sales to major Chinese brands as well as Apple. Visionox is also expected to gain share.
Technology
LTPO penetration continues to increase with BOE and Visionox starting to ship to Chinese brands in addition to SDC and LGD. DSCC expects LTPO to reach 23% of units and 38% of revenue for 2022. High refresh is becoming more common on high end and mainstream panels. The technology has moved to mid-range models and the expectation is that smartphones >60Hz will take 67% of all revenue this year, up from 54% last year. Apple dominates the higher refresh market with 46% of 120Hz refresh products in 2022.
Naranjo explained the 'Micro Light Control Patterns' (MLP) technology that SDC pioneered and clarified that the technology (also known as multi-lens array MLA) can, like CoE increase brightness (by 15% to 20%) or reduce power consumption (by 10% to 15%). However, some customers don't like the extra processes and higher cost. Naranjo said that SDC achieved the higher brightness of 2,000 cd/m² on the top iPhone 14 models without using MLP or COE, but by better OLED materials and a smaller Pixel Definition Layer (PDL) allowing more luminous area.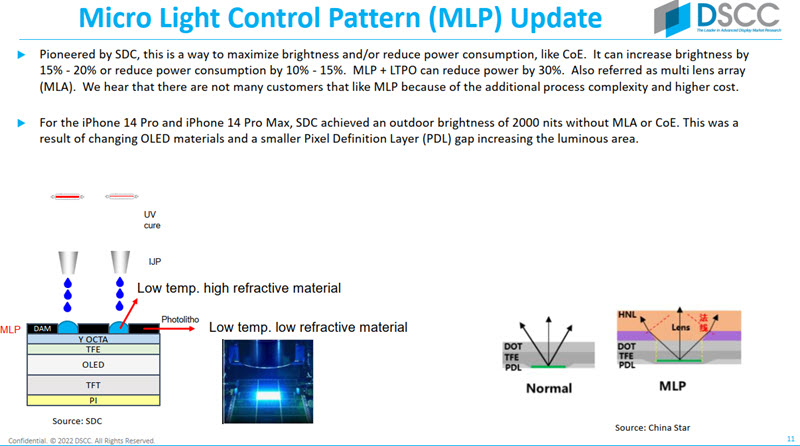 There are several smartphones with under-panel cameras (UPCs) and although there have been demos using BOE panels, no finished products have been announced with them. Samsung said that the UPC on the Galaxy Z Fold 4 than on the Fold 3 and a laser patterning approach is being used. There is also a new pixel arrangement and the improvements are known as UPC Plus.
One of the challenges of UPCs is to get the display more transparent above the camera and there is a rumour that SDC may switch to a transparent polyimide (PI) substrate rather than the more yellow material used before. Naranjo also looked at other changes and the disadvantages of transparent PI.
DSCC has a database of likely new models and the firm expects a new S23 series from Samsung in Q1 2023. He looked at the Google Pixel 7 series, announced just before the event.
Turning to Apple, DSCC expects the 'Dynamic Island' 'Pill' design concept to move down from the higher end iPhone 14s and Naranjo said that the development of "Dynamic Island" may mean that the 'Pill' designs may last longer than originally expected although his roadmap changed to Apple introducing an Under Panel Face ID and Hole rather than the 'Pill' in 2024. By 2025, all models should have the feature with UPCs arriving at the high end in 2026.
Long Term Forecast
The firm expects OLED to continue penetration in a basically flat smartphone panel shipment forecast. AMOLEDs should overtake LCD in 2026 given the difficult market. Flexible OLED will replace most rigid and rigid OLEDs for smartphones have peaked.
In OLED smartphones, Apple and Samsung are expected to lose share to Chinese brands, but remain dominant.
Overall, these are the 'worst of times'. However, brands are expected to try to drive premium smartphone shipments to maximise revenues. OLED smartphone panels will represent 75% of all OLED revenues in 2022 and will remain the dominant application for the future.
Analyst Comment
Overall, this is broadly what I expected to hear, but it was a good summary of the state of play of OLEDs. As someone that doesn't live in the world of smartphones, it was good to be reminded of the different scales and trends of Apple and Samsung.
I was slightly surprised to see that there was no reference to the new developments in OLED materials which might have a significant impact. Perhaps they may 'lift all boats' so not change the competitive or application landscapes so much.
By the way, there are still a few days to sign up and get access to the talks and presentations in full. (BR)