Pardon the horrible pun in the article of this title! Today, I wanted to mention several of the developments in the reflections from different displays at Display Week.

Dealing with reflections is critical but difficult for display makers. High gloss displays tend to look very sharp, and can be appealing to buyers who see them in store. A number of years ago, one of the notebook brands (my memory tells me it was Acer, but my memory may be defective!) put 'glare' panels with no anti-glare coating on some of their models. They turned out to be quite popular and other brands had to react.
However, this kind of display often proves to not be a good purchase when you are in adverse lighting conditions. Further, employers in Europe simply are not allowed to supply displays for their employees to use that have too many reflections.
Really good anti-reflection technologies have tended not to be widely adopted because of cost. Decades ago, CRT makers could put 1/4 wavelength coatings onto the front of their tubes to give really good performance, but it was expensive. Again my memory tells me that years ago, Nokia, which then had a monitor business, actually had some of the tubes for its monitors shipped from Asia via the US to have a coating added.
In flat panels, a decade ago Sharp developed what it called a 'moth eye' technology for giving a very good performance with LCDs (although there was work by Fraunhofer IWM had the technology in 2010). It worked very well, but at SID in 2013 I heard that it had been dropped because of cost. Samsung also developed a similar technology and Sony Chemical made one, using concave and convex structures on a transparent ITO film. (Chris wrote an article on Edgehog, a Canadian developer in this area, but the firm seems to be focusing on solar applications rather than displays, now (Edgehog Offering Robust Anti-Reflection Technology using Nanostructures)
Anyway, the topic really came back into the market via TVs with the Samsung Frame TV. The firm wanted images to look more like paintings or other fine art and so taking away the reflections from the front of the display was a real move forward. OLED TVS have tended to be quite reflective, so LCD makers have been looking to improve performance.
Sharp makes Moth eye film for a range of applications
At Display Week, I saw quite a lot about reflections. I mentioned last week a demo from BenQ Materials of a film aimed at OLEDs, but there were a number of other demonstrations of related technology. (Display Week Pick & Mix)
AUO was the first company that I talked to on the exhibition floor and it had a number of interesting displays on show. They were all reasonably small and I heard that this was because of supply chain concerns – all the demo displays on show were 'hand carried' as baggage by staff from Taiwan! Anyway, the firm showed me a new 32″ UltraHD monitor with 160Hz refresh and that is claimed to have a 1ms response time. It uses AUO's Advanced Reflectionless Technology (A.R.T.) and staff from AUO confirmed that the technology is 'like moth eye'.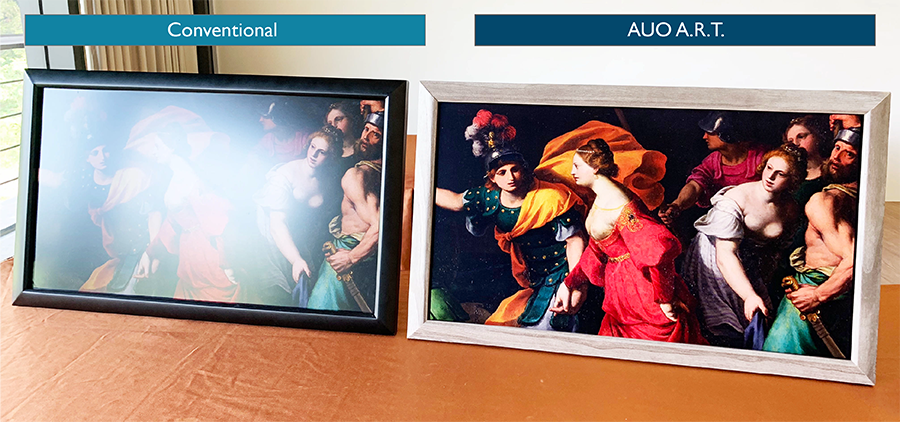 Sadly, my photo of the display at Display Week didn't come out well, so this is a 'stock' one from AUO.
Dai Nippon Printing (DNP) also had a new film material that reduces reflection and glare. The firm highlighted that it could be used in many applications and combines extremely low reflectivity with anti-glare properties as well as minimising sparkle. As well as the optical properties it is treated for anti-smudge and anti-fingerprint performance. (It's often a feature of this kind of coating that the very thin layer of oil that can come from a fingerprint is thick enough to disturb the optical properties of the anti-reflective coating and make fingerprints very visible).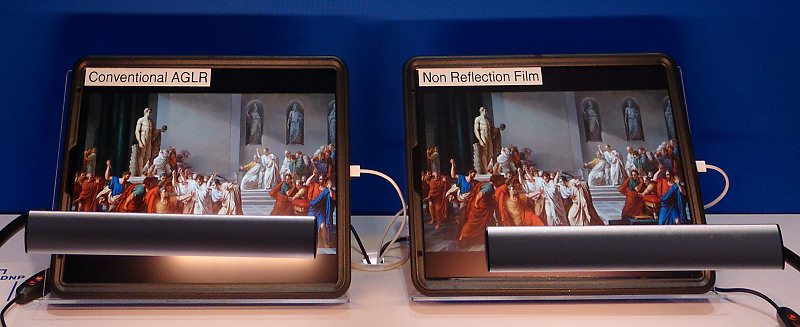 DNP's demo clearly showed the reduced reflections. Image:Meko
Innolux also had some interesting non-glare technology that it calls 'Inno-Gallery' that reduces specular reflections from around 6% to 1% and reduces gloss at 60° by a factor of fifty, it claims. It was shown on a 13″ 1350 x 2160 LCD and on a 27″ 1440 x 2560 LCD that was claimed to have a specular reflection level of 0.5%. It also had 'floating touch' a projected capacitive system that allows gestures to be used to change the image on the display without touching it – avoiding any issues with fingerprints.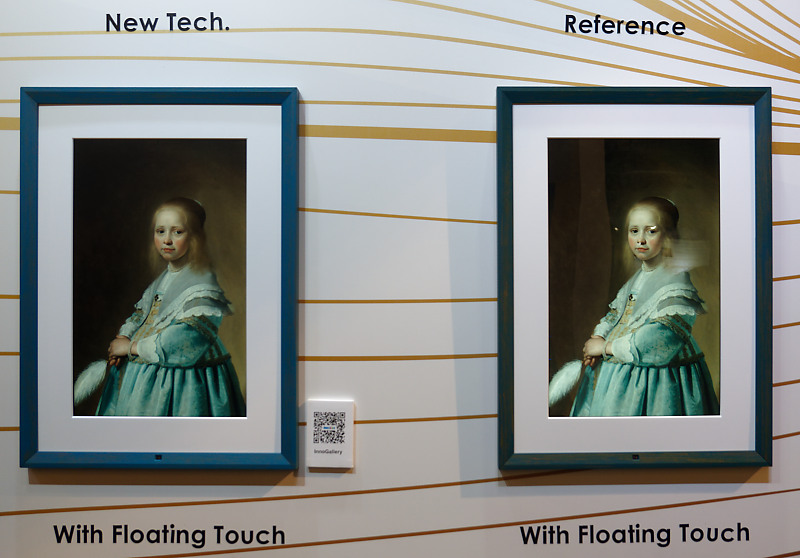 The difference in reflections is clear. Image:Meko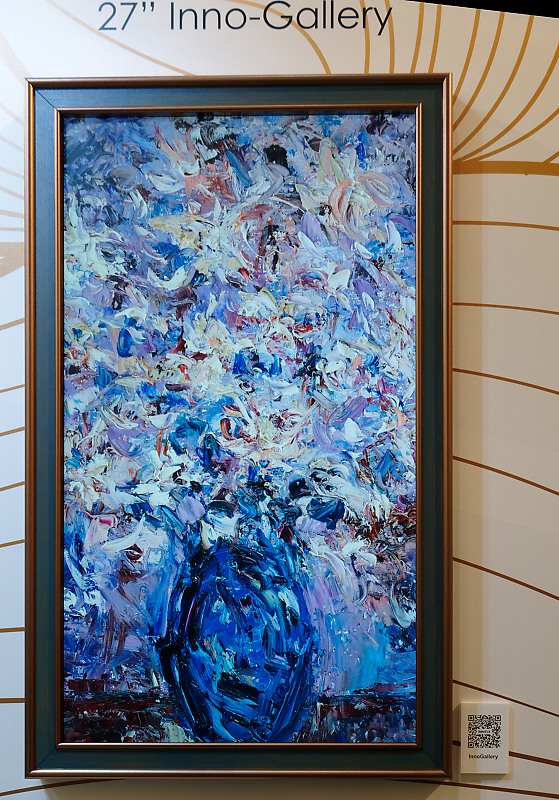 Innolux suggests galleries as good target markets for its special coatings. Image:Meko
Still in the area of reflections, Innolux had a novel display that it described as a Kirameki display. It used a 28″ UltraHD LCD that had a special reflective layer to give a very different and highly glossy look, unlike any LCD that I have ever seen. It was a very impressive effect for certain kinds of images with metallic surfaces.
Innolux made a video about the two LCD technologies here.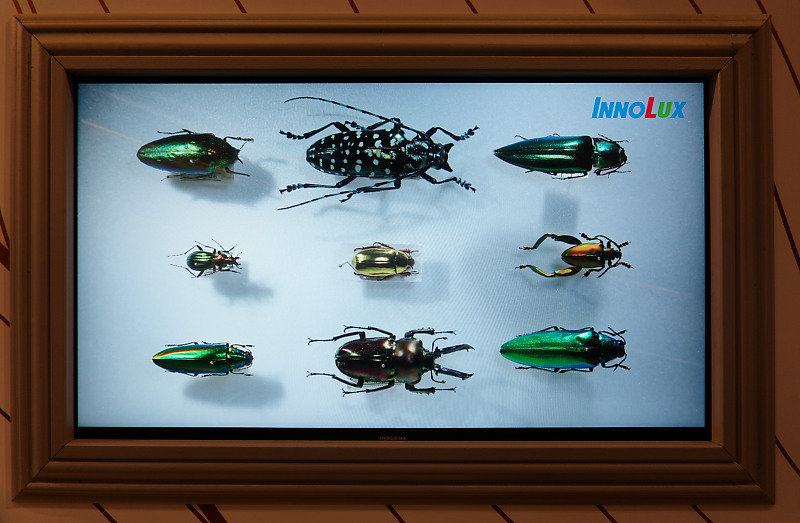 The Innolux Kirameki display looks shiny and metallic. Image:Meko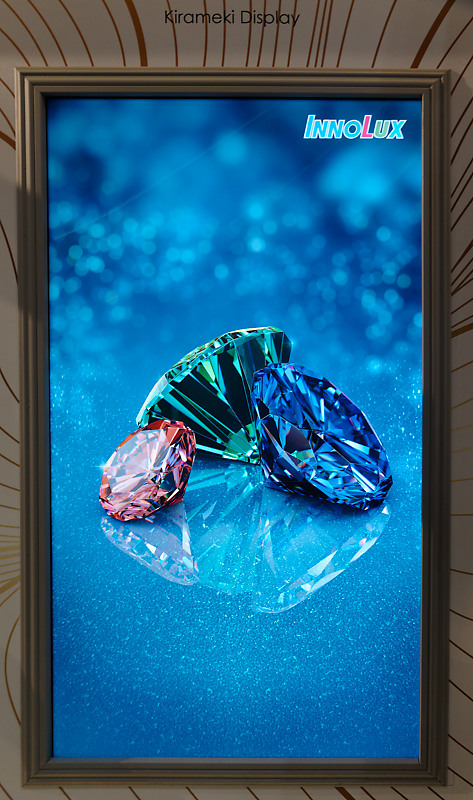 I can imagine applications in high end retail for the Kirameki displays as well as in art installations. Image:Meko