Some of the things I saw at Display Week didn't look as though they were enough for a full Display Daily article, but are worth a mention, so here's a 'Pick & Mix' round-up of things that caught my eye.
We've been reporting on Sun Innovations for nearly ten years. The firm has a technology that uses a projector that creates UV light in three different wavelengths using time multiplexing (a colour wheel). The image from the projector is emitted onto a special film with colour converter materials that convert the different wavelengths to R, G and B to give a visible image on the film.
One of the demos that the firm has been showing, but with improving quality and colour each time, is of a film added to a vehicle windscreen. The result is a full colour image on the windscreen. The film itself, though, is passive. A simpler system would use just a single colour and produce a brighter image. I took this picture in the i-Zone.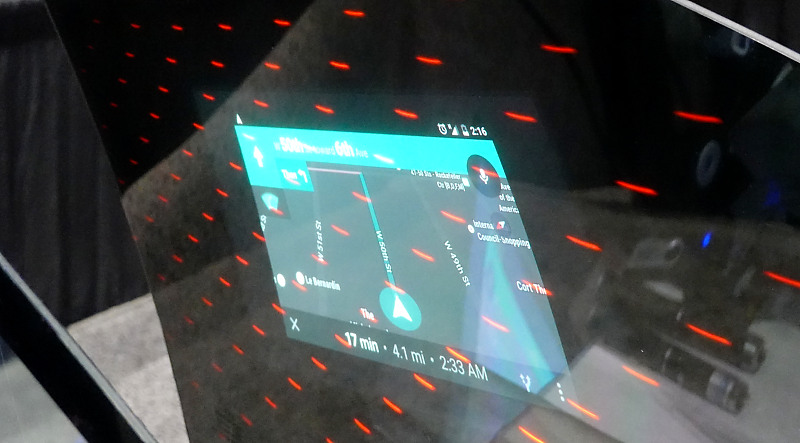 Sun Innovations has a film to show images on a windscreen. Image:Meko
Nanosys was getting lots of attention as the firm was showing a QD OLED TV next to a WOLED. The demo highlighted the much better colour volume of the QD OLED and was impressive. However, on one of the Sunday courses, somebody mentioned that the QD OLED set lost some contrast if the QDs got over excited by ambient light and raised the black level. I tried this, using the 'flashlight' feature of my smartphone. Getting the phone very close to the display showed the effect, although the flashlight was only a centimetre or two away from the display. Jeff Yurek said that he would see if he could bring a UV source to the show to test the effect so that we eliminated any effects that were just optical in the front glass, but I didn't get a chance to catch him again at the show, so that wasn't tested.
Samsung does something to block the ambient light or stop the excitation, although we heard that this is not a regular colour filter. As yet it's not clear as far as I can tell, what the company is doing.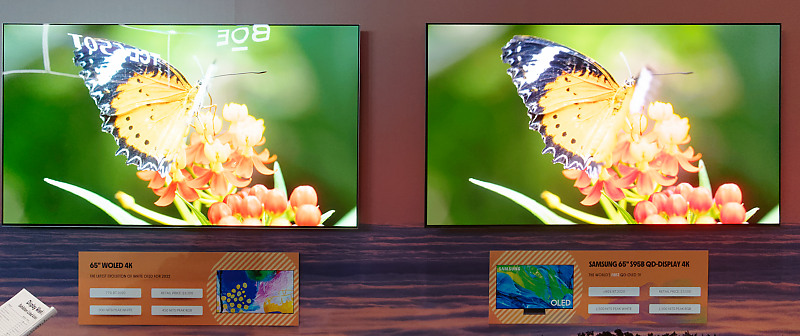 Nanosys demoed an LG WOLED against QD OLED – it's a shame about the reflections from the BOE booth Image:Meko
Nanosys continues to develop its QDs with better blue absorption and with thinner layers of material being needed. It is in the market with the xQDEF QD in diffuser technology that it launched at Display Week last year. That technology has already got into a million TV panels, we heard at the business conference as the cost reduction means that QD is getting into mainstream products.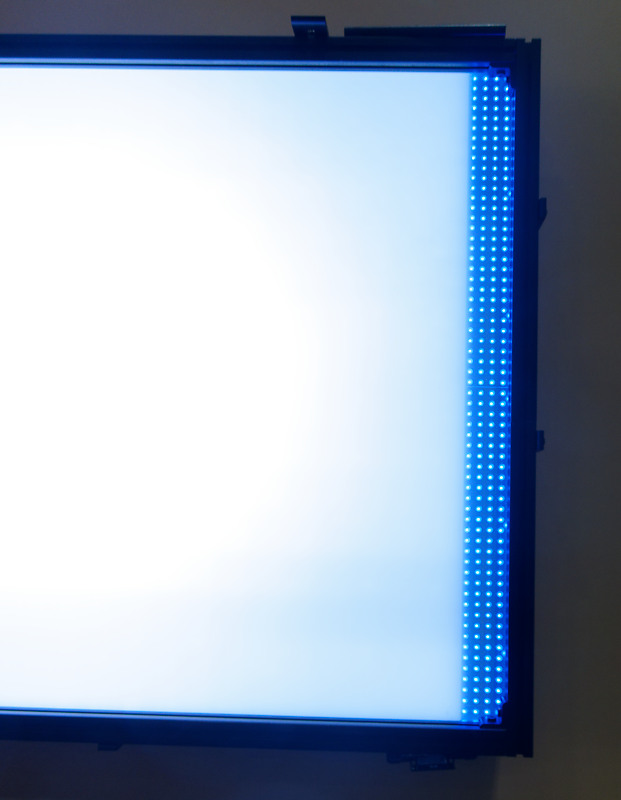 The Nanosys xQDEF backlight solution is very low cost compared to previous versions. Image:Meko
Yurek told us that there is 100% attach rate between miniLED backlights and QDs. As Pete Palomaki pointed out in one of his recent TV teardowns, there are firms that are using some QDs to allow them to say that their TVs are 'Quantum Dot'. However, they may not be the only colour conversion technology being used, and QDs may actually be the smaller part of the conversion 'heavy lifting'.
As well as the Samsung QD OLED, Nanosys was showing the 75″ U9H 8K TV from Hisense which uses miniLED with 1280 zones and has 2,000 cd/m² of luminance as well as 98% of DCI-P3.
As well as the big screens, Nanosys had a microdisplay demo that showed what it's acquisition of Glo last year can produce. It was impressively bright and shown in an automotive HUD configuration.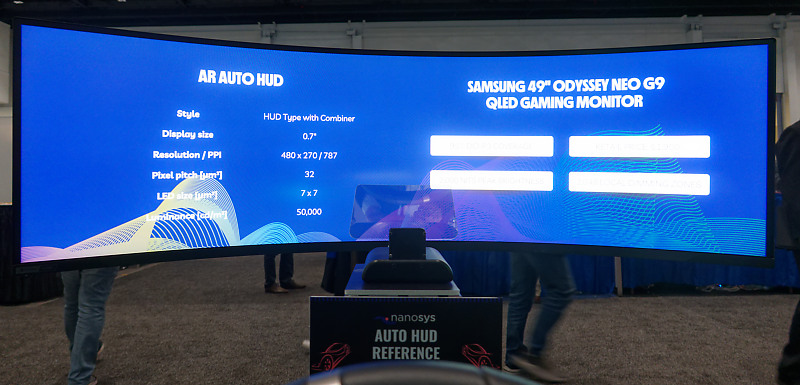 Nanosys showed a very bright microdisplay in a HUD configuration. Image:Meko
We've talked about it already on Display Daily, (SID's 60th Anniversary – Optimism in the Face of Falling Panel Prices, Demand and Profitability (Part 2) but in looking through my photos, I found this nice image of the Porotech demonstration that showed its colour tunable LEDs. It's early days for the firm, but it has a potentially exciting technology that allows completely colour tunable LEDs, dependent only on the current density. As someone said to me
"I hope this technology gets out to the world and they don't get snapped up by one of the tech giants with unlimited budgets and hidden away".
One of the areas where displays have really improved in recent years, but which doesn't catch the attention like the battle for more nits or more colours, is the dramatic improvement in the anti-reflective properties of displays, without degrading image quality. Historically, there was always a trade off between better A/R performance and image quality, unless you were prepared to spend a lot of money.
It's not as clear in the photo as it was to the naked eye at the show, but I was impressed with what BenQ Materials showed in the exhibition at Display Week. The company has a film to give OLED displays for IT use a non-glare treatment that manages to avoid the sparkle that you get with traditional anti-glare coatings on OLEDs.
BenQ improves the anti-glare performance of OLEDs for IT. Image:Meko
Going through my photos and notes, I realise that I still have quite a few items in my assortment, so you can expect a Part 2 before long! (BR)