Yesterday, we had the first part of the report by Barry Young on the recent SID Display Week event in San Jose. Here is part 2. (SID's 60th Anniversary – Optimism in the Face of Falling Panel Prices, Demand and Profitability (Part 1))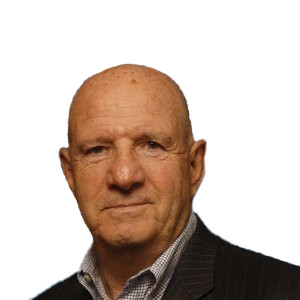 Full Color MicroLEDs Using only GaN and 1 Die per Pixel
Hidden away at a table in one of the two I-Zones (areas devoted to start-ups and pre-commercial displays – editor), Porotech showed its DynamicPixelTuning technology that enables full-color using a single die starting with monochrome LEDs from a single wafer. Porotech claims that DynamicPixelTuning provides high color uniformity without the use of complex fabrication processes. (Porotech Unlocks A World First In Micro-LED Dynamic Pixel Tuning)
Porotech also announced a strategic partnership with IQE plc, a supplier of compound semiconductor wafer products and advanced material solutions. The partnership will develop, scale and commercialize Porotech's unique wafer technology using 200 or 300mm GaN-based wafer for ultra-high-density and efficient MicroLEDs. IQE expects to become Porotech's epitaxial wafer foundry partner by providing GaN MOCVD capacity for volume production. Porotech purchases semi-finished dies, adds its patent porous layer, and then finishes the wafer with the primary color. (Porotech Announces Strategic Partnership with IQE)
A single die can emit red, green or blue wavelengths by modulating the current density. Porotech is just beginning and hasn't reached the characterization stage, at least not for public review. They claim that each color can be produced with the necessary intensity and yield and efficiency. They envision being able to supply red, green and blue die or a single die that emits all colors. But the efficiency is low, especially for red, production costs and yields yet to be defined and many competitors are working on similar outcomes.
They are concentrating on the microdisplay market because of their academic background, "it seems more challenging". But they are likely to follow the instincts that infamous bank robber, Willy Sutton espoused to "go where the money is".
Figure 7: Porotech Monochrome Pixels using GaN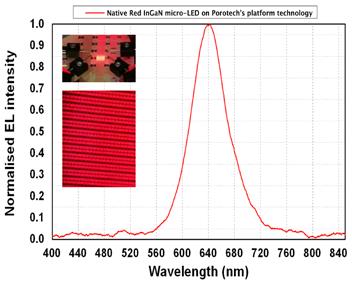 Source: Company
Samsung Display's Ups its Game w/New Foldable Concept Devices
Samsung Display, the leader in foldable display technology, showed a range of foldable displays, including the Flex G and Flex S concepts, last shown off at CES 2022. They're both tri-folding panels and work for both compact smartphones and tablet-sized devices, with the former folding inward twice and the latter folding both inward and outward. A concept video provided by the company previews exactly how these displays are used. Future foldables could include multi-fold designs that are capable of folding both inwards and outwards, or even use rolling screens to expand outwards.
LG Display showed an 8-inch foldable touchscreen which folds both inward and outward, similar to TCL's Ultra Flex concept earlier this year. The design allows a single folding display to serve as both an inner screen (like with the Galaxy Z Fold 3) and an outer screen (like the Huawei Mate XS), although clearly raising the question of durability. LG Display claimed their 360-degree display survived "over 200,000 folds" before it starts to break, and LG Display says it uses a "special folding structure" that minimizes any creasing. The resolution was 2,480 x 2,200 pixels, the same as the inner display on Huawei's Mate X2.
LG also had their 17' foldable display for HP notebook, an upgrade from Lenovo's 13" foldable notebook.
Figure 8: LG's 17" Foldable Panel in a Notebook
Image: LG Display
Samsung Display also showed a pair of sliding handsets with screens that can unfurl horizontally or vertically. Rollable concepts over the years have been demoed by TCL, Oppo, and even LG prior to it exiting the smartphone business entirely. But despite the interest, no smartphones with rollable displays have yet made it to market.
Figure 9: Samsung Rollable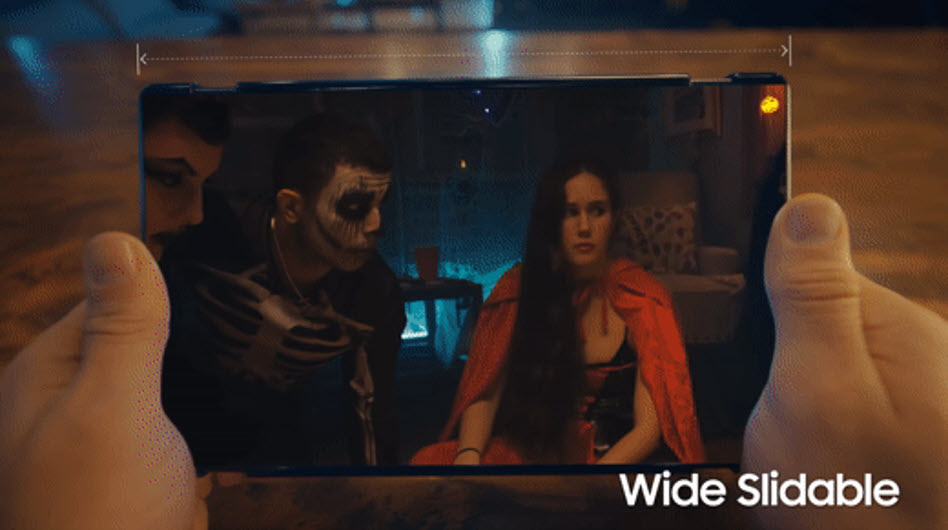 Image: Samsung Display
While the market looks forward to the next generation of foldables and shipments are doubling Y/Y, it is all driven by the Z Flip, which competes with traditional formats, by offering the same functionality at the same price with a smaller form factor. The Z Fold has been a dismal failure with modest sales due to the large size, heavy weight and high price. If the tablet in a phone format is to succeed, all three limitations should be addressed. The rollable format seems hopeful, but the prototypes are very thick and by adding the roller mechanism likely to be very expensive.
SID after 60 Years –Needs Membership Growth
To celebrate its 60th anniversary, SID had a number of speakers give 15 min presentations. Aside from the historical dimension and a recap of the forecast, two talks were of epic importance.
Achin Bhowmik, Incoming SID President and CTO of Starkey Hearing Technologies and a Stanford Adjunct Professor, after praising the SID, issued a call to arms. He believes the Society, which now has 6,000 members needs to grow exponentially in order to compete and suggest that we should expand the charter to include Optics and Imaging.
Figure 10: Concept Logo for Expanded SID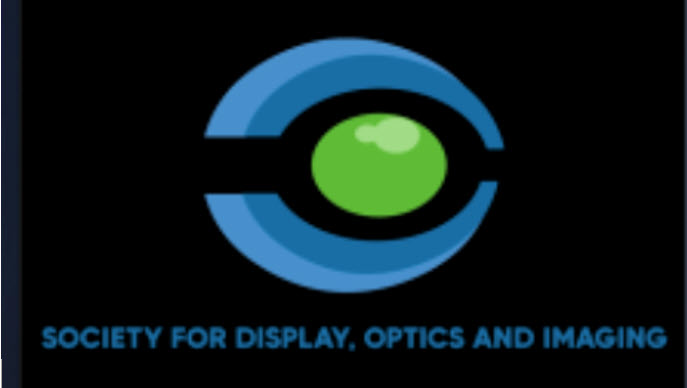 SDOI Logo Concept – Source: OLED-A
Steven Bathiche, who leads Microsoft's Applied Sciences Group to evolve the computer by inventing new interaction technologies. He held the audience spellbound for 15 virtual minutes sounding off on better ways for devices to capture people's intent and their physical world (touch, gesture, pen, voice, vision, and more), enabling the computer to perceive and understand these inputs at higher levels of abstraction (computer vision, speech, artificial intelligence); and new output technologies to convey knowledge, meaning, and experiences back to the user (display, audio, haptics).
Other Noteworthy Stuff
Leia Inc., a 3D platform unveiled its next generation of 3D Lightfield displays, which offer a "window like" view of the world. Showcased in a 15.6? LCD monitor, Leia devices have the ability to switch between full-resolution 2D and 3D Lightfield for holograms. The 15.6? operates in 2D at 120Hz in 4K, which supports traditional 2D uses like gaming, and switches to a 12-view Lightfield display when prompted by the app. The 3D parameters of the display respond to head-tracking, with a high refresh rate, and a rapid camera that works seamlessly with the SDK to update individual pixels on and with the monitor; the result is a deep sense of immersion and clarity — similar to how humans see things in the real world — while remaining comfortable for the naked eye. Leia uses LCD displays and adds a second backlight to produce the 3D effect.
LG quietly showed some breakthroughs in OLED technology. Beside the foldables and the 2,000 nit TV, they demonstrated:

0.47" HD MicroOLED with 7,000 nits after the color filter
Automotive OLED displays that met the automotive standard temperature requirements, -40°C to +90° C, using tandem RGB architecture to achieve the luminance and lifetime
Finally, sometimes we can learn more by what we don't see than what we do see.
One of the industries greatest engineering feats, the Rollable OLED TV was not mentioned by the LG keynote, nor was it in their booth, nor was it mentioned in the technical symposium
Also MIA was Samsung's "the Wall" and LG's magnificent 360° entry way. (BY)