Pioneer Group of the UK (not the Japanese brand) was showing its recently-introduced discrete LED displays which are currently available for indoor applications in pitches from 1.9mm to 6mm. The company is working on "sub 1mm" pitch products and also has a 'full range' of outdoor LEDs. The display is very slim and is made up of quite small modules, making it easy to develop quite precise fitting for particular retail premises and custom designs. The LED wall on display was 4m x 2.2m using 20 modules and we heard that each module uses four power supply units, so there were 80 connected! The firm has already been successful in selling its 3mm product to Sunglass Hut.
Also on the Pioneer booth was an unusual autostereo 3D solution which was operating in portrait mode. The device used lenticular lenses, which are said to be partucularly thick. (for readers not aware of the technology, the pixel configuration of RGB is rotated through 90 degrees, so the optics need to be different than in landscape mode). The display came from Sky Media in Korea. (We were not particularly impressed with the demonstration which showed quite a lot of artefacts – Man. Ed.)
The company is a Scala partner and was showing the Quividi face recognition technology. It was being used quite widely at the event and staff told us at Pyramid that, for example, Pizza vendors are using gender and age data to optimise which pizzas are promoted. Pioneer is working with KFC in the UK (it has rolled out five displays in each of 450 stores, many in the UK) and was also involved in the big "Game" store rollout that we talked about when we met with Samsung before ISE.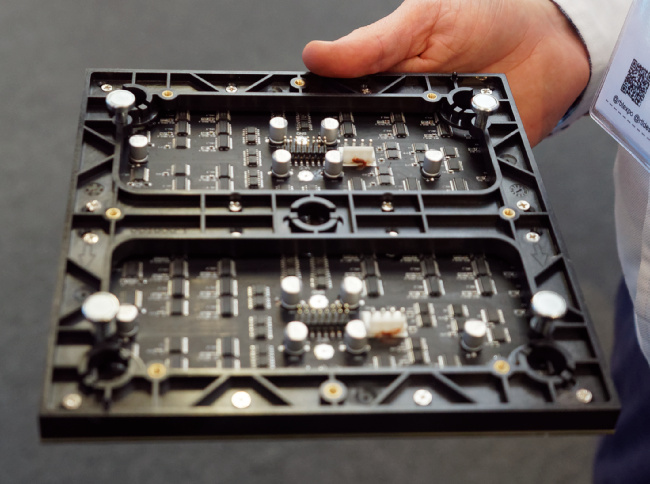 Each of Pioneer Group's LED modules uses dual PSUs. Image:Meko