We have caught up with Neotion at the IBC show many times over the years. The company, based near Marseilles, France, has been at the forefront of development of innovative applications using the universal CAM slot that is ubiquitous in Europe. However, at the show, the company had a new development, that it talked about as a concept two years ago and showed in prototype form last year. This year, the company has a finished product that will be launched with a 'top tier' satellite operator shortly. The project was developed with Eutelsat and Broadpeak.
Neotion has developed an STB that exploits the concept of 'IP over DVB' that is to say, sending an IP stream via a DVB stream from a satellite. A single transponder can support 50Mpbs, so Neotion's customer intends to transmit 50 streams at 1 Mbps to the box which means that all streams are available and live. That means, in turn, because of the OTT multicast built into the box, that the same stream can be watched on multiple devices or, alternatively, many different streams can be watched simultaneously.
The Neotion DVBeacon device uses Broadpeak's nanoCDN solution to distribute content. Broadpeak's software can be put into home gateways so that requests made by end-devices like tablets for a unicast video stream are intercepted and turned into a multicast request. Television channels can be made available as multicasts on the network, and these streams are therefore directed to the home gateway device, which then converts them into a unicast for delivery into the end device. The content is distributed around the home using HLS.
Of course, the data stream does not have to be video, it could be any data including audio, radio or books and other media. Further, the stream could be used, if the customer has a USB memory, to pre-load bigger files in high resolutions during off-peak hours. The technology is seen as delivering a very high level of functionality to regions where there is a lack of broadband or where consumption is limited. For example, Eutelsat has more than 50 million households in the Middle East, where broadband consumption is limited.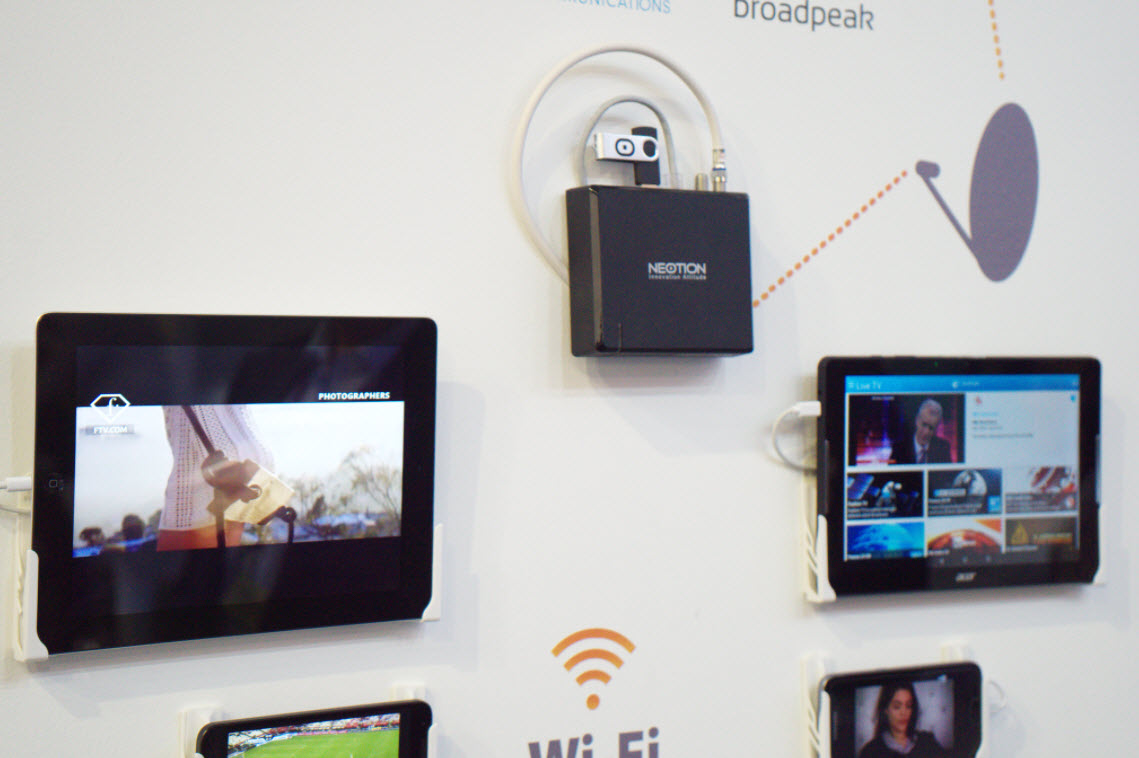 Analyst Comment
This looks like an innovative way to deliver a lot of different simultaneous channels to a consumer, without the need for the IP-based LNBs like SAT>IP.
Like many in the STB market, Neotion is looking at the IoT and has also developed a CAM-based analytics system that can provide a lot of data back to an operator. (BR)