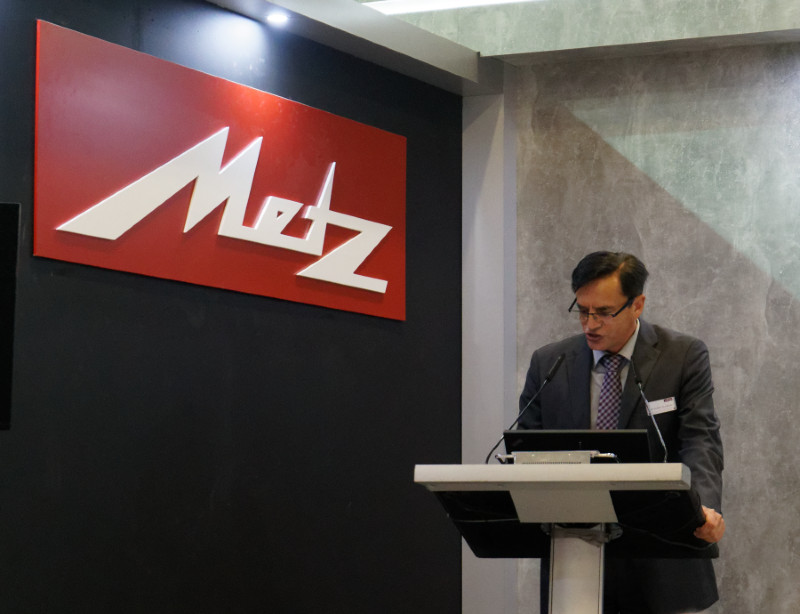 Metz was taken over by Skyworth a couple of years ago and held a press conference before the event.
There was a clear message about the future of TV with Alexa, Android TV and wallpaper TV.
The business is based on three channels – the Metz brand, the Skyworth brand and OEM sales. The market is not just about a single segment or size – the TV market is complex and many sizes are sold with many factors. Metz fears that understanding is not very clear with consumers of these many terms.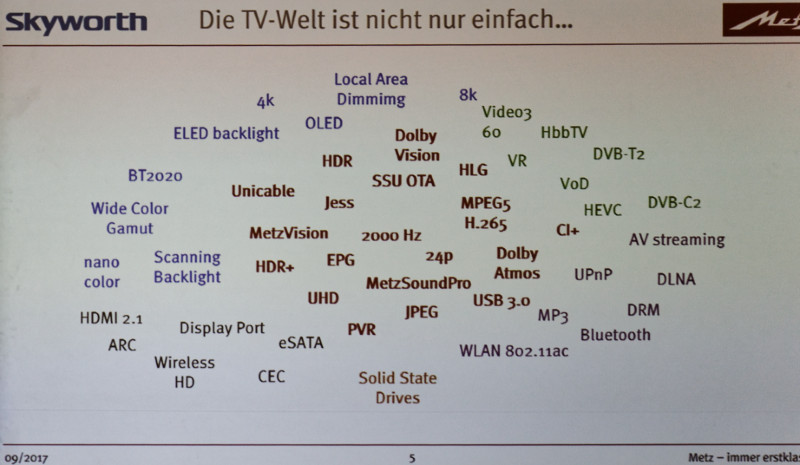 Metz highlighted that there are many factors for consumers to consider when buying a TV
In many areas, consumers really don't have any understanding of the technical terms. That makes the brand very important in guaranteeing a high quality TV experience. Metz believes that its brand also stands for a high level of usability.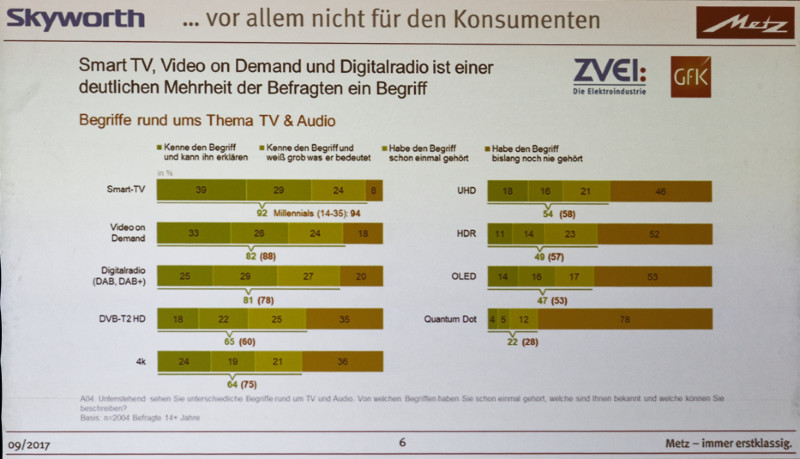 Metz showed this data from ZVEI showing that many consumers do not understand UHD, HDR, OLED and Quantum Dot, although SmartTV is well understood
Metz doesn't release financial data, but claimed a growth of 35% in turnover from Q2 2016 to this year, helped by the development and introduction of DVB-T2 which prompted a lot of consumers to update their sets. Although the company sells mainly through small stores (1900 in Germany), it also sells in 120 'technical superstores' (e.g. MediaMarkt). Once again, Metz was top in the survey of dealers for service and support but it does not take this for granted.
The Skyworth brand is also part of the business and is the best selling brand in STBs, as well as being strong in TV, and is said to be 'highly profitable'. Skyworth has ten subsidiaries outside China now, including, recently, the US.
Skyworth has been operating in Europe for several years, with a TV assembly company in Poland and has, increasingly, been promoting its brand. From May 2017, the brand is being sold in Germany as well. The brand is clearly differentiated from the Metz brand and is allowing access to the lower cost volume market.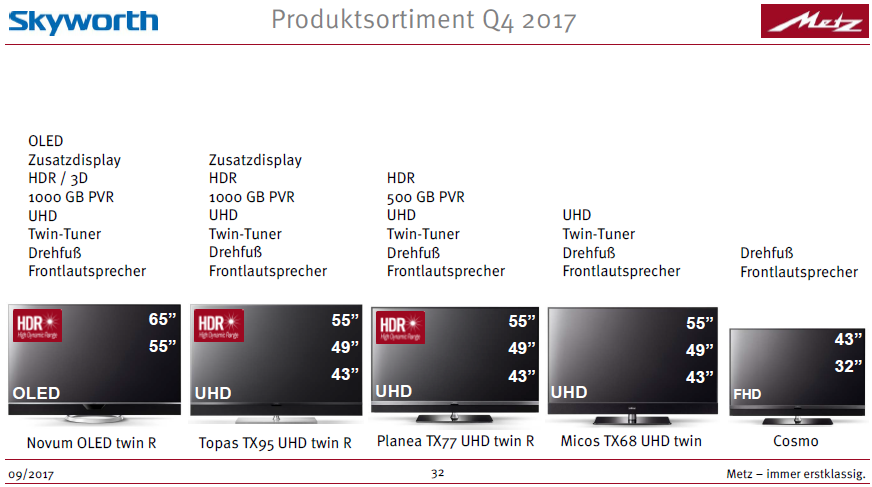 Metz showed this range slide which helps understand the direction of development
Turning to products, the company is not skimping on materials or sound, it said, but maintaining quality in accordance with its traditional values.
The Micos is a new TV with a twin tuner, UltraHD, six speakers (four full range and two woofers) and UHD Playback /recording, Four of the five Metz ranges have twin tuners – and some have integrated HDDs, while others use external storage. The Planea and above (Topaz/Novum) are UltraHD. The company is still supporting passive polarised 3D functions.
Android is a two edged sword – it adds a lot of functionality, the company said, but it takes you away from having control of your own OS environment. On the other hand, you can get access to features such as voice control, which can work really well with Android. How to make it work with 'simple TV' is a real challenge, so in the future, Metx will run Android 'in parallel' with its own 'simple' TV operating system, where possible.
Metz is considering selling a Wallpaper OLED with a separate control box (it was unclear whether it was certain that the product will be launched, although it was shown as a product on the front of the booth). Features will include (probably) Dolby Atmos and the company is looking at Alexa functionality. There was a demonstration of programming the recorder using Alexa.
The first question in the Q&A session after the presentation was about security which is always a hot topic in Germany. Metz has a setting that will turn off all external internet services, but allowing 'in home' networking to keep data within the home.
Booth Tour (CC)
As noted in the company press conference, Skyworth bought the company in 2014 and is helping with the supply of panels, but much of the TV engineering – technical and aesthetic, is done in Germany, as is product manufacturing. The Metz brand appears to appeal more to older consumers where the brand means high quality and durability while the Skyworth brand is being aimed at younger buyers. Skyworth TVs are now distributed in France, Spain and Italy and in 2017, Germany joined the list.
The front of the booth was very devoted to showcasing wallpaper OLED TVs, which should hit the market in March of 2018, said the company (although, at the press event this was not confirmed). Also being highlighted was the Micos series (43″, 49″ and 55″) which ship in October for €1,300, €1,500 and €1,700 respectively. These are not HDR models.
In HDR, the Novum 55 has HDR10 and Dolby Vision support, along with HLG now. The model was introduced at the last IFA.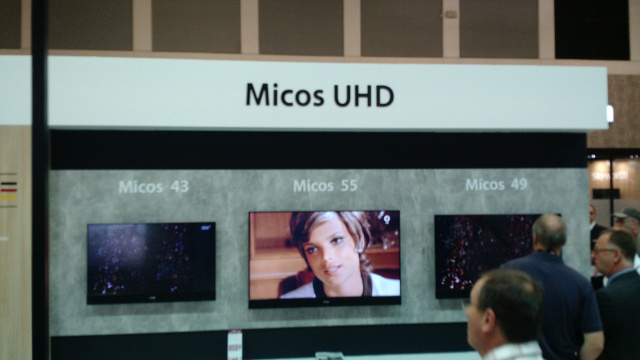 Skyworth also showed this sample flexible OLED on the booth although there was no real information about the component other than that it might be available in the future. Unfortunately, our picture didn't come out well.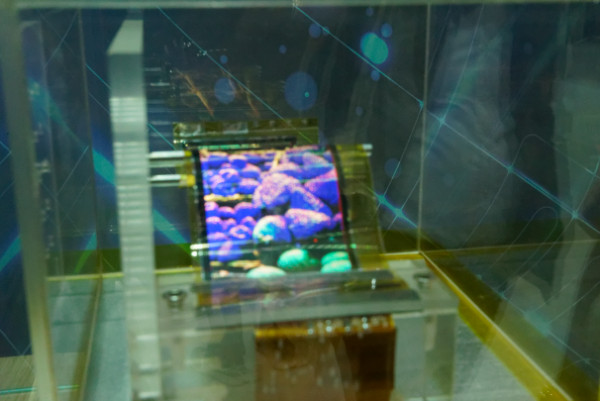 Unfortunately, the case confused the focus on our camera when we shot this Skyworth flexible OLED