Panasonic held a press event before the show and after the obligatory bass-heavy video, Laurent Abadie, CEO of Panasonic Europe, arrived on an electric scooter. These are now being introduced in Berlin and Paris (600 are available in that city, Abadie said). Panasonic has been developing its battery and energy businesses over recent years, as we have reported.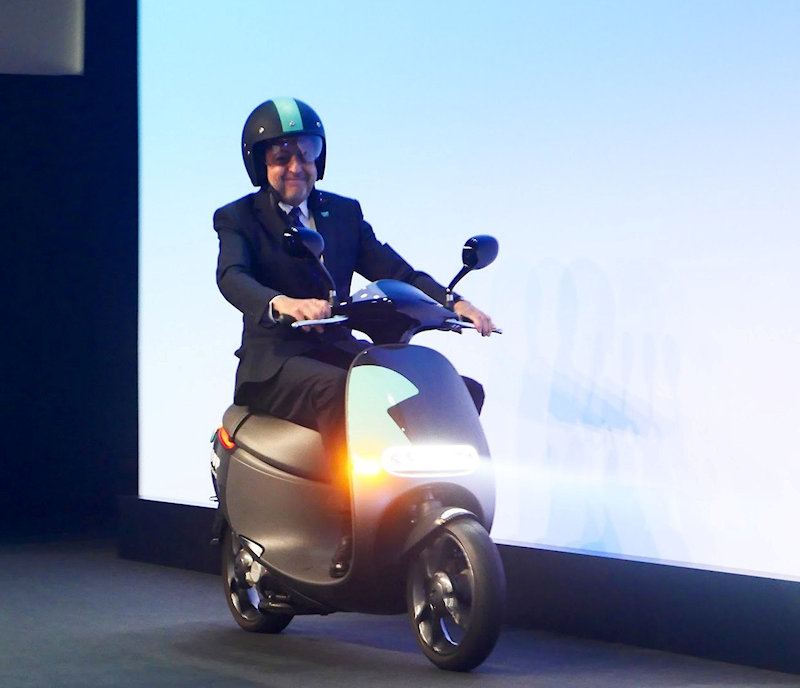 Abadie loves a dramatic entrance and came on stage riding this scooter. Brave!
As well as IoT and technologies such as audio control, Panasonic wants to become a net supplier of energy as a company (presumably not by going into the generation business! Man Ed).
In Tsunashima, Japan, Panasonic is working on sustainability for companies and businesses, whereas in its previous project in Fujisawa, it was focused around the home (Panasonic Improves OLED Performance). The company is working on hydrogen only fuel cells which are planned to be feasible by 2030 and that will mean low cost and the system will be completely emission free. That is an R&D project now, but there is a hydrogen filling station already in operation in Japan in Tsunashima.
Lithium Ion batteries are a big segment and this year Panasonic is further developing this market. Speyer is a town south of Frankfurt which is testing the feasibility of energy self sufficiency. Residential batteries are being installed to help with this. Batteries are centrally managed to optimise lifetime and efficient operation and Abadie said that consumers understand that this kind of centralised management is helpful.
In cities, transport is going electric and Tesla has started to sell the Model 3 car and Panasonic is the supplier of batteries from a joint venture factory with Tesla.
Abadie said that, in the past, electric light poles in cities were centrally controlled and switched. However, this has been changing and Panasonic is developing electric light poles into independent units that have permanent power and turn on and off according to local conditions. The company is working on converting these light poles to charging stations – a reduction of 90% in cost compared to building dedicated charging points. Work is being done with Schréder in Belgium which is a specialist in luminaires for public lighting. The companies are using HD PLC technology to exploit the lights and existing cable network to supply up to 240 Mbps of connectivity without needing additional cables or fibres. Abadie said that Panasonic has a simple panel that can replace existing standard covers for lampposts that can quickly convert them to be charging stations.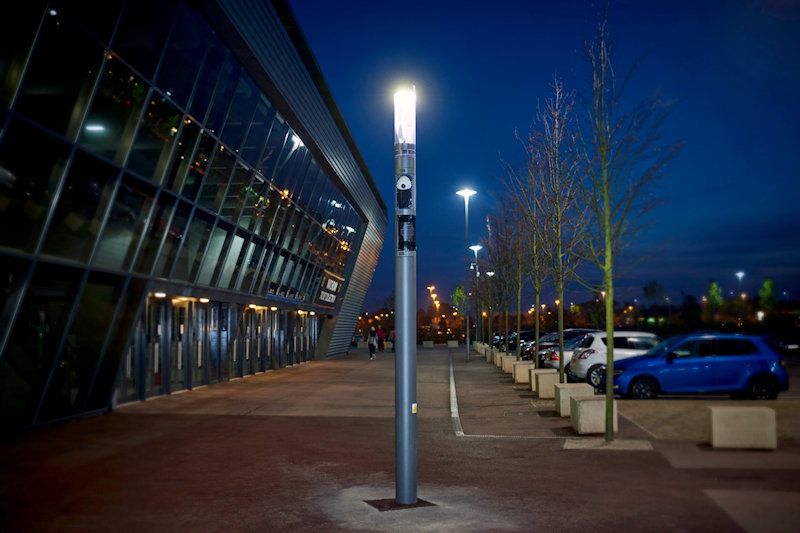 Panasonic is working with Schréder which has developed LED Lighting with cameras, Wi-fi and car charging points
There are two ranges of OLED TVs, the EZ1000 series will gain a new 77″ model which will reach stores in Europe this year. The set has a 70W 'dynamic blade' speaker, but the HDR image quality The EZ1000 won the HDTVtest site award as best TV.
Then Stefan Sommerfeld of Deluxe, which performs colour correction for Hollywood movies, came on stage. He emphasised the importance of maintaing the creative intent. He also raved about the quality of the Panasonic TVs, even compared to the best broadcast monitors and said that Deluxe has approved the EZ1000 for use as a client reference monitor for its content, whether for cinema release or high end TV.
Danny Kaye then came on to talk about HDR10+, which Panasonic announced support for, just before the IFA event. Kaye is from 20th Century Fox, which is a partner with Panasonic and Samsung in developing HDR10+ (an open competitor to Dolby Vision – Man. Ed.). His talk was only a general endorsement of the technology and didn't add any real information. Panasonic will add HDR10+ to its 4K Pro 2017 models via a firmware update.
Exclusive Content for Panasonic UltraHD Sets
Panasonic has an existing relationship with the Berliner Philharmonic orchestra (Panasonic Improves OLED Performance) and content captured by Panasonic at the orchestra's concerts will be available in UltraHD and with HDR using new cameras (which will use HLG for capture, we noted on the booth). The service will be available in October and will be exclusively available on UltraHD Panasonic TVs and Blu-ray players for the first four months before becoming more widely available. (geographic coverage was not clear)
Audio and Cameras
Voice activated speakers are popular for playing music as well as other applications. Current devices are not the optimum quality, in Panasonic's view, so the company has developed the GA10 which uses Google Voice Assistant. The GA10 has a soft dome tweeters and a dual voice coil woofer (normally only used in car audio systems, apparently). The devices will play the same music around the home using a multi-room feature. The speaker will be sold in Europe this winter.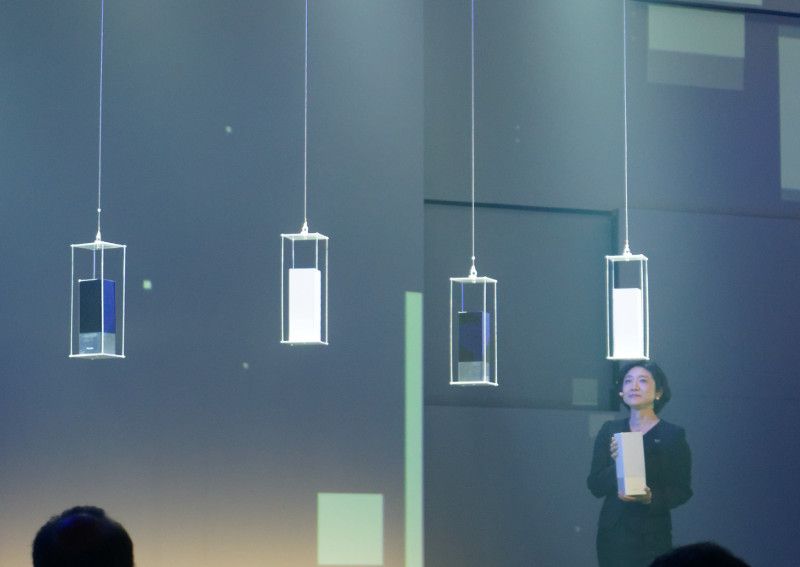 The new GA10 speakers were lowered, theatrically, from the ceiling, but in the big space were a bit underwhelming. Image:Meko
The GH5 Lumix camera has been a successful video camera and there will be a firmware upgrade to add video capture in HLG format. In addition, DX750 and above 2016 models will be updated to support HLG.
Technics, the high end Panasonic audio brand that was revived several years ago, has three classes of product in its range, reference, grand and premium. There is a new Ottava Forte all-in one compact audio system. Sales will start in September.
Under the Technics brand, the firm is developing a new SP10 direct drive turntable SP10-R which will be for the very high end as part of the 'Reference' series.
Booth Tour
Panasonic released a new OLED TV in a 77″ size at IFA and showed improved performance for OLED TV in a darkened room including a comparison with a studio reference monitor. The other big news was the new cooperation on HDR10+ with 20th Century Fox and Samsung (see Samsung Wins 20th Century Fox & Panasonic for HDR10+).
The new 77″ EZ1000 model joins a 65″ versions launched previously. Panasonic also offers the EZ950 series in 55″ and 65″ sizes as well in Europe.
Features include UltraHD resolution, HDR10 and HLG support, Panasonic's HCX2 video processor, 120 Hz native panel refresh rate and UHD Premium as well as THX certification. What's more, the EZ1000 has been tuned up and tested by Deluxe Company 3, EFilm and Encore for approval of studio movie content for use as a client reference monitor. That means colorists can't grade on it, but they can test what the content is expected to look like in the home on the EZ1000. Further, these models are expected to be backward compatible with HDR10+ signaling as well.
In LED TVs, there were no new models introduced. On display were the following UHD series: the EX780 series (50-, 58-, 65- and 75-inch); the EX700 series (40-, 50, 58-, and 65-inch) and the EX600 series (40-, 49-, 55- and 65-inch)
Panasonic TVs are not offered in the US but do very well in Europe (they are number two behind LG in OLED TVs). The 77″ model is expected to sell for around €20,000 starting now while the 65″ version sells for about €6,000.
In Panasonic's darkened room we saw some very compelling demos last year. The 2016 demo showed how Panasonic had improved the control of the very darkest gray tone where the first steps out of pure black (i.e. off) was a bit of a step in luminance. They compared performance to a Sony RGB X300 OLED reference monitor with some very dark content to confirm the performance improvement. The same demo was running this year but they are using the latest generation OLED panel which can now reach 1000 cd/m² vs. the 800 they showed last year.
They also showed some LCD backlight technology which showed the difference between 1D local dimming and 2D local dimming on edge lit LCDs. This will have a big impact on reducing the haloing around bright objects like the moon on a dark night.