LG held its press event one day before the show opened and started by launching the V30 smartphone which has been widely previewed by the company. That was the only real topic for the conference, so if you don't care about phones – jump to the booth tour!
The emphasis these days is communication by video rather than just by voice or images. 300 hours of video are uploaded to YouTube every minute, now. Increasingly, filters, background music and other editing tools are being used to improve video quality. In line with this trend, LG believes that the V30 raises the bar on video quality. LG brought David Franco, Director of Photography for Game of Thrones, Desperate Housewives and other famous shows and movies on stage to endorse the performance in video capture. Franco got an early look at the phone and put together a 'show reel' of the camera being used in his daily life.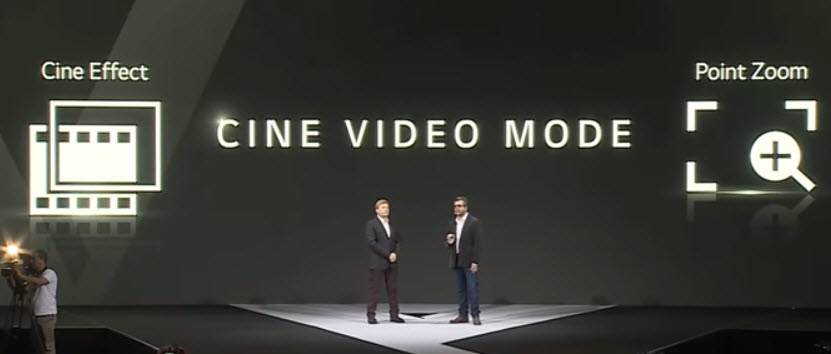 The video mode has a cine effect to colorise content and there are fifteen settings that can be selected to change the video. Cine effect uses a log profile to maintain colour detail and LG worked with colorists and movie makers to develop Cine Effect. Cine Effect includes vignetting and other optical effects.
Point zoom, is a special feature to zoom into a particular point (rather than just to the centre) and is much smoother than trying to use touch manually. The speed of the zoom can also be adjusted.
The LG Cine Log means that the content can even be used in more sophisticated video editors and processors.
LG has also developed a system to use the audio 'receiver' of the phone as a microphone which allows much higher sound levels (such as at concerts) to be recorded.
Still Cameras not Neglected
Like the G6, the V30 has dual rear cameras, one regular one and one with wide angle. The lens of the main camera is an F1.6 'crystal clear" lens which is a glass lens rather than the plastic used in other smartphones. That helps to capture a high dynamic range with better shadow and highlight detail. The sensor is also 16MP. The wide angle lens has been redesigned to reduce the distortion of previous wide angle lenses used by LG in its earlier models.
The display is an OLED with 18:9 (FullVision in LG's terms) resolution with 2880 x 1440 and with support for the HDR10 HDR format. LG then brought on Adrienne McAllister from Google to talk about Daydream from Google, the company's VR system. The V30 is, of course, compatible with Daydream. The contrast of the OLED helps the performance and immersion of Daydream, McAllister said.
She said that Daydream will be launched in Korea and Japan in the near future and will also launch the ARCore Daydream AR technology with LG on the V30.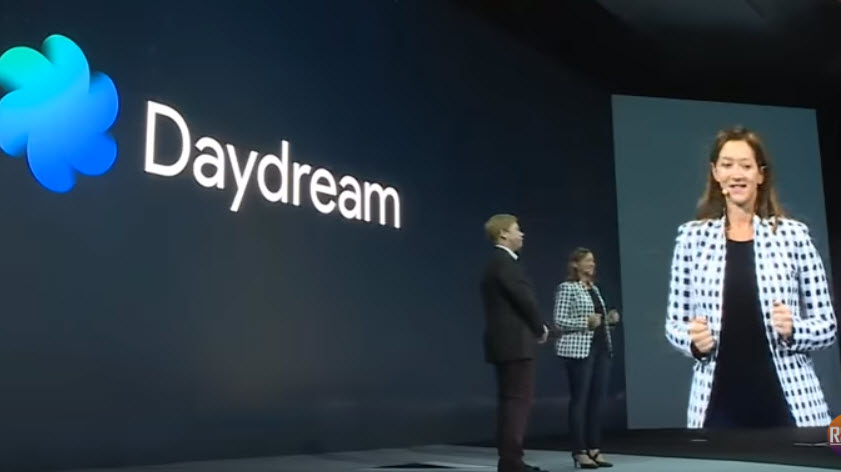 The display has an 'always on' mode and that has been improved in the V30. The secondary display on the LG V20 is effectively replaced by a floating bar on the Android interface on the V30.
The display has slightly curved sides and it is 7.3mm thick with weight of 158 gms. Gorilla Glass 5 is used on the front and back of the phone and the body of the phone has an H beam chassis. Mil Std 810G has been passed and its waterproof to IP68. The battery is 3,300 mAh and supports wireless and quick charging. There are a number of power saving modes and the connector is a USB Type-C.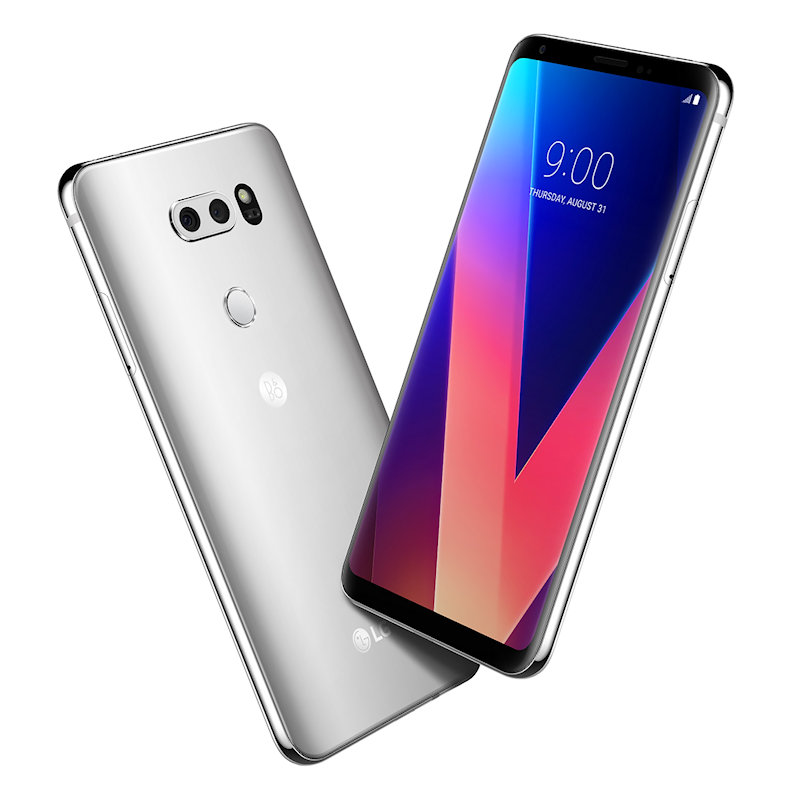 The V30 has a Qualcomm Snapdragon 835 processor and next up was an exec, Don McGuire, from Qualcomm. The camera and video facilities are enhanced by the use of the 835, he said. He explained that rather than using dual exposures for HDR, the 835 optimises dynamic range at the pixel level during capture. The 835 also assists the support of HDR10. The X16 LTE modem is capable of continuous bit rates in the 'hundreds of megabits' range and with peaks up to a Gigabit.
RAM is 4GB and storage is 64GB or 128GB with microSD also available for expansion.
The phone has a 32 bit quad DAC audio system and the V30 supports MQA format hi-fi sound from high end streaming services. Other features including programmable reverb and the audio was developed with B&O Play and the earphones were also tuned by the company. There will be $100 in app tokens for an online music app.
The next speaker was from Google and talked about the integration of Google Assistant in the V30. The V30 will be the first device to use the Korean language and will also be rolled out in Italian and Spanish. There will be a range of special Google Assistant commands for the phone and the Assistant will work even when the phone is playing music. LG will make a number of LG appliances compatible with Google Assistant.
LG's booth looked pretty similar to last year's version with a big OLED tunnel greeting visitors on one end. It had new content running and is an impressive demo. However, we were told that there were no new TV products being introduced at the show this year, although there were some interesting tidbits.
Last year, there was a demo of 120 Hz HLG content on an OLED TV. This year the demo was not repeated.
One station was showing the Technicolor expert mode which is a preset mode that has factory calibrated settings for the best picture performance needed to replicate the image quality the director, DOP or colorist intended. It is a reference mode, in other words which means consumers are not supposed to muck with the settings in this mode. This has already been implemented on 2017 OLED and Super UHD LCD models. Content creators have already found the mode useful for collaboration from different locations. Using the same display in the Technicolor Expert mode provides some assurance that each group sees the same image.
LG also highlighted its collaboration with Bang & Olufsen the develop the BeoVision Eclipse OLED TV with integrated sound bar (see B&O article for more.)
The wallpaper display was in the LG booth and many others as well and represented the first time the display has been shown in Europe. This was sure to excite many local consumers and technology experts. As Panasonic said, the newest OLED panels can top 1000 cd/m² (probably in a 2% window) falling to more than 910 cd/m² in a 10% window. How long it can hold these levels was unclear. However, company official did emphasize that the big reductions in light output that has occurred for very bright scenes (high average picture level) have been addressed in these new panels. Now, even skiing scenes can be much brighter than with previous panels (but no specs available).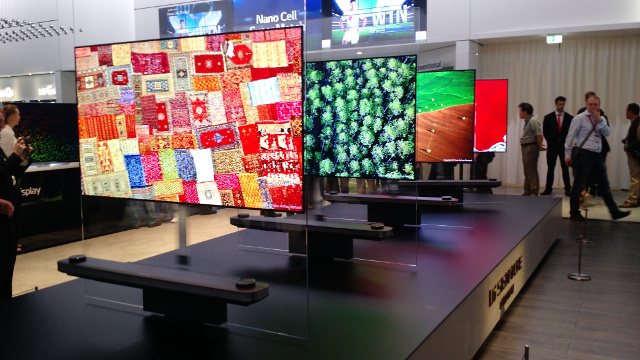 Other stations showed LGE's embrace of all things HDR including support for HDR10, Dolby Vision and HLG. Support for Advanced HDR by Technicolor is planned and they have even suggested they will support HDR10+ as it becomes available as well.
Turning to LCD, we were told that all current Super UHD LCD TVs include the nanocell technology except the 957 and 956 models. They achieve 90-94% of the P3 color gamut using this approach, which is essentially a yellow notch filter which reduces the overlap of red and green coming through the color filters. This does improve the color performance from the 80-90% of P3 in the UJ series, but at the expense of optical efficiency.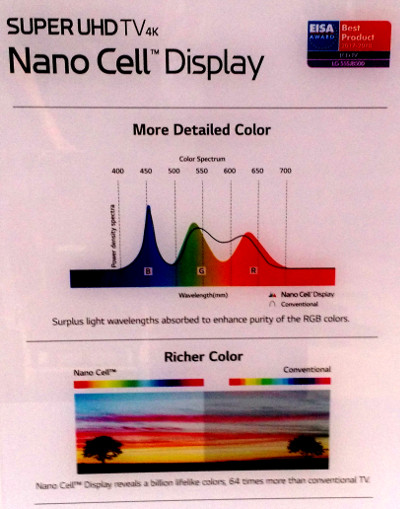 LG demonstrated voice control of its TV using the Alexa voice control funtion for the first time at IFA as well by connecting the TV to an Amazon Echo speaker. Compatible with WebOS, users will soon be able to change channels, volume, directional controls and do content searches.
We then took a look at LG's beamers (projectors) where three of the HF80JS models were shown blended together on three edge-butted screens at an 45º angle (like the Barco Escape format). Each screen was 120″ in diagonal. A super wide aspect gaming app was running to show the possibilities of this little guy.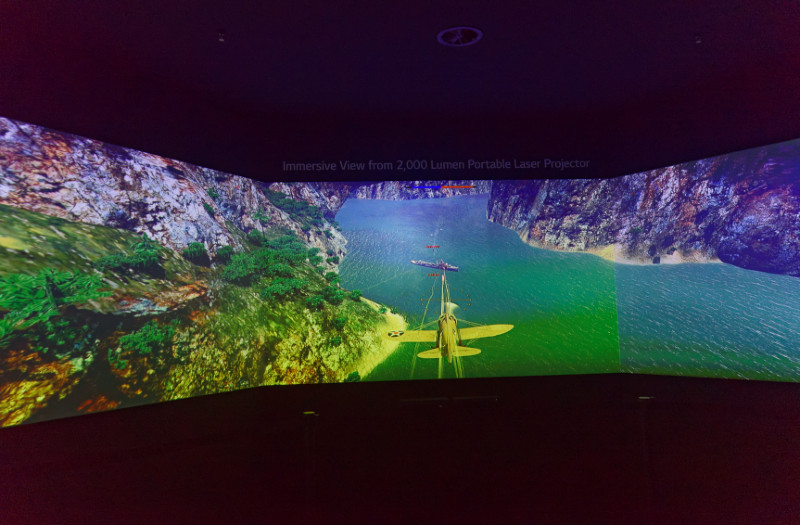 LG's HF80JS triple screen set up was impressive. Image:Meko
The specs are impressive: 2000 lumens from this small laser phosphor-based FHD resolution portable unit for €1800. It uses the WebOS and is essentially a SmartTV with access to Netflix, Amazon and an Internet browser. A short throw version of the same projector was also being shown (HF85JS). This can create a 120″ image with a throw of only 20 cm but with a little loss of brightness to 1500 lumens. It retails for €2,000.
Both use a blue laser but with red and green phosphors, not a yellow formulation. Lifetime to 50% luminance is speced at 20K hours but there was no spec on the color gamut. A dynamic iris is included in these DLP-based projectors to achieve a dynmaic contrast of 150,000:1. Both are slated for delivery in Europe in October, but distribution in the US is not yet decided. LG said they are doing very well with their projectors in Europe with 20% growth last year. The units are not bundled with a screen or speakers, but some dealers are offering packages already. The projectors support Bluetooth audio to the speakers.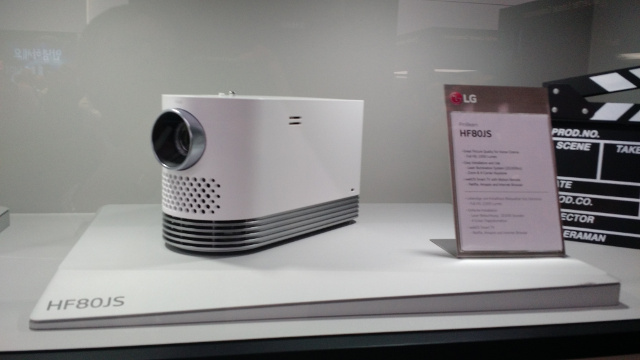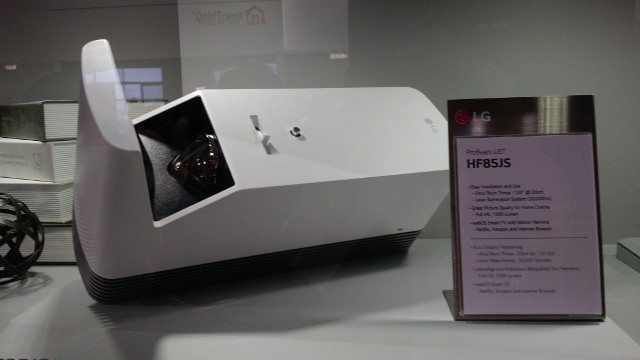 LG also showed off their MiniBeam PH30J projector which has USB Type C compatibility to mirror content on your phone, tablet or laptop. It also has Bluetottoh to drive sound to external speakers – all in a small and very portable package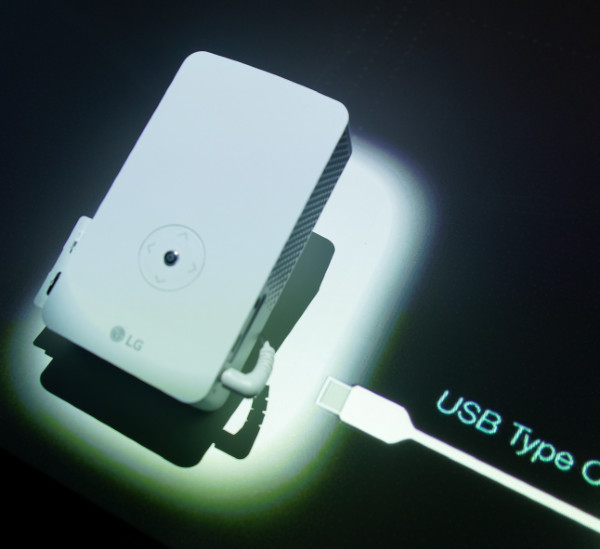 LG's PH30J miniBeam projector – Image:Meko
Monitors – LG Tries VA!
We had a look at the monitors, of which there were a good number on the booth, with the emphasis clearly on the consumer parts of the range.
The first monitor we looked at was an unusual one – the 32GK850G which is a 31.5″ 2560 x 1440 display with 144Hz refresh (overclock up to 165Hz) refresh and with Nvidia G-Sync. Features include LG's 'Sphere Lighting' with LEDs on the back and 350 cd/m² of output. Other features include a number of gaming modes including crosshairs and black stabiliser. Inputs include DP1.2 and HDMI 1.4. However, the most surprising feature that we noted is that the monitor uses a VA panel – as far as we know that's the first time that LG has used a VA panel in its monitor range. (although it uses VA in some of its lower end TVs, as far as we know). The monitor will ship in 2018.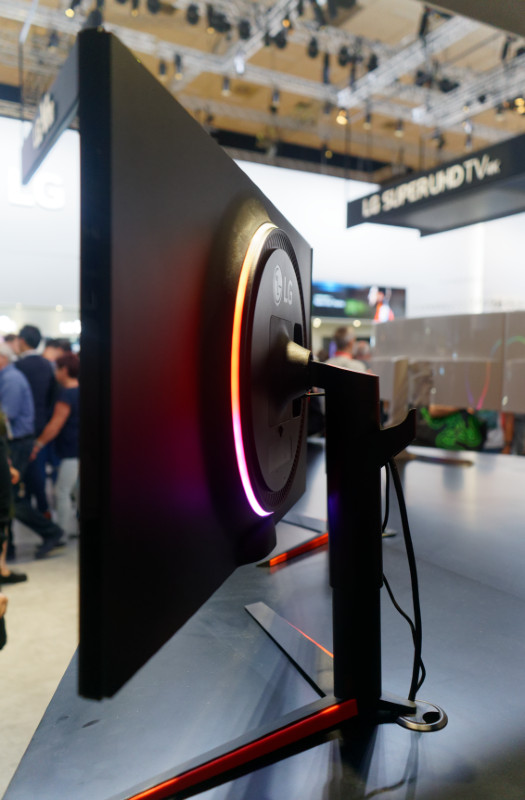 LG's 32GK850G monitor has coloured LEDs on the back – with a VA panel. Image:Meko
The 27GK750F is a new TN-based monitor with FullHD resolution and up to 240Hz refresh using FreeSync. The response time is quoted as 1ms and the monitor has many of the features of the 32″ model.
LG told us at the show that it has been getting some good projects for its 21:9 curved monitors in the commercial segment.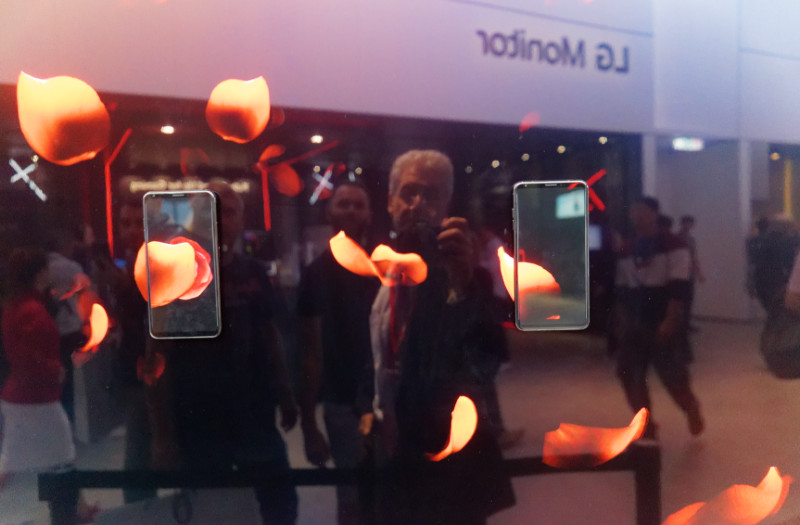 At the show LG had an OLED TV with a phone on the front to show the common image quality. Image:Meko