Samsung had its press event at the Tempdrom – a large venue well away from the Messe and with several thousand attendees including Samsung staff. The theme at the event was 'Your new normal'.
The firm introduced the new Q8F Quantum dot LCD TV (QLED) which is now available in Europe and in flat versions with 55″ and 65″ diagonal plus a new 43″ 'Art' TV that is designed to fit better in the home. Samsung has a new deal with the Prado museum to see content from there on the Art TV. Samsung has 100 special images as well as allowing access to over 1,000 images from online libraries.
Samsung added a 43″ version to its Frame range – and new images from the Prado. Image:Meko
There are fourteen QLED models altogether now in the range and although Samsung has 'looked at OLED', it sees QLED as the future, now.
Samsung also had a contest to design new stands for their TVs and had narrowed the competition down to five finalists (from 1,200 entries) – one of which was due to be announced as the winner at IFA.
On HDR, the technology is now moving to gaming with the introduction of the CHG90 monitor (which also has Quantum Dot technology Samsung Has 32:9 Gaming Monitor). It is a 49″ curved unit that is claimed to have a 1ms response and 144 Hz refresh rate. NVidia's G-Sync and HDR technology is supported and two game titles will launch with the monitor by the end of 2017. (Need for Speed and Star Wars Battlefront 2)
Samsung's TV Steamlink app is designed to stream content from the PC over a network to the TV at UltraHD and with 60fps. Samsung claims to be the first to do this.
There is a new washer design with QuickDrive where the agitator turns one direction and the tub the other. This washes the clothes in half the time with 25% less energy. Samsung claims that this would save the average person "10 days of time" in a year (which is ridiculous as you don't watch the washer and dryer while they are working! CC)
A new cordless vacuum was introduced with improved suction and mobility.
Important to the future of smart homes is connectivity and Samsung is founder member of the Open Connectivity Foundation (OCF) and in 2020 Matthew Perry of the OCF expects 20 billion devices to be connected and "all Samsung devices" will be connected by 2020. Perry said that the OCF is working on a secure IoT programme.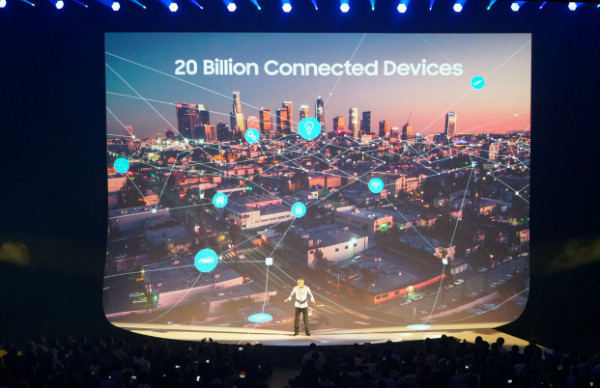 Samsung held its event in the Tempdrom, which is a big space. Image:Meko
The Note 8 is the latest Samsung phone and like other devices can connect to wearables. At the event, three new fitness wearables were launched. But it's not just about fitness, but wellness also. It tracks calories and sleep as well as activity.
The new Gear Sport is water resistant to 50m and includes gps, weight management and a music player. Messages and data such as heart rate can be displayed on Samung TVs. The watch even knows when the wearer is driving or on an aeroplane. When it detects driving, it turns off notifications. It uses standard 20mm watch bands if the Samsung ones are not to buyers' taste.
It has a rotating bezel control and is a "companion and coach" and can be used as a PC controller – it can control Powerpoint presentations or control a TV.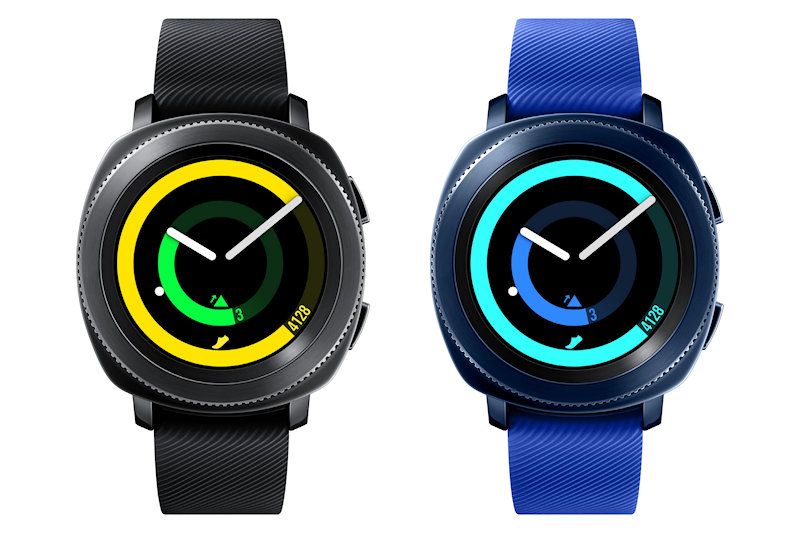 The Gear Fit2 Pro is an updated fitness band and is waterproof to 5 bar. It uses a super AMOLED curved display and is available in black or black/red. Samsung has partnered with Spotify so that music can be downloaded and listened to even without phone. There is also a partnership Under Armour with customised apps.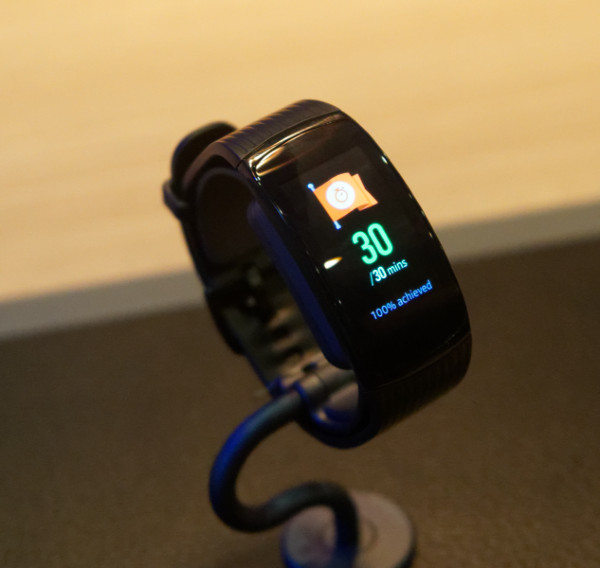 Samsung's Gear Fit2 Pro uses a curved AMOLED display. Image:Meko
A new and exclusive partnership is with Speedo and the company has announced the first speedo app (Speedo On) to help with tracking swimming. The CEO of Speedo came to tell the audience how excited he was. He said that digital gets more people into the pool. Why?
Swimming is seen as a solitary sport and that discourages people from taking part, so the On platform is designed to allow data to be shared. (think Strava for swirmmers – Man. Ed.)
The third wearable set is the Gear Icon X 2018 which is a pair of cordeless 'earware' earbuds that can be used via Bluetooth and that can store 4GB of music directly in their memory for when a smartphone is not nearby. The earbuds also respond to Samsung's Bixby voice control system.
The Note 8 will start to ship on September 15th in Europe and a free Dex unit can be claimed with pre-orders.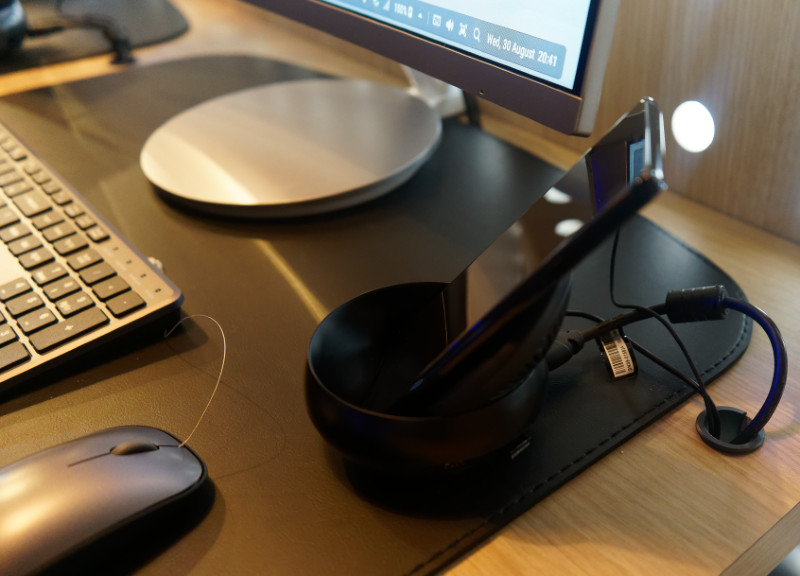 Samsung is giving free Dex docks for productivity use with Note 8 pre-orders. IMage:Meko
Armin Prommesberger of Harman came on to talk about the work being done between Harman and Samsung, since the acquisition. Harman worked with the LED cinema screen that Samsung introduced and it uses speakers from JBL, which is one of the brands of Harman. Prommesberger said that the AKG headphones with the Note 8 are probably "the best phones ever bundled with a phone".
Harman has been working on voice technologies for a long time and developed systems for use in cars – which is especially hard. The company will have two ranges of smart speakers under the Harman/Kardon and JBL brands (so presumably there won't be Samsung smart speakers – Man. Ed.)
There was then some brief discussion of the HDR10+ standard and the TV Plus service that was launched with Rakuten TV and gives access to UltraHD and HDR content.
VR headsets were not realistic until a couple of years ago, but now, the VR Live pass gives access to live events and games on the Gear VR headset. A video was shown of a Coldplay concert that was shown on the service.
Booth Tour
As usual, Samsung occupied the entire CityCube building at IFA and had a very large exhibit space showing a range of products.
In TVs, there were two pieces of news. The first was the availability of two new Q8 models in a flat format in 55″ and 65″ sizes as well as a new 43″ version of the Frame TV design. The second news was the establishment of the partnership between 20th Century Fox, Panasonic and Samsung to begin a certification and logo program around HDR10+, Samsung's royalty-free HDR format with dynamic metadata for scene by scene adjustment of the tone mapping (see separate article).
For our booth tour, the first demo we looked at was the HDR10 vs, HDR10+ side-by-side. I have to say, this was a bit of a cheat as the HDR10 TV was set to movie mode and the HDR10+ set to dynamic mode, so the differences in picture quality were artificially magnified.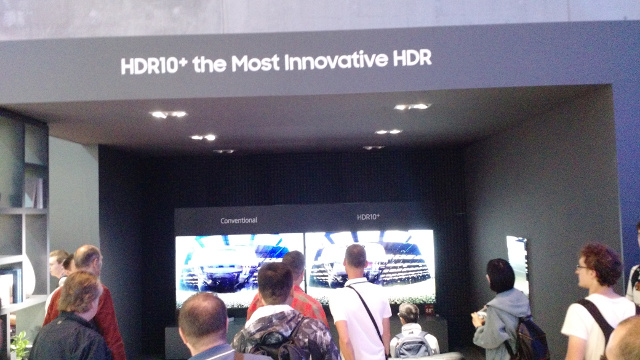 Samsung used different screen modes to highlight HDR vs SDR.
Otherwise, most of the TV show floor was occupied with educational stations to show and explain the benefits of 100% color volume, HDR10+ and UltraBlack. Each station had a slider to show the picture quality with and without this feature.
Other stations detailed the invisible connection of the Q Style where the electronics are housed in an external box and connection to the TV is over a very thin 1.8mm diameter fiber optic cable. One of the demonstrations showed the display unit moving around on a motorised stand while connected through the fibre to demonstrate the versatility.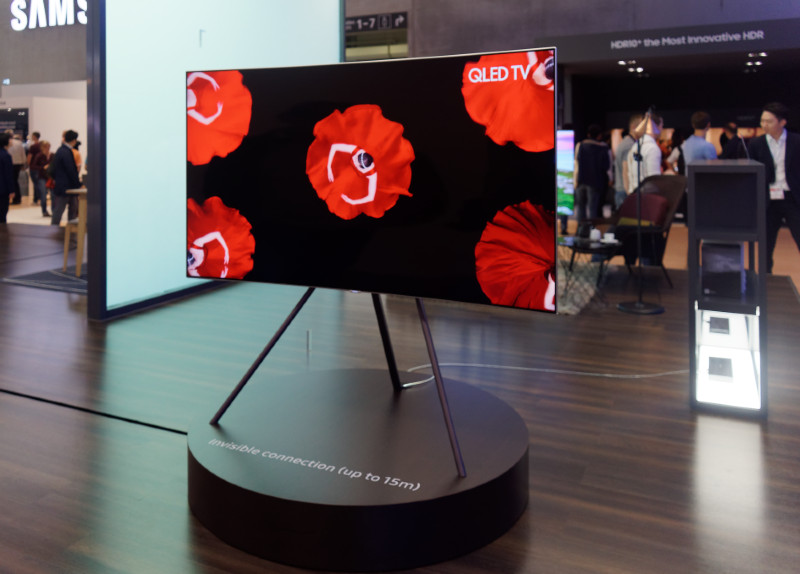 Samsung's optical connection was shown on this motorised TV. Image:Meko
Samsung also highlighted style in terms of art easel type stands and an entire room devoted to showcasing its Frame TV. New for IFA is a 43″ model and access to a collection of 1000 pieces of art from 37 world-renowned artists that are pre-loaded onto the frame. When not watching TV, it switches to "Art Mode" to display these and other works of art.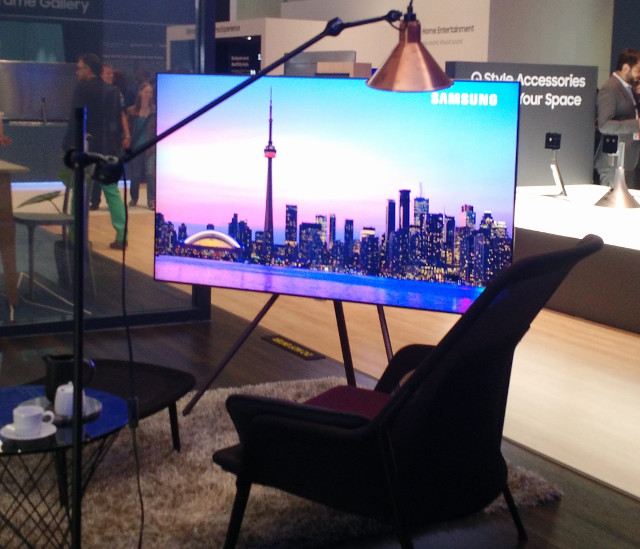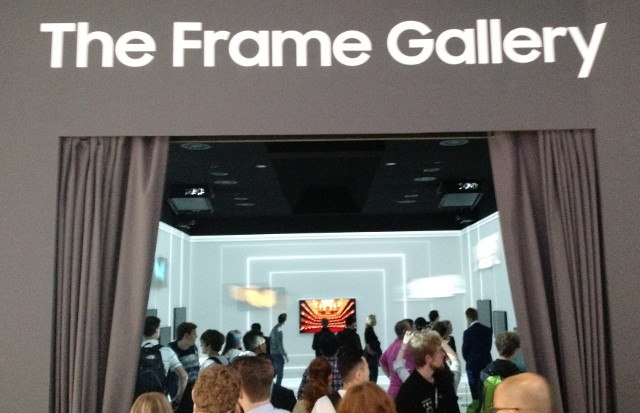 The Q8F models will be immediately available following its introduction at IFA, and the 43″ version of The Frame will be available in Europe starting in October, with the products to be introduced elsewhere on a phased basis. The new Q8F is available at a suggested retail price of €2,599 (55″) and €3,599 (65″), and the 43″ The Frame at €1,499.
Outside the City Cube Samsung had a rather strange looking van promoting among other things, QLED TV. The van is used for roadshows.
There was a big area devoted to gaming and business monitors at the show and a new unit was the 'entry level' curved monitor, the CH800 (CH80 series) which is a 27″ curved (1800R) FullHD monitor with a VA panel and 250 cd/m² of output and 4ms response. The monitor supports USB Type-C with power for notebook charging and support for the DisplayPort Alt Mode allowing it to be used as a docking monitor.
The CH890 (CH89 series) 3440 x 1440 21:9 34″ 100Hz curved (1800R) monitor that was released in June was also at the show along with the existing UH850 32″ UltraHD Monitor, which features QD technology. Brightness is 200 cd/m² and response time is 4ms.
The SH85 series has 2560 x 1440 resolution and is not curved. It is available in 23.8″ and 27″ sizes and has USB Type C connectivity.
The DisplayPort connection in the CH80 and SH85 series ranges supports loopthrough for mimic displays or to create multiple display configurations and was being demonstrated in that mode.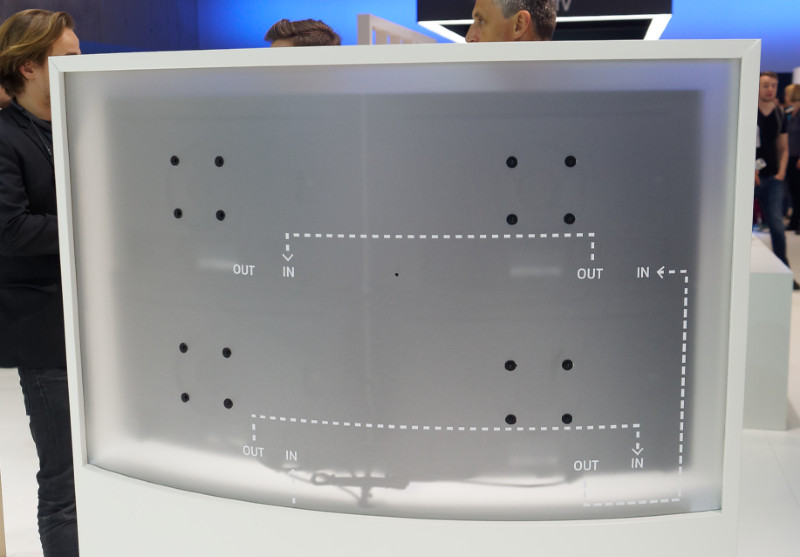 There was also an area devoted to innovation from startups that Samsung was assisting. An interesting device was the Atticfab VR chair which is designed to swivel and track footsteps in VR applications, while keeping the user safe in one place.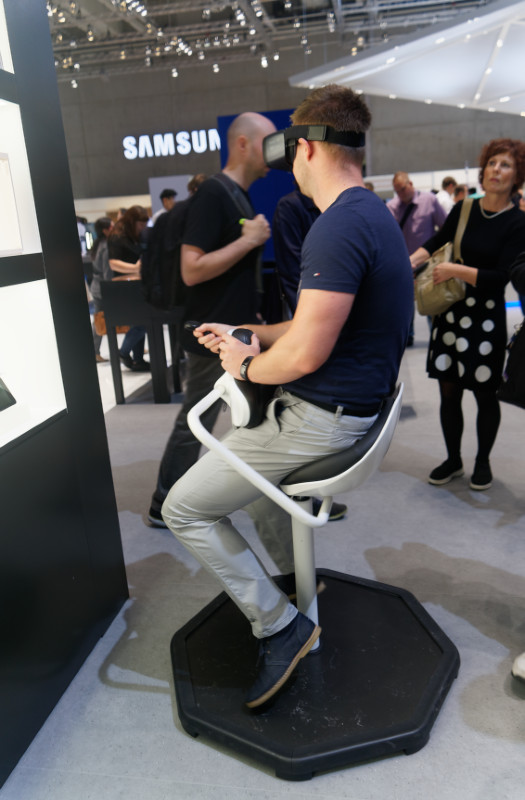 The Atticfab chair allows foot movement to simulate walking while keeping VR users safe. [email protected] for more info. Image:Meko
Analyst Comment
I am a fan of the 'Frame' concept especially as the picture performance with 4K and HDR allows very nice reproduction. Samsung's frames are made of real wood, but they look rather plain. A more traditional full featured museum style frame would clearly enhance the "Art Mode", in my opinion. (CC)
I suspect that Chris's view on the design is from a more US perspective. European interior design tends to lean towards clean and simple designs. Certainly, I prefer the simple frames. Samsung should be encouraged to develop the concept which helps to get away from the 'black hole on the wall' criticism of many TV designs when they are powered off. Again, this is more of a European point of view. With smaller homes, there is much less often a TV 'den' and rooms often have to serve multiple purposes and multiple family members. The only real downside to the Samsung approach is the consumption of power. I assume the backlight is turned down in picture mode, but there must still be some power consumption, potentially over many more hours than the time used for programme viewing. Some digital photo frames power off if nobody has moved in the room for some time (I have one of those). Samsung could adopt similar technology so that the display is off when nobody is looking. (BR)