We do our best to cover all we should at CES, but it's always 'drinking from the firehose'. So here are some items that we missed but saw reported elsewhere, or that for some reason didn't get into our main report.
Although we spoke to AMD at one of the evening events, sadly, the company didn't tell us that it was announcing FreeSync 2, a method for supporting low framerate compensation and adding support for HDR technology. In some monitors, tone mapping to deal with HDR or WCG content can cause latency issues. FreeSync 2 tone maps within the GPU and that reduces the latency and the output is mapped to the gamut and brightness of the display. The specification also calls for monitors to support at least 75Hz, rather than the current FreeSync spec which allows 30 – 60Hz displays. It's not clear yet if AMD will be looking for royalties. We'll try to catch up with the firm to get more details!
FreeSync 2 tone maps to match the monitor in the GPU and bypasses tone mapping in the monitor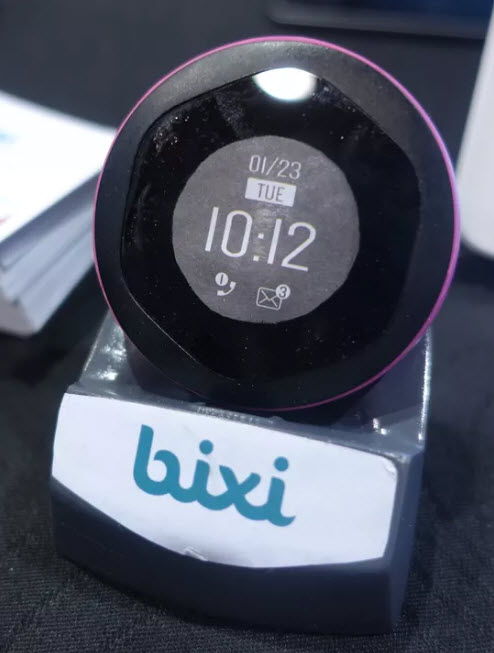 Asustek showed two new smartphones, the ZenFone AR and the ZenFone 3 Zoom. They are based on Qualcomm 14nm chips in the 821 and 625. Asus claimed that the ZenFone AR will be the first to support Google's Tango and Daydream platforms. The AR will have a 5.7″ OLED display with 1440 x 2560 resolution and Gorilla Glass 4. There is up to 8GB of RAM and up to 256GB of ROM. The primary camera has 23 megapixels, while the secondary has 8 MP. The weight is 170gms and thickness is 9mm. The 3 Zoom has a 5.5″ FullHD OLED with Gorilla Glass 5 and 625 chip. Memory is 4G with up to 128GB of storage (+ microSD expansion). Cameras are Dual 12MP and one 13MP. The phone has 2.3X optical zoom and it can record up to 2160 at 24fps, 1080P at 30fps. Battery is 5000mAh, but thickness is just 8mm. The AR will arrive in Q2, the Zoom in February.
Asian sources forecast that a ZenFone 4 range will arrive in May and have reported that sales of phones were down, at 17.5 million in 2016, down from just over 20 million in 2015. The company aims to get back to the 2015 level in 2017.
Bixi was also at Unveiled and was showing a gesture tracker that can be used to detect 'swipes' in mid air. It is a Kickstarter project from French start-up, Bliumint Labs. Version 2.0 of the device was shown as a mock-up but will be shipped with a 1.0″ inch (probably E Ink) display when it comes to production in December 2017 (others news sources have said March, but this was a long way from a finished product). It can pair with Android devices and it has a microphone and can support the Amazon Alexa voice service to allow voice commands as well. That also means that it can control smart home devices.
TCL wasn't officially showing the new Blackberry, but Channel News Australia got this picture of the device.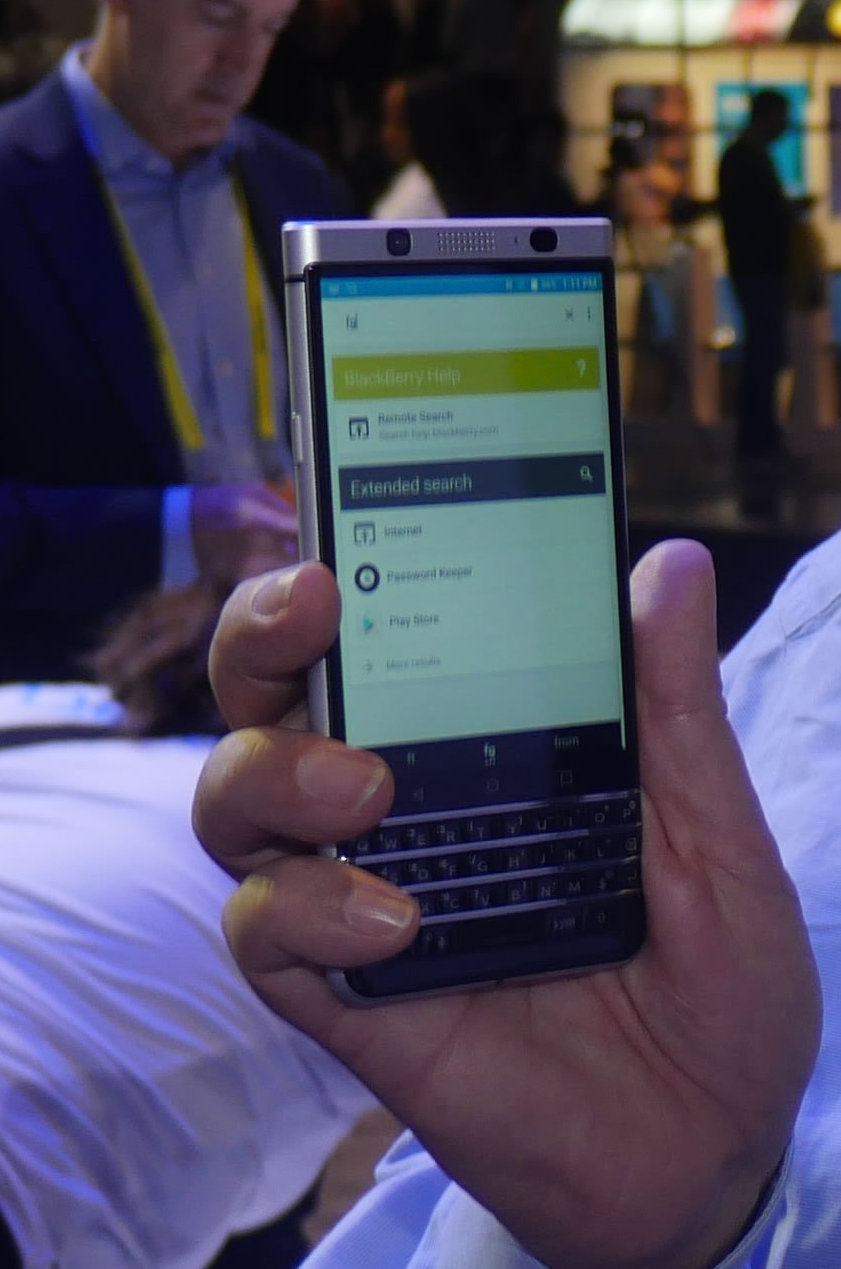 Dell's Alienware showed its new 13 R3, 15 R3 and 17 R4 which are the latest version of its notebooks for gamers. The 13R3 has a 13.3″ 1366 x 768 TN, 1920 x 1080 (IPS) or 2560 x 1440 OLED (with 400 cd/m² of output). The 15 R3 has four 15.6″ display options of FHD IPS, with or without G-Sync, FHD 120Hz (TN + WVA film) and G-Sync or UHD with IGZO IPS. The 17 R4 offers a 17.3″ FHD (IPS) display with, or without Tobii gaze recognition, a FHD 120Hz (TN + WVA film) and G-Sync version or UHD both with Tobii.
RAM goes up to 32GB, storage of up to 1TB SSD and 1TB of HDD and processors are Intel Core i5/i7 with NVidia GTX1050 or GTX1060 GPUs in the smaller machines, up to a GTX 1080 with 8GB of RAM. The systems have Alienware Graphics Ports for external GPUs, ThunderBolt, DisplayPort and HDMI outputs.
eMagin was planning to show its latest 2K x 2K AMOLED microdisplay which is said to achieve 4,000 cd/m² of brightness. The company said that it has a 'Tier one' customer that it is already shipping to and it expects additional wins in 2017.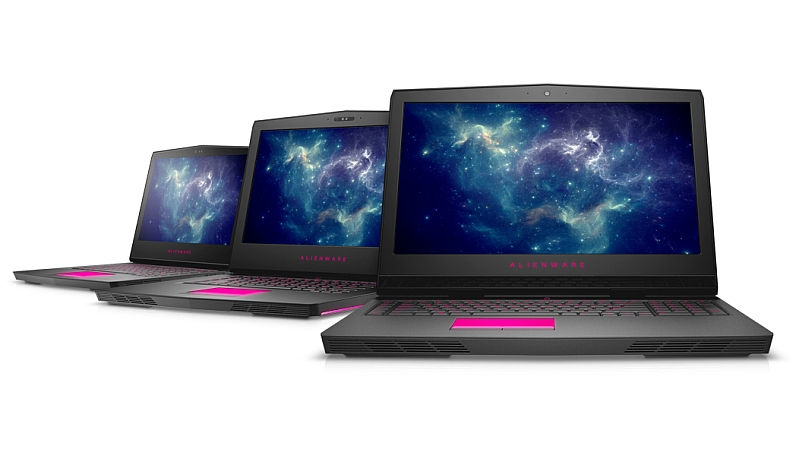 Gentex, which sells in the US automotive aftermarket has a rear vision system that integrates the views from a three-camera rear vision system to a display integrated into a rear view mirror. The side-view cameras are housed in reduced-sized, exterior mirrors. Their video feeds are combined with that of a roof-mounted camera and stitched together into multiple composite views for display. (Gentex LCD Rear-View Mirror Set to Debut in Cadillac)
Hap2U is from Grenoble, France and was at CES Unveiled and has an unusual piezo-based haptic technology that can act as both a haptic actuator and also as a touch sensor that can be used for force sensing. The company told us that the sensor is just 1 – 2 µm thick, which is impressive. It claims that its sensor is 'the most accurate' single device for force sensing.
Chipmakers, HiSilicon and MaxLinear are providers of SOCs and tuner chips, respectively. The companies said that they would work together to make a reference design that combine MaxLinear's MxL214C cable receiver with HiSilicon's 4K Hi3796 or HD Hi3716 system-on-chip (SoC) in order to provide cable operators with UHD and HD smart STB. MaxLinear's MxL214C Full-Spectrum Capture cable receiver IC, which digitizes the entire cable spectrum, performs the digital tuning and demodulation of up to four cable channels and is intended to reduce power consumption, complexity and cost.
HP showed the EliteBook x360, which is a convertible with an aluminium unibody frame with a 13.3″ display (FHD, UHD, FHD with privacy screen, FHD or UHD with touch or FHD with privacy screen and touch options). All feature Gorilla Glass. Processors are Core i5/i7 (7th generation), RAM is up to 16GB and storage is up to 512GB, while graphics processing is integrated. Connectors include ThunderBolt (in Type-C) and HDMI 1.4. The HP EliteBook x360 is expected to be available at the end of January 2017.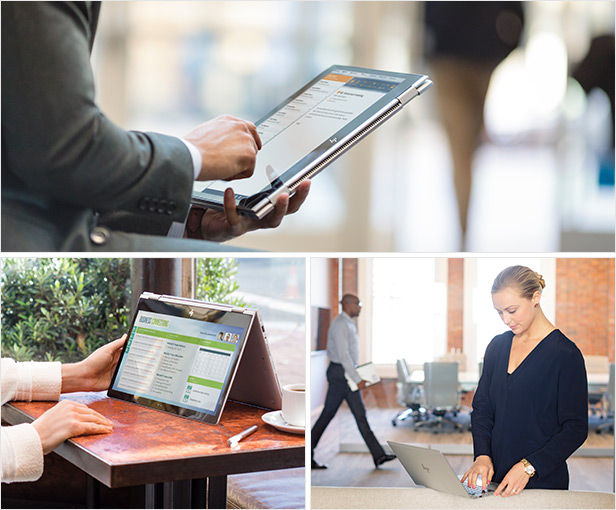 The HP Spectre x360 is a 15.6″ 360º notebook that has a 15.6″ touch display with UHD and using eDP. Processors are Core i7 with up to 16GB and PCIe SSD storage up to 256GB. The design has a thin bezel that HP calls a 'Micro Edge' display. Connectivity is via USB Type-C and Thunderbolt. Graphics is from an Nvidia 940MX. The HP Spectre x360 15.6" is expected to be available for pre-order starting on January 3, 2017 via BestBuy.com and HP.com, with regular purchasing from 26th Feb at $1,279 and up.
We've previously reported on the HP Envy 27 AIO, and now the company has added the HP Envy Curved 34 AIO which uses a 34″ 3440 x 1440 (21:9) display with the Micro Edge Design and with Technicolor certification for colour. The PC has 16GB of memory, 1TB HDD and a 256GB SSD and an AMD Radeon RX480 GPU with 4GB of memory. Connectivity includes HDMI in and out as well as Type-C with Thunderbolt. The AIO is on sale from HP.com and costs from $1,729.99.
The Omen X by HD is a 35″ 21:9 3440 x 1440 for game players that has 4ms of response and up to 100Hz refresh with support for Nvidia's G-Sync. It has 'ambient lighting' and a 2,500:1 native contrast. Brightness is 300 cd/m², colour is 100% of sRGB (but without the Technicolor certification of the 27 AIO) and inputs are via DisplayPort and HDMI. The Omen X 35 Display is expected to be available on HP.com and select retailers in March 2017 starting at $1,299.99.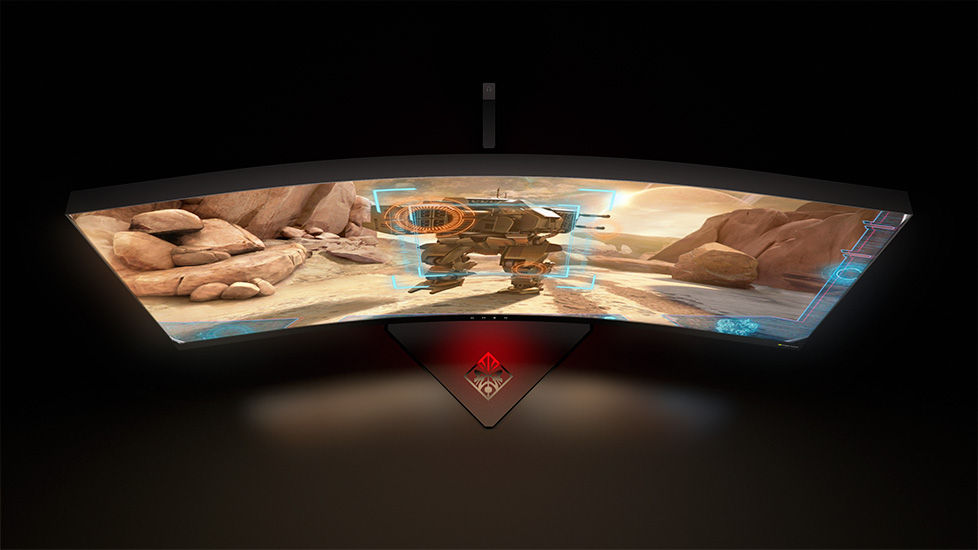 HP OMEN X 35 Curved Display
HTC said at CES that it is working with Intel on a WiGig solution. TPCast is said to be working on a solution using WirelessHD (also 60GHz)
Kopin announced that it has entered a 'strategic agreement' with Goertek of China, said to be the world's biggest maker of AR/VR headsets and Goertek has made an investment of $24 million for a stake of just under 10% of Kopin. They will also work together to develop products. The company also held an evening reception to show its new 2K x 2K OLED-based Lightning microdisplay. (Kopin's New OLED Microdisplay Foundry Model is Innovative)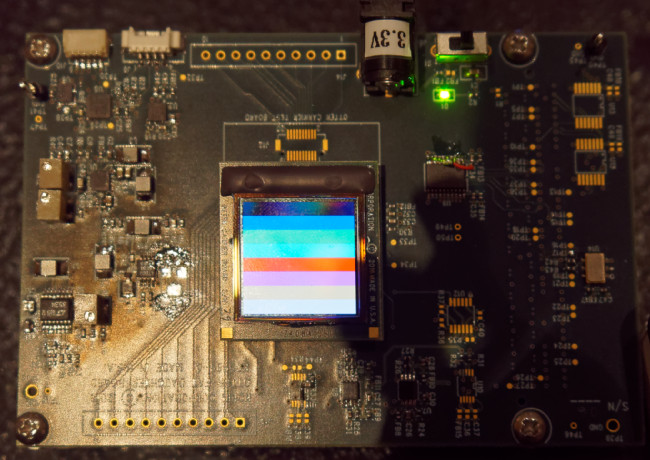 Kopin's 2K 2K OLED microdisplay was shown at CES. Image:Meko
Hong Kong-based Marvel Digital Limited was planning to show a video wall that combines ultra narrow bezel displays with glasses-free 3D and the company was due to show a 3 x 3 video wall made of 46″ units. The system is based on lenticular lenses. We see from the firm's website that it has a range of different technology for 3D in mobile and workstations, so we'll keep watch for them in the future.
Miraxess is one of the companies, like Andromium (now called Sentio) that has developed a notebook shell (the Mirabook) to convert a smartphone into a clamshell. The devices has a FullHD 13.3″ display and looks well made. It is claimed to have 24 hours of battery life. Early prototypes should be ready in March, with production in September. It will cost $299 on Indiegogo. See our recent article about this (Smartphone Opportunities and 'Price Gravity')
Misfit showed the new Vapor smartwatch that has a GPS and heart rate sensor and is aimed at sports users. The display is a 1.39″ OLED with 450 x 450 resolution, while the CPU is a Snapdragon Wear 2100. RAM is 4GB and the device is water resistant to 50M. The company targets a user price of $199. Pre-orders are not yet being taken.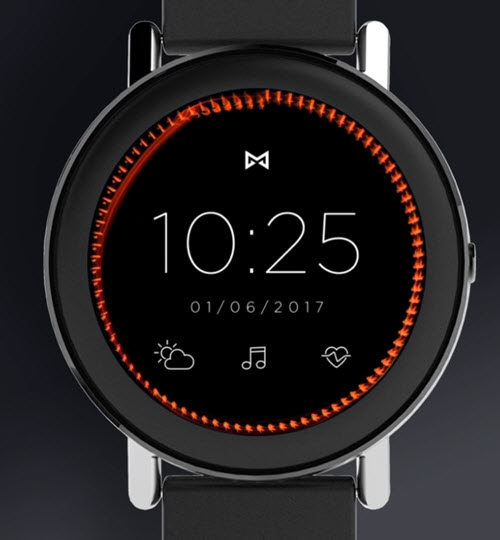 Mohu from Raleigh, North Carolina, said that it has developed an OTA/OTT hybrid device, including an antenna, the AirWave, for 'cable cutters' and 'cable nevers'. The box will cost $150 (direct or from Best Buy) and there are no monthly fees. The box can be run from Amazon's FireTV, Apple TV, Roku, Chromecast, iOS, Android and web browsers. (Although neither company said so, Mohu's device may well use the Vixs OTA/OTT chip).
MStar said that it would use SoftAtHome SOP8 software in its latest Hybrid STB chipset solution. The technology will allow the protection of UltraHD content whether from broadcast or OTT.
Nagra and Samsung said last August (Samsung & Nagra Have USB CA Dongle for Smart TVs) that they had worked to put a CAS system into a USB dongle under the name TVKey. At CES, the companies said that they would work with other companies to create a corporate body to license the technology. Nagra and Samsung said they are already engaging with interested parties in advance of establishing the licensing body to prepare the required IP block, hardware root of trust and trusted execution environment (TEE)/SMP integrations and USB support in order to accelerate the time-to-market for TVkey-enabled TVs. MStar said it would be the first company, outside Samsung, to adopt the TVKey technology.
Novatek said that it would pre-integrate the Opera TV HTML technology into Novatek's SoCs for TVs. Opera claims to have the third largest app store for Smart TVs that support its technology.
Pimax of China was reported to be at CES with a headset that looks a bit like the Starbreeze dual display unit that was shown with Acer at IFA. However, the Pimax unit is reported to have used UltraHD LCD displays for each eye. Those that got to try it say there were 'no visible pixels'. The Field of View is also wide at around 200º. However, they reported low brightness and some distortion to the geometry of images. There was also little overlap. Driving such a display is tricky, so the company uses an alternate eye rendering technique, with the aim of keeping the frame rate high enough to make use of the eye's persistence. The headset is in prototype at the moment, although the price is currently listed at $599.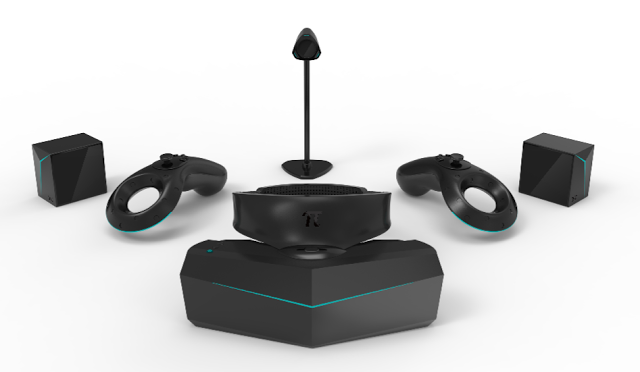 Razer, the game specialist, showed a triple UltraHD 17.3″ screen notebook at CES, but then lost two of its three prototypes from its booth. The company offered a reward. The firm made a video of the device that shows how the displays would automatically move into place. When the unit was folded up, it is just 1.5″ (38mm) thick, not much thicker than some other gaming notebooks.

RightEye was at CES Unveiled with its gaze tracking and analysis software. Rather than gaming, the group, based out of UCSD, is working on using gaze to track concussion, autism, Parkinsons disease and other health issues, all of which have a significant and detectable impact on the way the eye tracks images. The software is hardware-agnostic and can work with a range of hardware gaze technology.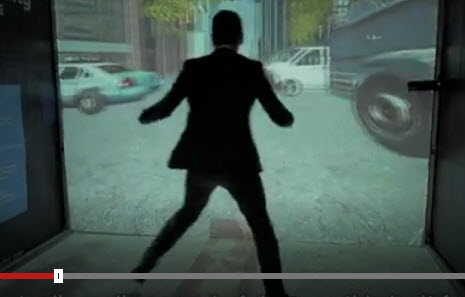 Scale-1 Portal was featured by the BBC before CES in a video that showed the firm's 'personal cave' which uses projection to create a 3D virtual reality experience without needing a VR headset. The expectation is that this kind of system might be used in cinemas or other entertainment venues.
SMI added a new reference platform for its eye-tracking technology that is based on a Qualcomm SnapDragon VR820 chip which should help accelerate the use of SMI's technology into VR headsets, the company hopes.
Typlet had a projector at Unveiled with finger tracking to create a virtual keyboard or touch surface. The system uses a 0.3″ DLP and has 854 x 480 resolution and integrated Android.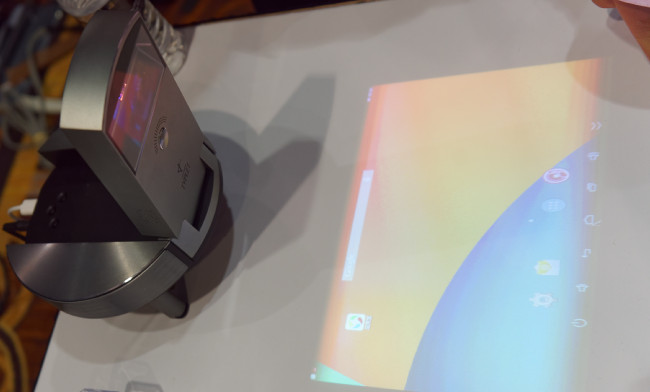 Typelet used a mini projector to create a virtual touch screen. The group didn't seem to be aware of previous work in this field. Image:Meko
Ultrahaptics of the UK was showing its mid-air haptics technology at CES and said that it was also being shown by Bosch. The technology, which allows some haptic feedback, is useful for gesture-based interfaces, where there is no touch (Ultrahaptics Develops Free-Space Haptics Technology). We tried the technique – it certainly gives an effect, but it's a bit unclear what the effect is supposed to be and the emitters are quite large.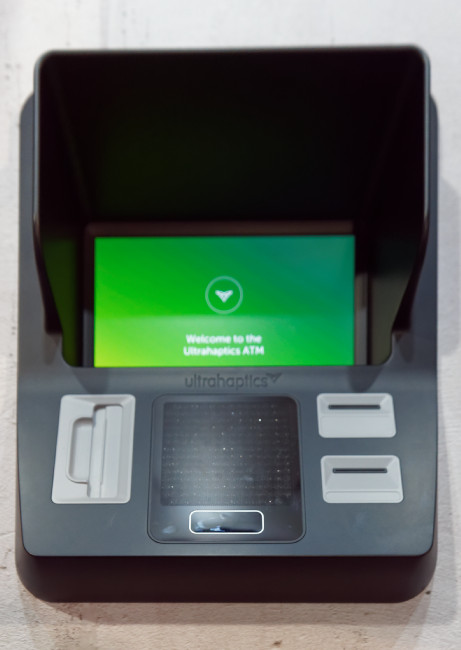 In this Ultrahaptics demo, the array is the dark grid area below the display. Image:Meko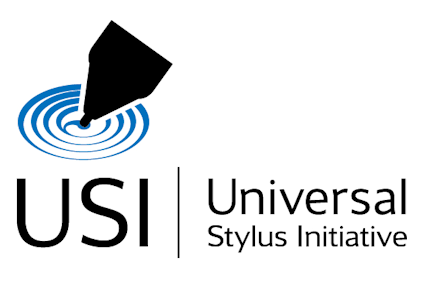 The Universal Stylus Initiative (USI) was at ShowStoppers to talk about its standard which provides for two way communication between pens and devices, to improve reliability and to allow preferences to be stored with the device, so that features on the pen work the same way on different devices.
Verimatrix said that Samsung would be using the firm's Video Content Authority System (VCAS) Ultra architecture, which includes hardware-based VideoMark forensic watermarking. The technology will allow the revocation of devices that are shown to have been used for piracy of UHD content. The watermarking can allow tracking to a specific playback device. (The quality of capture possible from a good UHD TV with a good quality digital camera is more than adequate for pirates – Man. Ed.)