InFocus is concentrating strongly on flat panel displays and collaboration solutions these days. It was showing new UltraHD units with glass to the edge and using PCap touch and this was the first public showing in the US The company has had requests for dual screen solutions based on its MondoPad technology and has now developed support and packages for dual MondoPads or combinations of MondoPads with JTouch.
Increasingly, the company is being asked about 'huddle rooms' and even sizes up to 57″ are being used in that application. The MondoPad Flex uses dual 40″ displays and includes a PTZ camera and good quality sound to deliver a good collaboration experience.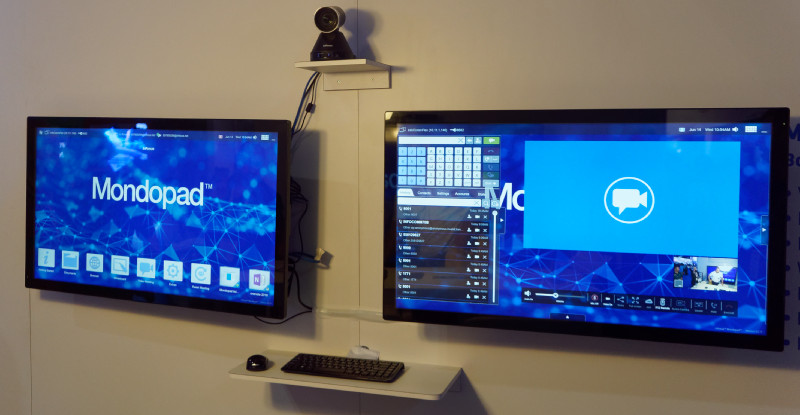 Big news at the show was revised pricing of the ComX cloud conferencing service. InFocus said that many of the competitive solutions are based on proprieatary technology, or charge a lot of money for adding standards-based conferencing support. ComX will be available 'from free', but will also be available in bundles – for example $599 for 100 'rooms'. Others charge $15 for a room, but then a lot more to add support for video and audio conferencing standards (H.323 and SIP were mentioned to us), but these are available at no extra cost from InFocus. The low pricing means that it is actually feasible for every individual or desk in a corporation to be a 'room', making for easy collaboration from the desktop.
Of course, InFocus hopes that its displays are used, but there are apps for Android, Windows and iOS.