ilumi solutions is a company you probably have not heard about – but put them on your radar. They are leveraging a little known Bluetooth technology called MeshTek that provides a new and clever way to control projectors, lights, shades, cameras – anything that can has a MeshTek-enabled Bluetooth chip inside. At CEDIA, the company was showing control of a projector and lighting – and getting companies and integrators excited about the possibilities.
Ilumi solutions is a start-up that was partially funded by Mark Cuban as a result of a Shark Tank appearance. At CEDIA, we caught up with Bob Wudeck, formerly of BenQ and ZeeVee. He explained that Ilumi started out as a smart lighting company and they now offer a range of smart bulbs that as currently sold in stores like Best Buy – so quite mainstream. These lights can be controlled by a Bluetooth enabled device by simply downloading an App.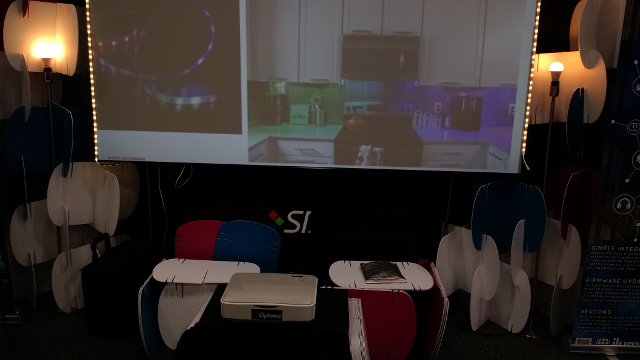 The MeshTek Bluetooth technology is very interesting as each device broadcasts it availability to other MeshTek-enabled devices nearby to establish a network. This network runs all on Bluetooth protocols, so is independent of any Wi-Fi network. This is why it is so exciting from an IoT and smart home integration point of view – this is a whole new IoT network that can operate without fear of an overloaded Wi-Fi network.
At CEDIA, Wudeck showed how this MeshTek technology can be used to control a projector and some of their smart lighting – all with an App downloaded onto his iPhone. To do this, Wudeck worked with Optoma to embed the MeshTek chip inside the projector. The 1080p short throw laser projector should reach mass production in Q1'17.
In the demo, Wudeck showed how the lighting is linked to projector control commands. Based on the projector status, lights will dim when the projector is turned on, brighten when turned off, dynamically adjust to the image brightness and colors, and flash red/green when muted/unmuted.
"This home theater demonstration is just the beginning of the IoT networking possibilities that our MeshTek technology can enable," said Corey Egan, co-founder and CEO of ilumi solutions. "ilumi MeshTek can be easily integrated into almost any device – from TVs to home audio systems – to seamlessly create a home network of integrated devices without any additional hardware or wiring."
Most traditional AV lighting solutions today require expensive controllers and programming, but with the integration of ilumi MeshTek technology, consumers can easily control room lighting without extra hardware or programming. Beyond lighting, the MeshTek technology enables up to 50 different devices to be simultaneously controlled by an app from within a Bluetooth range of up to 400 feet (120 M), allowing integration of multiple related products in the home – from projectors, TVs and cameras to sound systems and home security systems.
Wudeck told us that there are more than 50K unique ilumi MeshTek networks operating around the world today, making ilumi the leader in Bluetooth mesh networking technology. MeshTek is currently used in multiple lighting devices and is being evaluated for applications such as TVs, fan control, sensors, and other IoT applications.
With its simultaneous broadcast and connection-based mesh compatibility, product manufacturers can easily integrate ilumi MeshTek-enabled devices into any smart home. And the control companies are hearing the message. Wudeck said the big control companies had already been to see him at the show.
Apparently, the Bluetootth broadcast protocol is a standard, but ilumi has developed the MeshTek application to create a usable 2-way communication network, allowing applications to then be developed. Standardization efforts for the MeshTek protocol are in process within the Bluetooth SIG, said Wudeck. Data rates are not fast, but not much data needs to be transmitted for most control applications. – CC