Witsview in Taiwan has reported that shipments of LCD TVs in Q1 reached 44.05 million, down 8.4% on the same period in 2016 and a drop of 31% from Q4 2016 and the company said that the main problem was a drop in sales in China during the New Year holiday period. The company has estimated that sales in Q2 will grow by 8% because of the arrival of new products, but doesn't expect Chinese sales to grow strongly.

For 2017, the company thinks that sales will not be good with US distributors increasing prices and LCD TV panel prices remaining firm. Firm panel prices will limit the ability of TV brands to try special promotions and so Witsview has downgraded its forecast from 224 million for the year to 219 million, which would be flat from 2016.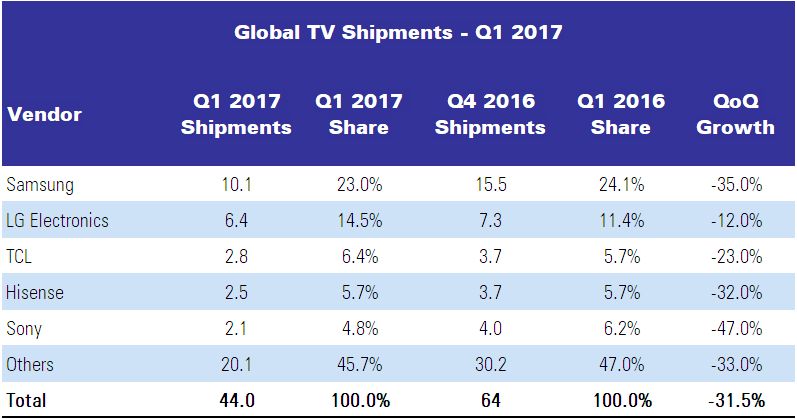 Samsung remained top brand, but saw sales 35% down from Q4, with supply constraints because of its own cuts in production and its fall out with Sharp, while LG was only 12% down – the best performance among leading brands. Witsview said that many brands are increasing prices by 5% to 20% in the US market, with big buyers including Best Buy and Walmart. This may have a negative impact on the US demand.
China is also seeing weak demand because of price rises, forced by higher panel prices. That has meant looking for other markets and TCL got back into global third place by selling more outside China, so it saw sales down just 23% from Q4, to 2.8 million units. Internet brands have suffered as well, with LeEco down 61% compared to Q4 because of its financial situation. The internet brands are also being attacked by Sharp which has a "Sky Tiger Plan" to boost sales and was one of the few brands to see year on year growth in Q1. Witsview estimates that Sharp will reach 500,000 units per month in China in Q2 and Sharp is forecast to reach 7.5 million units this year.