Dolby was, of course, demonstrating lots of Dolby Vision content. There are now two movies (Tomorrowland and Inside Out) that have been released and shown in Dolby Vision, although there are only a few cinemas today that can show the content. There's a new one at Hilversum, about 30 km from Amsterdam, in addition to the one in Eindhoven. As noted in our report of the keynote speech (Hollywood Excited by HDR & WCG and "The sparkle in actors' eyes"), there is a lot of interest in HDR from Hollywood and Dolby seems to have got itself into a good position in that area.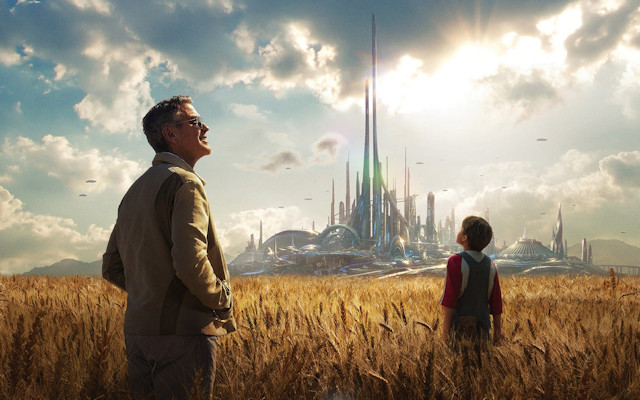 Tomorrowland uses Dolby Vision in the cinema
Just before the show, the company announced that Sony Pictures would use Dolby Vision for mastering and delivery of UltraHD HDR content – a not insignificant win to add to Warner Bros, which had already declared itself as a Dolby Vision supporter.
Dolby also highlighted that the latest Vizio UltraHD sets support the technology and are getting great reviews. We raised the question of metadata not being popular with broadcasters and were told that Hispasat has used Dolby Vision and that SES has also used it. Dolby does have a single stream option available, where the metadata is included into the HEVC stream (although this is not compatible with existing sets).
The company is working with camera makers to ensure that appropriate streams for Dolby Vision are available at the camera and is working with both Grass Valley (now owned by Belkin) and Ikegami on this. There is also work going on to produce boxes that can produce both SDR and HDR automatically from a single HDR production system. Roland Vlaicu, VP of consumer imaging at Dolby, told us that Dolby Vision produces the "only uncompromised SDR & HDR content"*.
We also clarified with Vlaicu the Dolby business model for Dolby Vision in TV. The company is looking only to make money from the TV set makers in the TV business, with no costs for content creation or chip makers. The EOTF and metadata have, of course, been standardised by SMPTE.
Analyst Comment
Given that Walt Disney has already used Dolby Vision for TomorrowLand and Inside Out and plans a new "Jungle Book" for spring 2016, it would be surprising, given the comments at the keynote about the Dolby Vision experience, if Disney didn't come in line as well.
Dolby has not previously raised this with us, but in its white paper, it claims to be working with leading games engine companies to allow the delivery of Dolby Vision content on gaming systems. PC gamers are likely to want to take advantage of this, so it should be a big opportunity for games display makers. However, we doubt that they will like the idea of paying Dolby a licence fee!
* Both Philips and Technicolor claim that their HDR techniques deliver better SDR than unprocessed SDR.