There was an area at the conference that was devoted to an exhibition. However, as the event was so soon after Infocomm, there was little completely new hardware.
Asus has been involved in digital signage, but as we heard at BETT earlier this year, the company has been mainly focused on other areas to date, so is a bit 'behind the curve'. At the show, it was getting a lot of attention with an A/R application based on a tablet that put a Mariachi guitar player into the scene! Asus is working on beacon technology for analytics and integrating its ZenFone mobile devices into AR systems. The app makes the most of the Tango hardware that Asus is supporting.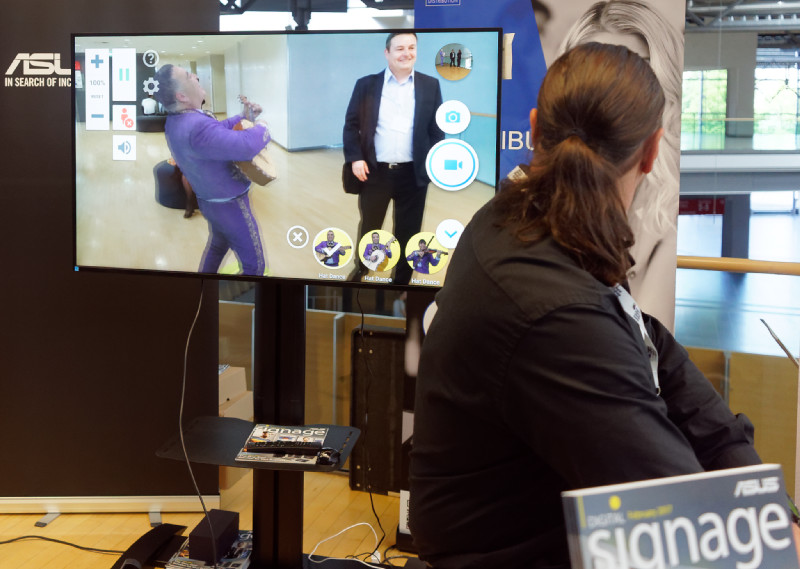 Asus had an AR application that put the guitar player in the picture. Image:Meko
BenQ told us that it would have new displays in Q4, but had nothing new at the show, although a decision could be made to delay release until ISE.
Delta/Vivitek was demonstrating its first steps into digital signage. It has HD and UltraHD media players and highlighted that it is one only a few brands that can supply projectors, flat panel displays and also projectors. The company has its own CMS which is designed to be easy to use and runs locally on the players, but can be remotely managed. The company also plans a push into the education market with its touch-enabled LCDs at 65″ to 98″ using infrared technology.
We keep meeting Dynascan which was showing its latest 49″ high brightness (3,500 cd/m²) display which will start to ship at the end of August, ex Factory. The display is fanless, despite the high brightness, as it uses passive cooling. It can also be calibrated for accurate colour. There is also a version available with 5,500 cd/m². The systems have integrated processors that can run a full version of Android.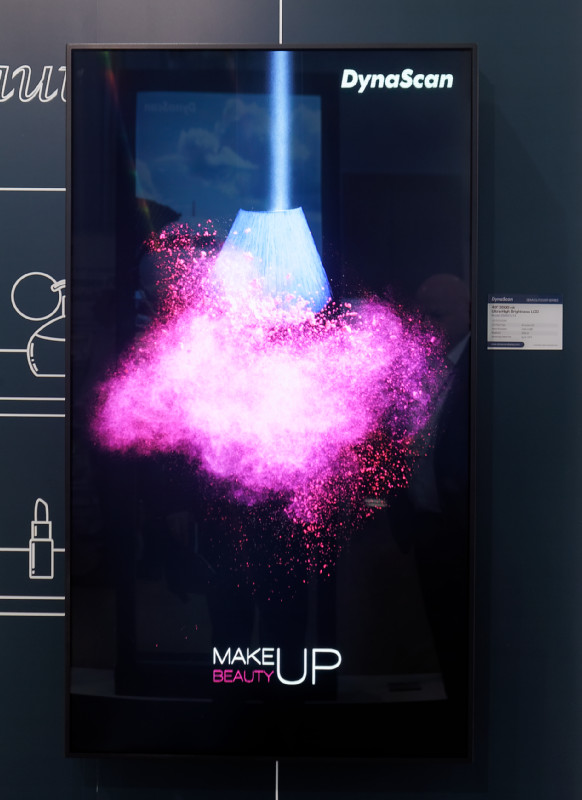 This Dynascan 49 inch has 3500 cd/m² and is available as an option with 5500 cd/m². Image:Meko
Dynascan has been developing its circular rotating LED displays for many years and although the company has a lot of knowledge about LED driving, it has so far stayed away from the small pixel pitch LED market. One reason is that most small pitch solutions cannot reach the level of brightness that is Dynascan's speciality. However, it is now evaluating whether to get into the market especially microLED-based technology.
ELO told us about its new PCap controller at the recent SID event, so at DSS Europe, we focused on finished sets. The company told us that it has established a new factory for its digital signage monitors in China and this has helped to reduce its manufacturing costs, allowing lower prices, but also increasing its capacity by 4X. There is a video online that we include below and that shows an impressive facility.
Staff in Munich highlighted (as does the video) that ELO is unique in being able to supply all its own sensors, ASICs and software which means that it is able to customise to develop optimised solutions and provide a single point for warranty. This level of control also allows features such as allowing the use of the touch system to control the OSD on the display, with no need for separate apps or infrared remotes etc.
The company has new 46″ and 43″ displays. (We noted that the ELO logo is printed on the bezel at the bottom in landscape mode, which means it is halfway up one side when rotated to portrait. Other brands, including Samsung and LG, have made detachable labels to avoid this kind of look).
Infinitus of Sweden was showing E Ink-based displays and custom systems for kiosk applications. The company makes these systems for indoor and also for outdoor applications. (Zytronic Wins Helsingborg Totems)
LG, Samsung & Philips all had booths, but no news since Infocomm. LG told us that the 'in glass' 55″ OLED that we had seen at Infocomm has alreayd started shipping. We asked about the sales of OLEDs for digital signage and it's clear from the response that volumes remain very limited. LG is working with Luxglas Technology GmbH from Altdorf near Nuremberg to create totems based on the LG ultra-stretch displays. A range of colours and glass finishes are available.
At the event, we heard that a spectacular new OLED display will be revealed in Dubai very shortly. The display uses 820 55″ OLEDs from LG in a 41 x 20 display array. The full display will have 1.7 billion pixels and images have been rendered to drive it at full resolution. The images for the display took three months to render!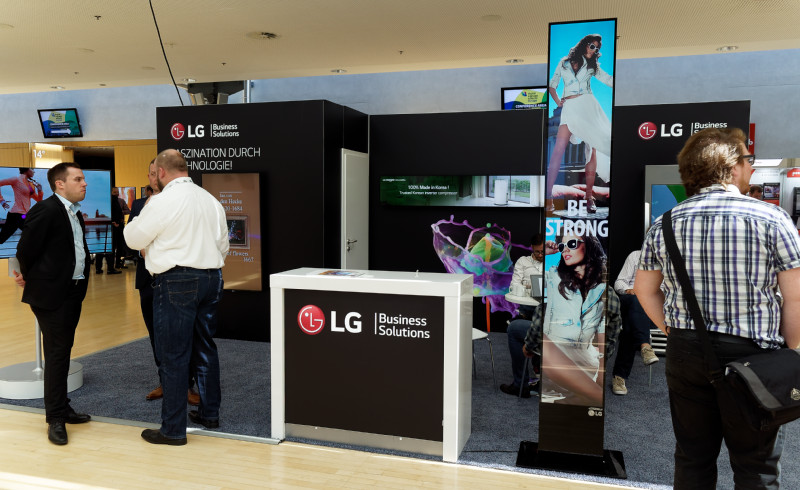 LG is working with a local company to develop totems based on its stretch displays. Image:Meko
NEC was highlighting its Raspberry Pi technology for enabling 'smart' functions on its displays. It also was showing the way that it can arrange custom bezel colours for its monitors to meet particular customer requests.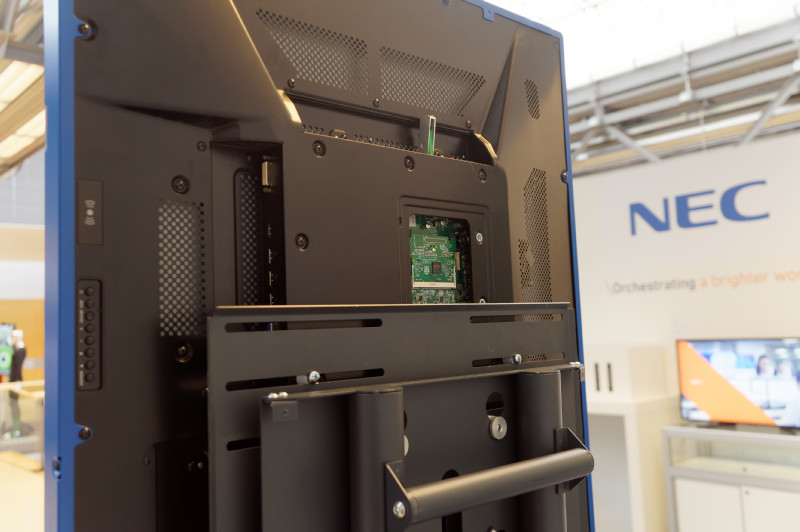 NEC showed how the Raspberry Pi module fits its monitors. Image:Meko
Sharp was showing the 40″ version of its BigPad monitor which was shown at ISE and Sharp is aiming to sell into 'huddle spaces' and small meeting rooms. There will be 50″ and 65″ versions "later". The smaller monitors still have the 'full BigPad experience". The company was also demonstrating the 70″ video wall monitors. Staff highlighted that nine 70″ units could be used in place of 16 55″ monitors, reducing the number and visibility of bezels considerably.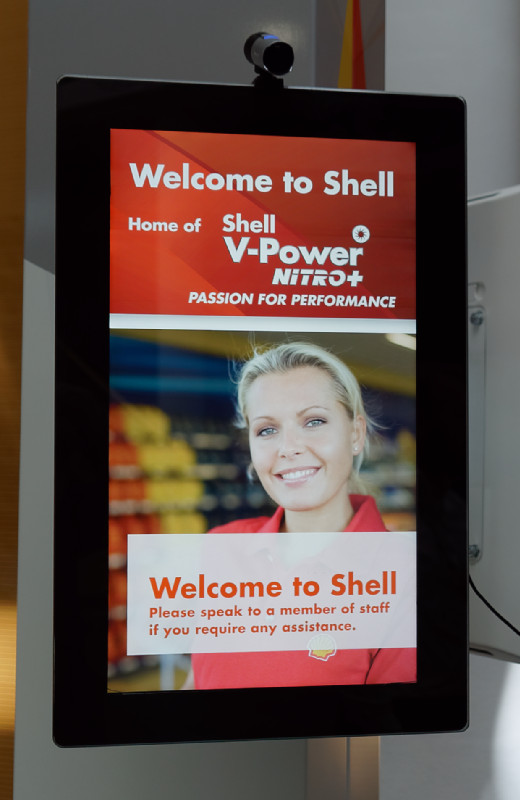 Shell was showing its fuel pump with a camera-based interactive screen system that has been rolled out in France, the Netherlands, Oman, the UK, Malaysia, Luxembourg and Thailand (with around 1,500 screens now installed). The screens are transactional and drivers can order from the pump and uses programmatic advertising. The system can also recognise the car and automatically select the regular fuel used.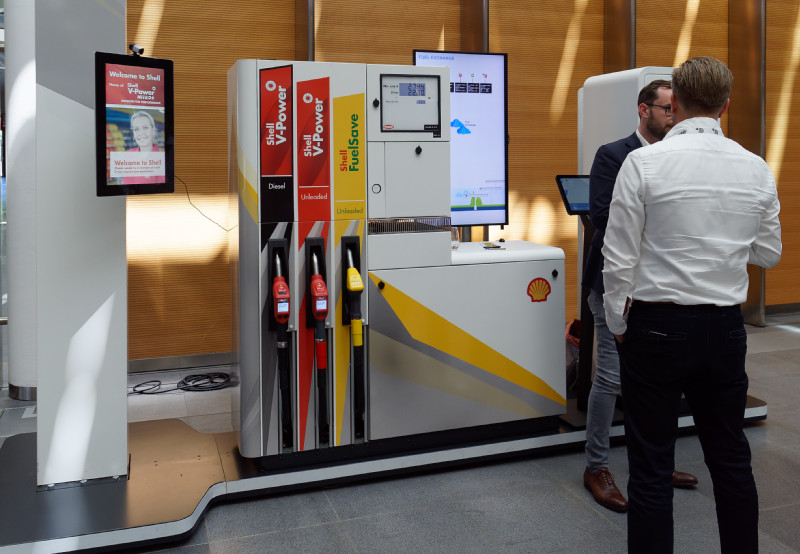 Shell's fuel system includes an interactive screen. Image:Meko