Digital Experience, aka Pepcom, is the largest of the CES press events – almost a mini show by itself. This year it was held in the Mirage hotel, and the 'Sun, Surf and Tech' theme seemed wildly out of place, considering the pouring rain outside!
We spoke to Atmel, the maker of touch controllers that is being bought by Dialog Semiconductor. The company told us that its sensors are being used in the Samsung Galaxy View 18.4″ set. The latest Maxtouch 2405 chip can support bigger sizes up to around 24″. The next step in touch is the addition of pressure, which Atmel calls "3D touch". Features include detection of 1mm stylii, water rejection with stylus operation, multi-finger glove touch and hover modes. The company told us that it can detect 1024 levels. Atmel is supporting the "Universal Stylus Initiative" group which is trying to design and standardise an API for stylus interfaces.
Blackberry was showing off its Priv and Passport smartphones.
Cooper Vision is a contact lens maker, at CES for the first time. The company was not promoting a product, but was present to educate people about the potential harm that long-term screen use can cause: for instance, problems with blue light, flicker and eye strain. Interested parties can contact Mike McDougall, Cooper Vision's PR representative, at [email protected].
Dell had two new hybrids (Latitude 11 5000 and Latitude 12 7000) and a monitor (U2417HWi). The first of these, the 11 5000, is a 10.8″ business-class device, built with magnesium and hardened glass. It is compatible with an optional stylus. Display resolution is 1920 x 1080 and it runs Windows on a sixth-generation Core M processor (up to 2.8GHz). Micro-HDMI, USB 3.0 and USB-A ports are featured.
The 12 7000 is designed to be portable. Described as 'one of the lightest 12.5″ two-in-ones available, it uses magnets to attach the tablet to the keyboard (two separate keyboards are available, one of which also has a trackpad). The 1920 x 1080 or UltraHD display (both 360 cd/m²) is protected by Gorilla Glass. An Intel Core M processor (up to 3.1GHz) runs Windows. USB-C with Thunderbolt (x2) ports are featured, as well as a USB-C to USB-A adapter.
Dell's 23.8″ monitor, which will also be available in a 23″ size, can accept content from a Windows or Android device via Miracast. The 23″ model also features speakers and a wireless charging pad. The model on show had 1920 x 1080 resolution (60Hz) and covered 96% of sRGB. HDMI and USB 3.0 (x4) ports were included.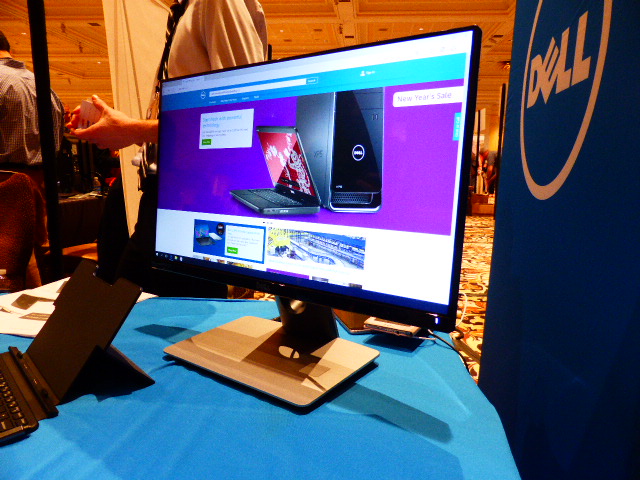 Sadly, Dell didn't show its new 30″ OLED monitor at the event and left its suite in the middle of the Friday afternoon, so we didn't catch them, although we did see the panel in the Samsung Display suite. Resolution is UltraHD on the UP3017Q and contrast is claimed at 400,000:1 (as they can't measure a higher number!). Colour covers 100% of AdobeRGB and 97.8% of DCI P3 with 10 bits of grey level. Inputs include a miniDisplayPort, and HDMI and USB Type C. There is a presence sensor and a "pixel shifter" to help to reduce screen burn. Pricing will be $4,999 when the monitor arrives at the end of March.
Four new products were being shown by E Fun, in the Nextbook range. All were mid-range devices, the largest of which was a 14″ Windows laptop. This model has 1366 x 768 resolution and runs Windows 10 on a quad-core Intel Atom processor. It will cost $200. Next were two 11.6″ units: an unnamed convertible unit (1366 x 768, IPS, quad-core Intel Atom, micro-HDMI, USB 2.0, USB 3.0, $270) and the Ares 11A. The Ares is also a hybrid device, but runs Android rather than Windows and features mini-HDMI and micro-USB ports, with two full-size USB inputs on the keyboard. It costs $220.
Finally was one notebook in three sizes: the Flexx 11A (11.6″), 10A (10.1″) and 9A (8.9″). These all use Intel Atom processors, with 2GB of RAM and 32GB or 64GB of storage. Resolution is 1366 x 768 (11.6″ and 10.1″) or 1280 x 800 (8.9″). They cost $250, $200 and $150, respectively.
There was nothing new from Epson; the company was showing the Home Cinema 1040 and 1440, which it launched in August (Epson Goes Wide for Home Cinema Use).
HP was showing a new OLED-based notebook as Lenovo had at CES Unveiled on the evening before (CES Unveiled Introduces New Projector and Allows Royole Check). The HP unit also uses a Samsung OLED, but with 13.3″ diagonal and 2560 x 1440. As with Lenovo, the OLED means shorter battery life and the screen has a glare finish, although it seemed less reflective than the Lenovo version (this was not definitive, as the lighting conditions would have been different). The Spectre X360 is said to support 103% gamut compared to 72% (so presumably of NTSC).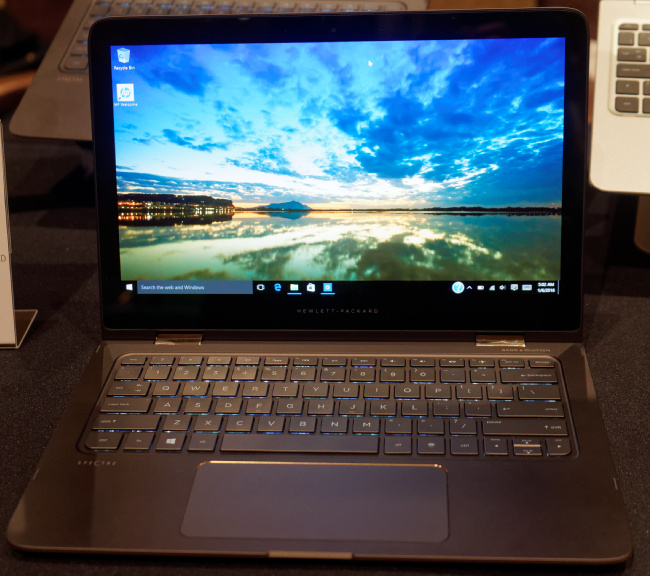 HP's Spectre OLED notebook – Image:Meko Ltd
Also in the X360 range, there was a new 15.6″ version that has an option of an UltraHD LCD display. The new 12.1" diagonal Pavilion x2 is a larger tablet than the existing 10.1″ product and the keyboard can be attached so that the form factor is like a notebook. The display is a 1920 x 1280 (3:2 aspect) unit and the x2 can run for up to 8 hours and 15 minutes on battery. The tablet weighs 1.6 pounds and is 8.4mm thick. The tablet with keyboard is 3.23lbs and is 15.3mm thick. The tablet has a USB type-C connector as well as a full USB Type A connector.
The Sprout was being shown and although the product was intended for consumer user, HP is finding more and more interest from commercial users. Further software for 3D object capture has been developed.
HTC was showing the latest version of its Vive which has had a lot of detail changes (which is one of the reasons for delay). There have been improvements in the "face gasket" and "nose gasket" which are now interchangeable to allow different users to have their own. The set is also more compact and has the same weight, but the smaller size makes it more comfortable. There is an improved eye box and more space for spectacles. The panel has also been improved with better correction of mura on the display. There have also been improvements in how the Vive maps the real world to the virtual images. The controller has new and better haptics and the headset can now be re-charged in four hours. There is a new base station that gives better audio.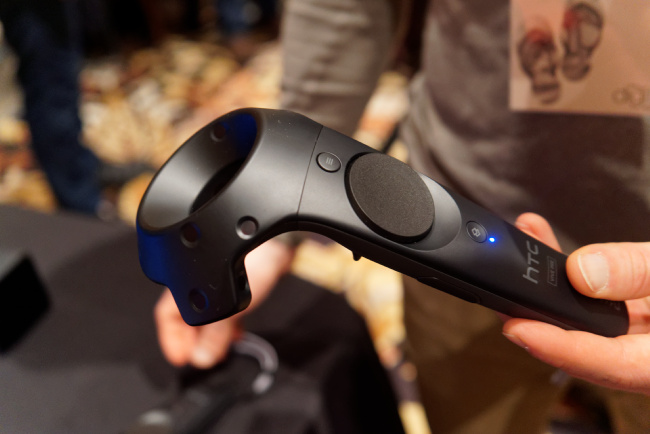 HTC has a new Vive Controller with improved haptics. Image:Meko Ltd
Kopin was showing off its new Solos augmented reality eyewear, for cyclists. These AR glasses link to a smartphone or wearable fitness device, and present the data on a HUD. The display pane is 4mm high and presents a 5″ virtual colour screen. A new opto-mechanical adjustment design minimises eye strain when worn for long periods of time. Voice commands can be issued to the unit, and stereo speakers are fitted in the ear stalks. Battery life is up to 10 hours. Kopin will begin to sell the Solos glasses in Q2, for $500.
Lenovo was showing the same products it had at CES Unveiled the night before. We heard that the company's new OLED laptop will carry roughly a $200 price premium over the LCD unit.
Two products were on show by China's LeTV: the 65″ Max65 Blade TV, and 6.33″ Le Max Pro phablet. The TV is an UltraHD unit, using an LGD panel and Corning's Iris Glass. It uses a 64-bit Snapdragon 810 processor, with 4GB of RAM and a wide colour gamut. It is 3.9mm thick, thanks to a new design in which all of the electronics are located in an attached soundbar. When a user wants to upgrade, the soundbar can simply be switched for a new one.
The Le Max Pro phone is said to be the first smartphone with Qualcomm's Snapdragon 820 processor, as well as 4GB of DDR4 RAM. It has 2560 x 1440 resolution, a fingerprint sensor and 32/64/128GB of storage.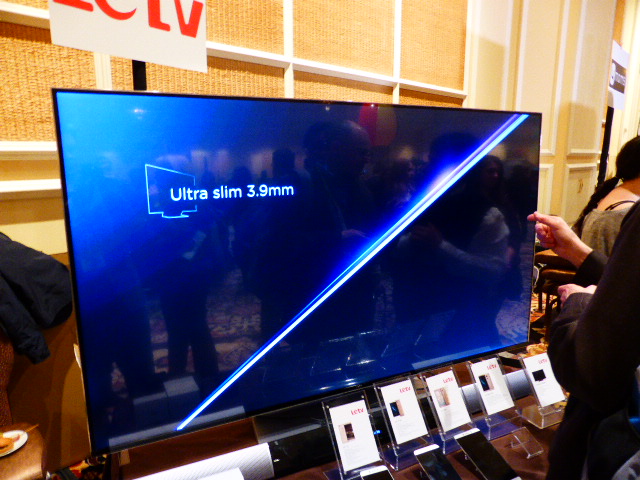 The Gram 15 notebook (LG Enters US Laptop Market) and V10 smartphone (LG Goes Dual-Screen, Dual-Camera for Content Creation) were being shown by LG, along with two new phones called the K7 and K10. We covered these devices in our stand tour.
Loop has developed a "personal display" that can show videos and digital images. Loop highlighted how much content is captured with GoPros, but never watched! It's a sophisticated digital photo frame that has a 2084 x 1536 4:3 aspect ratio display with 9.7″ diagonal, so is at "Retina" levels. It has a simple interface and is intended to allow the easy creation of personal "channels" that can show images from local storage, or social media sources such as Dropbox, Facebook, Instagram, Flickr, iPhoto, and Google Photos. Users can also show images from personal devices and the device has an integrated battery to allow four hours of operation so that the box can be carried around to watch video.
One2Touch creates smart covers for smartphones. Much like tablet smart covers, these feature a flat keyboard connected through NFC, as well as protecting the device. The covers currently only work with the Galaxy S6 and S6 Edge; One2Touch is evaluating the popularity of other phones before launching new covers. The covers are not compatible with the iPhone 6 (the only iPhone with NFC), because Apple has put heavy limitations on how NFC can be used in the phone.
Philips was only showing audio products.
Roku was showing its first 4K Roku TV reference design which has been developed with TCL. The design includes support for HDR10 and Dolby Vision, and is expected to be seen in finished sets in "the fall". Roku was in a very bullish mood as it claims to have gone from 0% of the US market for Roku TVs in 2014 to a million units (8%) in 2015. It had forty TV models from five partners (Haier, Hisense, Insignia, Sharp and TVL) and this is expectd to rise to 60 sets. In the spring of 2015, the platform was extended to Canada. The firm told us that its sets see more streaming than any other platform, which it attributes to the simplicity of its interface. (I have become a fan of Roku over the last year – it really is very simple to use – Man. Ed.)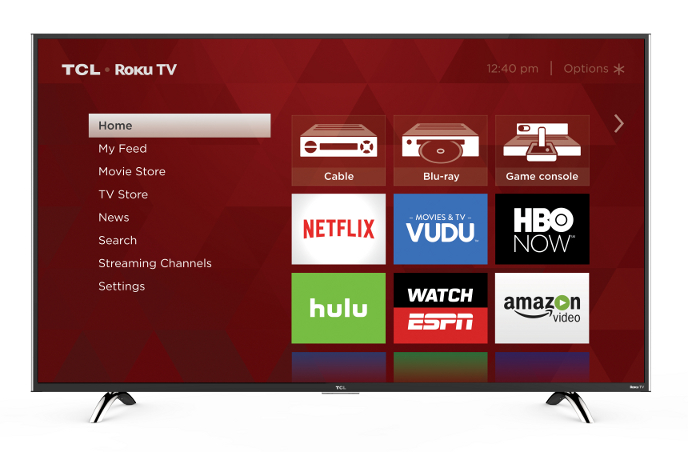 A 'console', which Microsoft began to ship in October, was being shown by SlimPort. A phone is connected to the device via USB-C, and becomes a PC. The console has outputs for DisplayPort, HDMI and USB (x3).
A company called Touchjet had an interesting module product (Touchjet Wave), which attached to the top of a screen to add an IR touch curtain. As well as touch, the module also contains Android-based smart processing, and full access to the Android app store. The TV simply acts as a display. The Wave connects to WiFi, features a camera and microphone for Skype calls and can be controlled through an Android or iOS smartphone. It features an HDMI output, Miracast and DLNA compatibility and will work on 20″ – 80″ displays (must be capable of running 720p or 1080p content at 50/60Hz, or UltraHD at 24/25/30Hz). It will be launched in April, for around $200.
Touchjet was also showing the Touchjet Pond, an interactive Android-based projector, which uses a stylus, smart device or computer for control. Up to four people can interact at the same time. The projector outputs up to 80 lumens of brightness and 1920 x 1080 resolution.
The University of Southern California was present in its capacity as an IEEE member. It was demonstrating a 'casual VR' application by placing a 3D-printed VR viewer (a little like Google Cardboard) on a tablet. It is held to the face, not strapped to it, so users can take it away and interact with content using the bottom of the display; the top is reserved for the VR application. I found it to be an interesting application, and could certainly see its uses in education.
ViewSonic had a number of new gaming monitors at the event. The XG2703-GS is a 27″ monitor with a 2560 x 1440 resolution IPS display, 165Hz refresh and G-Sync support. The XG2401 and XG2701 are 24″ and 27″ FullHD monitors with FreeSync support and 144Hz refresh, while response time is quoted at 1ms and using TN panels. ViewSonic told us that it optimised these for FPS games. In UltraHD, the XG2700-4K is a 27″ IPS display with FreeSync support, 5ms response time and both DisplayPort (1.2a) and HDMI 2.0 to support the full resolution at 60Hz.
In its entertainment and multimedia segments, There are new 22″ (VX2257-mhd), 24″ (VX2457-mhd) and 27″ VX2757-mhd FullHD monitors that share 2ms response time and short input lag as well as FreeSync. Also with FullHD resolution, the VX2776Smhd uses an IPS panel and a "borderless" design.
ViewSonic also has products that are starting to use USB Type C support and will also support KVM operations.
We didn't get the chance to catch up with the company in its suite at the Encore, but it was showing two new LightStream 7 projectors with 1080P resolution. The Pro7827HD and PJD7828HDL with SuperColor and 2,200 and 3,200 lumens, respectively. The Pro7827HD has an RGBRGB colour wheels, is ISF certified for colour and has a vertical lens shift. It will cost $849 when it ships in March. The PJD7828HDL has 22,000:1 contrast ratio and up to 10,000 hours of lamp life.
Vuzix was showing its new M3000 and B3000 smart glasses. The M3000 is a Google Glass-like device with a microdisplay, using waveguide technology to direct light into the user's eye. Unlike the M100 glasses, the M3000 feature a hot-swappable battery, as well as a new Atom processor. They are also more rugged; they are water- and dust-proof, and can survive a 2.4m drop. Vuzix will begin to sell them this summer, for $1,500. The B3000 glasses are similar, but are binocular rather than monocular.
zSpace had the same medical demonstration that we have seen before. (New HP Product Offers Medical Visualization in Head Tracked 3D)