LG has unveiled its V10 smartphone which features an unusual design – in that it has two screens, at an event in NYC.
The phone, which has appeared in rumours in the past (Microsoft and LG Fight to be First), is apparently the first in a new 'V' lineup of premium handsets. LG says that it is designed to enable both content consumption and creation.
One of the standout features, of course, is the second screen. This is inset above the main (5.7″) display, and can be set to an always-on mode. Much like the 'second screen' of the Samsung Galaxy Edge phones, the additional screen space can be used to show notifications, app icons, weather, battery level and so on. LG says that the screen can be in its always-on mode without significantly affecting battery life. The main display has 2560 x 1440 resolution and an IPS panel, while the second screen – also with an IPS panel – is 2.1″, with 160 x 1040 resolution.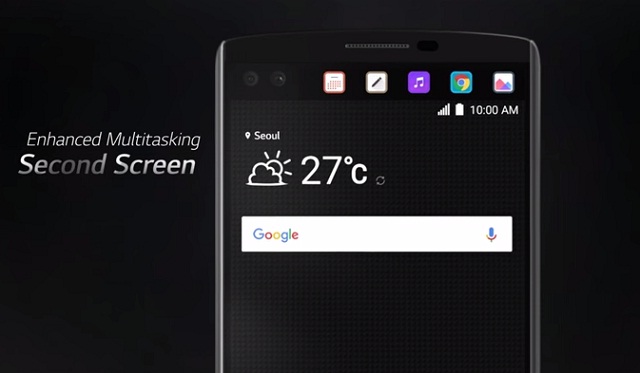 Coming back to content creation, the V10 features 5MP dual front cameras, with two separate lenses to capture 80° or 120° shots. The wide-angle shot is enabled through an algorithm that stitches together images from both lenses. In addition, a feature called Multi-View Recording can capture different angles, by utilising all three cameras on the V10.
LG says that its new phone is the first in the world with a manual mode for video. Options such as shutter speed, frame rate and white balance can be changed while recording, and video can be captured in 1366 x 768, 1920 x 1080 or 3840 x 2160 resolutions. LG also claims that both 16:9 and 21:9 aspect ratios can be used. Other video and audio editing features provide the ability to filter wind noise; adjust the sensitivity of the phone's three microphones; and automatically eliminate blurred frames and static scenes.
All of that UltraHD video takes up a lot of room, so as well as 64GB of built-in storage, LG has made the V10 compatible with micro-SD cards up to 2TB. Additionally, the 3,000mAh battery is replaceable, and supports Quick Charge 2.0 technology; 40 minutes of charging will take the phone to 50% power.
A stainless steel 'Dura Guard' frame protects the handset from knocks and shocks. The back and bottom are additionally protected by a layer of 'Dura Skin', which protects from direct impacts. Independent testing by MET Laboratories found the phone to be MIL-STD-810G-compliant for shock.
As well as LG's Knock Code, the phone is protected with a fingerprint sensor – which also works with Android Pay in the USA.
A Snapdragon 808 processor (with 4GB of RAM) runs Android 5.1.1.
LG will begin to sell the V10 in Korea this month, followed by the USA, China and 'key countries' in Asia, Latin America and the Middle East. A European release has not been confirmed yet.
Analyst Comment
This seems to be a more sensible implementation of a second screen than Samsung's Edge phones. Although technically and visually impressive, the only real advantage that Samsung's version has is that the phone can be used as a ruler! Are the added complications of manufacturing a curved OLED display worth that?
On the topic of OLEDs, we questioned LG's claim about the second screen not affecting battery life. Although we were initially told that this screen was an OLED unit (which would have been very interesting, as LG has not used OLED technology in its own mobile devices), closer reading shows that it is an LCD display. We have asked LG to clarify how an always-on LCD screen will not affect battery level. It could, of course, be a reflective or transflective unit – but LG had not replied to us at the time of publication. (TA)