Christie had plenty to show us and we started by looking at the latest Ultra LFDs, known as the Access series, which are becoming available shortly and will be more competitively priced than previous LCD-based products from the firm. There are new 55″ and 65″ (IPS, 16/7) and 75″ and 86″ (VA and IPS respectively, 24/7) models and the three largest models have OPS and all produce 500 cd/m² of output. The monitors can be fitted with touch overlays and can play back content from USB.
Christie has also added its Extreme video wall monitors which have a 1.7mm (combined) bezel width and is starting to ship. There are four versions of the 55″, with 500 and 700 cd/m² and with two different power configurations. In two models, remote power supplies are used, driving the panel at 48V DC. All the models have FullHD resolution and OPS slots. Features include DisplayPort support with loop-through support of up to 16 panels.
At ISE, Christie previewed its new small pitch LED technology as it moved development back in house. However, after gathering feedback, it was decided to further differentiate the new products mechanically and so the units were not being shown at Infocomm.
In the projection area, Christie was previewing a new addition to its three DLP BoldColor range which has Laser Phosphor technology, but rather than using simply blue lasers, uses both red and blue lasers. At the moment, the output is around 23,000 lumens, but this could rise to around 30,000 by the time of the product's shipment in early 2018. A key point is that the new projector allows existing inventories of lenses to be used. The company was also showing its 45,000 lumen direct-coupled laser system which is self-contained, rather than using a separate cooling system.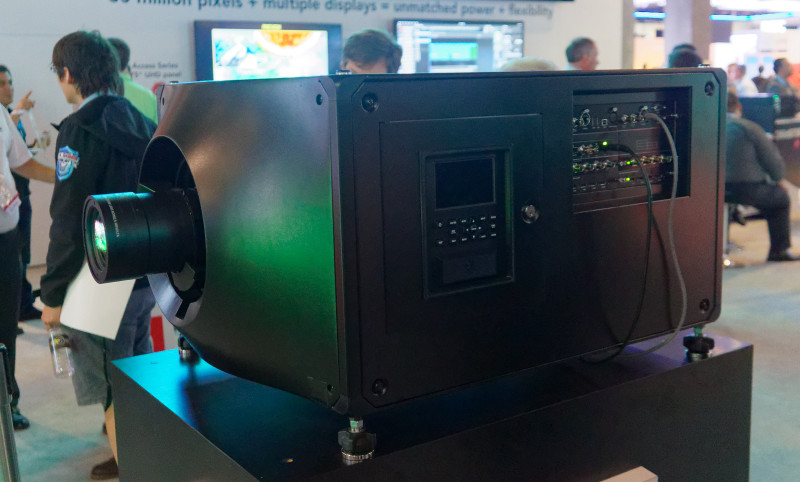 Now shipping are the DHD1075-GS (10,875 ISO, 9,500 ANSI) and Christie DWU1075-GS​ 10,000 (ISO, 8,800 Ansi) lumen 1920 x 1200 single chip L/P projectors which use the BoldColor technology. The company expects use in fixed installations, but also in rental and staging as the units can be stacked and support blending and warping. The units feature motorised vertical and horizontal shift as well as focus and zoom.
Christie was also highlighting it Terra SDVoE technology and the latest Sypder X80 controller which fully supports UltraHD operation.