Coretronics had a meeting room and was showing an impressive UST L/P UltraHD projector that it is now supplying to its OEM customers (and which looked distinctly Dell-ish to us!).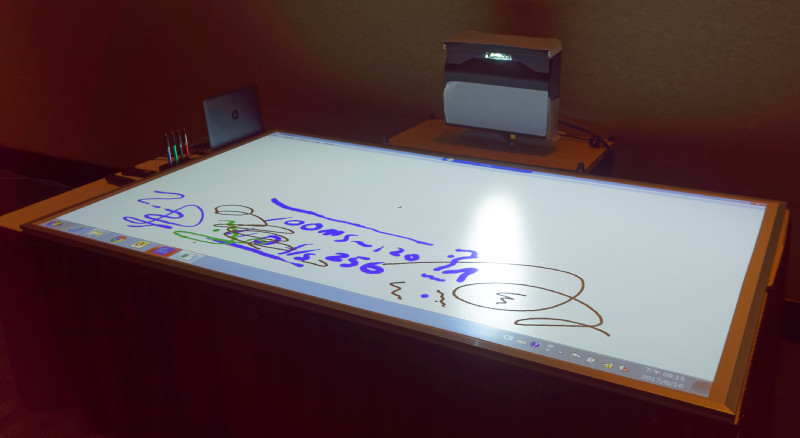 This Coretronic UST projector was used with a PCT screen surface for interactivity. Image:Meko
There was a big touch screen that used a projection screen with PCap touch to allow the development of either board-type or roll-type screens for interaction with up to 32 touch points. The film that the screen is made from is based on a R2R production technology with a soft flexible material. As well as finger touch, the screen allows the use of an active pen which supports up to 256 levels of pressure and the pens have an id pattern so that they can be distinguished by the controlling software. Accuracy is +-2 pixels.
Also in the meeting room was a L/P 4K projector that uses a red laser (a configuration that it calls MCRA) as well as blue to create a wider colour gamut of DCI P3 and outputs 5,000 lumens. The company is working on content sharing through Intel Unite.
A new configuration is an ultrawide (16:6) configuration that has been developed for Chinese classrooms which often use dual SXGA projectors to create wide classroom displays. There is a new software utility that supports whiteboard functions using an embedded SoC that runs Android. The projector can also be used in a picture by picture configuration.
Finally, the company showed us its 'one click dongle' which can allow sharing of content to displays using HDMI and with no driver installation, which can make life much easier in corporate environments. There is a USB connection that is used to power the dongle, or it can be run with a battery.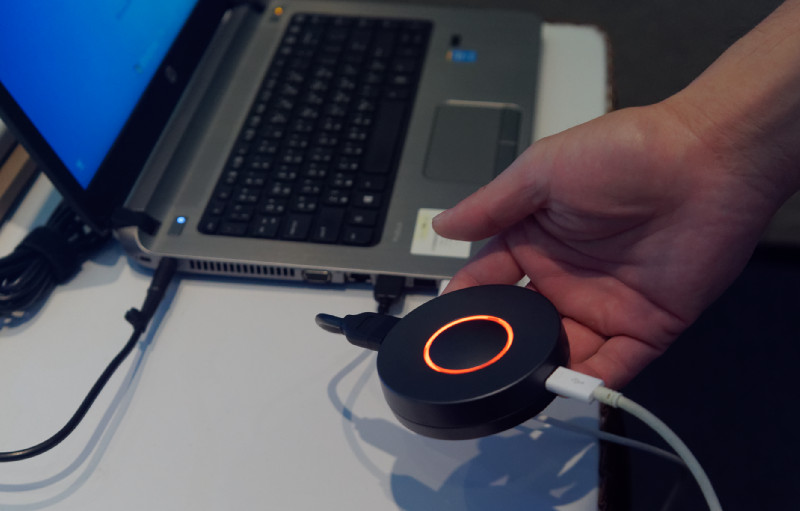 The Coretronic HDMI Dongle for collaboration needs no drivers. Image:Meko