Chinese top-tier TV manufacturers, TCL and Hisense, have surged forward in the global TV market, securing a 24% market share in Q1'23, according to the latest report from Omdia's TV Display & OEM Intelligence Service. This marks a significant increase from their combined market share of 22% in 2022, and a substantial leap from their historical four-year average of 19%.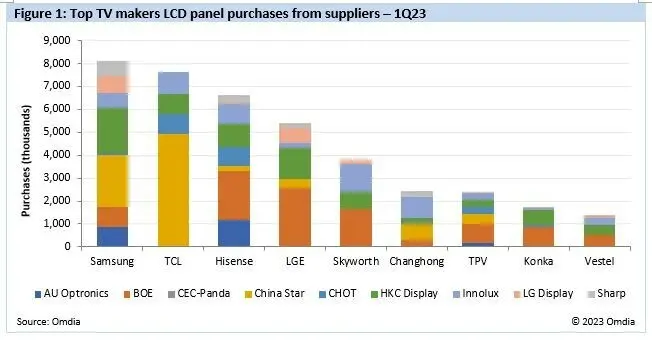 TCL and Hisense's growing market presence has been fuelled by increased purchasing from Chinese panel makers, including BOE, ChinaStar, HKC Display, CHOT, and CEC-Panda. The report indicates that 76% of the LCD TV panels purchased by these two firms in 2022 were sourced from Chinese suppliers, an increase from 73% in the previous year and 58% in 2019.
This shift indicates an increasing preference for domestic sourcing, which helps Chinese TV manufacturers leverage their supply chain efficiencies and better manage their production capacity.
In contrast, long-standing market leader Samsung has seen a downturn in its global market share. The South Korean giant held a 13% share in 2022, a notable decrease from its 18% share in 2021. This downward trend may be linked to the withdrawal of Samsung Display and LG Display from the LCD TV panel business in 2023, which has created procurement challenges for South Korean TV manufacturers.
"Our report shows that TCL and Hisense's increasing joint panel purchasing volume share is narrowing the competition gap with Samsung, which now stands at 14% for LCD TV panel purchasing power," said Deborah Yang, Chief Analyst in Omdia's Display research practice. However, she noted, "a gloomy forecast for global TV market demand continues to discourage Chinese panel makers."
Despite their gains, Chinese manufacturers face a challenging environment due to ongoing global inflationary pressures. "The LCD TV panel allocations will change drastically, along with the competitive landscape for global TV makers. These inflationary issues will prove to be the most challenging for global premium TV players," Yang concluded.
The rise of TCL and Hisense suggests a shifting global balance in the TV manufacturing industry. As these Chinese firms continue to expand their market share and purchasing power, they are not just challenging Samsung's dominance but also reshaping the global TV market landscape.