According to Counterpoint's Market Monitor service, smartphone shipments in Colombia experienced a 9% YoY decline in Q1'23, marking the lowest quarterly volume since Q1'20. Rising inflation and political uncertainties contributed to weakened consumer demand. This decline reflects the overall trend in the LATAM region, where smartphone shipments fell 9% YoY in the same period.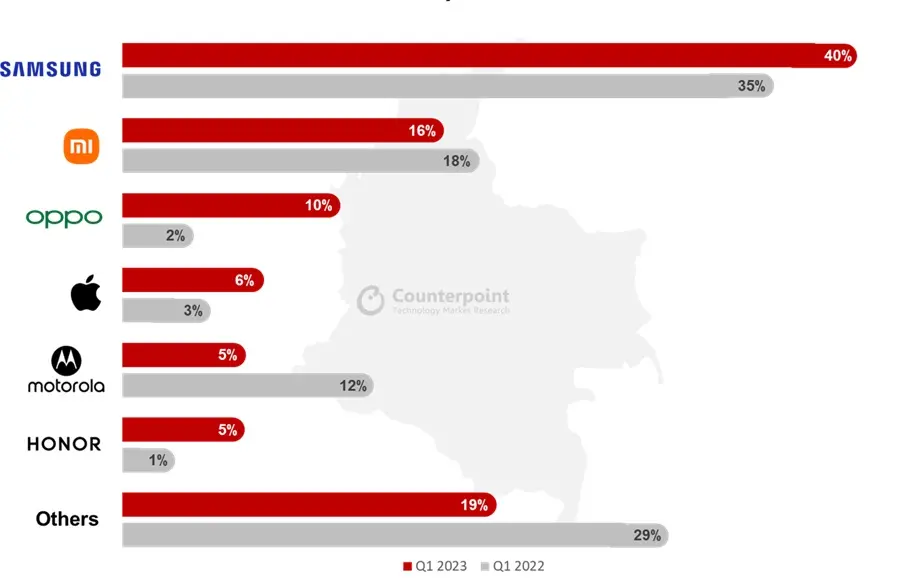 Samsung and Apple increased their shipment shares in Q1'23, capitalizing on consumer trust in established brands during uncertain times. Honor and Oppo, aiming to expand their presence in Colombia, made significant strides by more than doubling their shipment volumes YoY.
Inventory carried over from 2022 impacted Xiaomi and Motorola, resulting in an 18% YoY decline for Xiaomi and a significant 65% YoY decline for Motorola. Back-to-School promotions offering two devices for the price of one contributed to inventory management.
In terms of market performance, Samsung's shipment volume grew 6% YoY driven by the launch of the S23 series, while Apple experienced a 60% YoY increase due to the delayed arrival of the iPhone 14 series. Xiaomi faced inventory challenges but remains in the second position. Oppo quadrupled its volume YoY, surpassing Motorola to become the third most important brand in Colombia. Motorola witnessed a significant decline in shipment volume, and Honor achieved a remarkable 200% YoY growth, closely competing with Motorola for the fifth position. ZTE's shipment volume declined in Q1'23, breaking its improving streak since Q2'22.