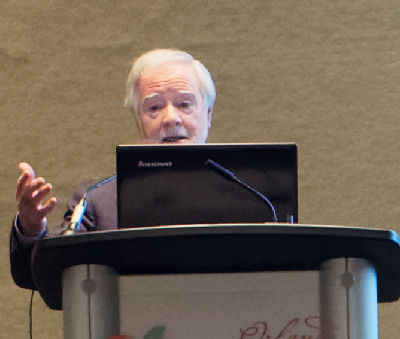 Laurence (Larry) Thorpe of Canon gave a very "high bandwidth" talk and we hope we caught the main points! He addressed HDR but he also started by saying that Canon cannot separate HDR from wide colour gamut (WCG). Canon has been working closely within ACES, which is the format for content storage from the Academy of Motion Pictures Arts and Sciences. (For more background see our video ACES Debuts at NAB 2015.)
Thorpe explained the complete ACES flow. Canon can supply a "complete" HDR system comprising the EOS C300 MarkII camera which is a 2K HD camera really, but also has a "modest" 4k facility, and "4k is coming". The camera can directly feed Canon on-set and production monitors which can show the content, allowing on set review of HDR content, which is important for creatives to understand how the content will look. The camera can also deliver "raw" files for external recording and the format of the output is 3G SDI (Thorpe said that this is important).
He explained the limits of high dynamic range and how Canon has its own log system for recording HDR content at ISO 800 and above. Canon believes that this gives the best range and balance between capturing highlights and shadows.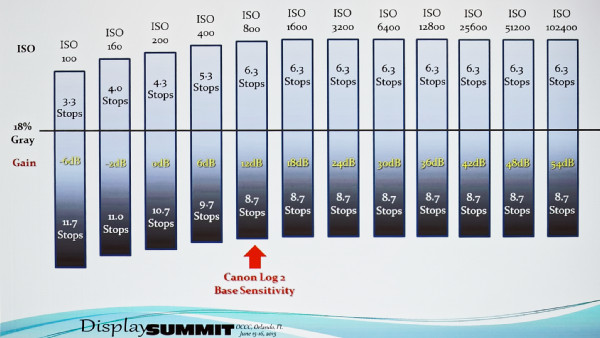 The camera supports four different colour gamuts. As well as Rec.709, DCI P3, and Rec. 2020, the camera can support the Canon Cinema Gamut – and this is designed for those that want to emulate film and is wider than P3 or Rec. 2020.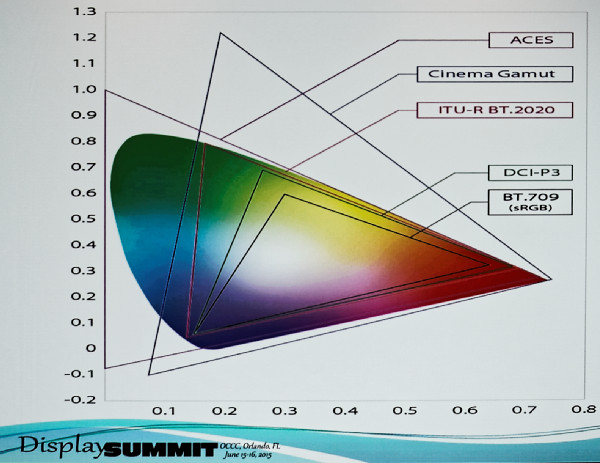 Canon's cinema gamut is designed to emulate film
Thorpe went through what happens in the monitor, which includes an 18 bit processing system. First, the monitor takes in the 4k or 2k RAW files and "de-bayers" the sensor content. The content is transformed into the ACES colour space and there is a grading control on the monitor that can create metadata which can then be included with the RAW data. On-set colour control decisions can then be sent back to to the post-production operators.
Then a 3D Lut is used to transform the content for a specific EOTF. Log2 is a special Canon mode for very low levels of brightness – but PQ is also supported. That data is then mapped to the monitor panel which supports DCI-P3.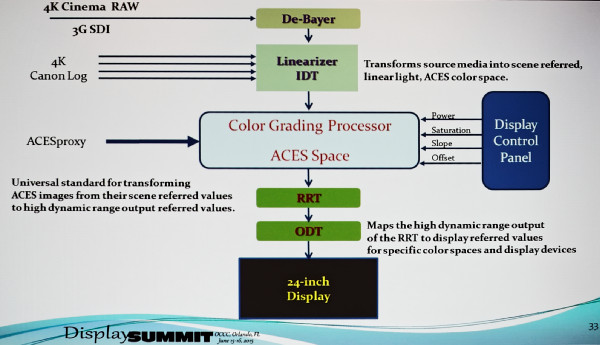 The display can loop the data through to an external recorder.
The "on set" display is around 400 cd/mm² in peak brightness. Although this is not as high as a dedicated post-production monitor, it means that the camera can create 1600% over reference white and gives a sense of the HDR effect. A decision can be made to either clip HDR content on the display or to compress the dynamic range.
Colour gamut mapping can also be adjusted and grading can be done on the monitor or via a detachable remote. Grading information can be put onto a thumb drive to send to post production along with the RAW data. The display also has a waveform monitor.