Albion supplies Apple solutions to the UK education market, as well as training. We asked about the competition from Google's Chromebooks – which are significantly cheaper – and were told that Apple's iPads etc are still popular because "they just work". User-friendliness is a big plus!
"A return to education" was being celebrated by Asus. The company will put more of a focus on the market this year, although had no new products to show.
Beijing Moly Technology was showing its optical-, infrared- and EMR-based interactive whiteboards and interactive (infrared) monitors from 55″ to 84″ and with FullHD resolution.
There was nothing brand new from Crestron, because "ISE is only a few weeks away", and it is a much larger show for them. The company was promoting its remote room management (Crestron Fusion); cross-platform wireless presentation; and collaborative learning solutions.
The CTouch booth was being manned by a combination of CTouch staff and employees from Medium, which is the exclusive distributor in the UK. We heard that the main displays were the same as we saw at Gitex, although the XTS range of corporate displays up to 98″ are now shipping, but the firm was showing the latest design of its Procap 70″ FullHD touch-enabled table. The unit has adjustable height and uses metal mesh touch technology to support up to 32 points.
Epson focused on printers, but had some projector news. The company has signed a new partnership with Smart Technologies, and will supply its EB-500 series models (EB-575Wi, -585Wi and -595Wi) with Smart Notebook pre-installed, from April. It is also offering cashback on selected projectors (between £50 and £300 ($70 and $430) now, until the 31st March.
Much like Crestron, Extron will focus on ISE for new product launches. The company was promoting its existing distribution products.
Fujitsu was in the Intel area and was showing client and server systems. Our attention was drawn to the AR headset that the company has previously shown at the Fujitsu Forum. The hardware is currently available, but the software will not be ready until early in Q2. There was an impressive demonstration of the system being used in a maintenance application and it seemed to respond very well to audio instructions – "OK Fujitsu". The AR system also can work with an arm-mounted keypad for input.
Although Google's stand held nothing new, we did get to see a new VR concept that the company was running called Google Expeditions. I will be publishing a Display Daily on the subject soon, so be on the look-out!
Hanshin Board was showing its 55″, 65″, 70″ and 84″ FullHD and UltraHD interactive displays as well as interactive whiteboards up to 100″. The displays support 10 point touch and include integrated Android and have OPS support. The company's eFun table was attracting a lot of attention.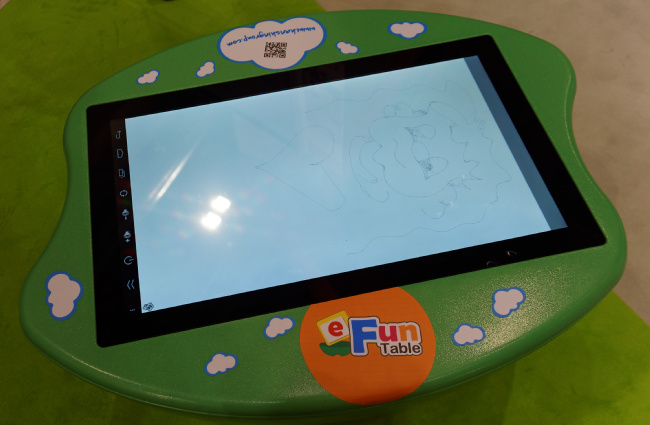 Huawei was present in its infrastructure division, rather than devices. Servers, switches etc were on show.
John Galvin, GM of Intel Education, told us that the company has a solutions, rather than device focus. Intel is working with projectors, notebooks, LCD displays, smart boards (although is seeing a decline here in some mature markets) and more. A heavy investment in two-in-one devices is expected in emerging markets, as well as developed regions.
Lenovo had a booth as part of the Intel area at the show and was showing its range of client devices and servers. Supporting Lenovo was Virtalis, a Manchester, UK-based systems integrator that specialises in VR and was showing the zSpace system, on which we have reported regularly, and for which the company is the UK distributor.
Despite its name, Lumens is not a projection company. The firm specialises in cameras; originally visualisers, but now more of the pan-top zoom market.
Distributor Maverick announced that it will begin to carry Epson's G-Series and 4000 series of LCD projectors this year. We also heard that it will distribute Chromebox and Chromebit products from Google, and is now talking to BenQ about a partnership later this year.
TraceBoard told is that is the "leader in the Chinese market" in interactive displays and told us that it sells its products in 80 countries around the world. The company has an office in Poland, from where it runs the European business, but also has warehouses in Poland and Italy and also has a presence in Spain and Greece. The company was showing a range of 55″/65″/70″ (FullHD) and 84″ (UltraHD) interactive displays using its own six point touch frame. It can also support 10 point touch with infrared.
Triumph Board was showing a 65″ version of its interactive display, which is now available in UltraHD and the company told us that a 70″ FullHD version is coming soon. There will be a number of new LCDs in the middle of the year, so we're looking forward to an update at Infocomm.
Vivitek demonstrated the NovoPRO and NovoDS players, which we had previously seen at CES. The company said that it will show laser projectors and ultra-short throw projector lenses at ISE in February.