Aoto of China is one of the highest quality vendors and impressed Matt at ISE with their quality.
We started by looking at the MXE Series of cabinets which are available in pitches from 2.8mm to 4.8mm and is aimed at rental. The cabinets are made of carbon fibre and the weight is just 24kg/m² which means that the cabinets can be hung in 10 modules vertically or can be stacked to the same height. As we have previously reported,
Aoto is interested in monolithic displays and was showing the cabinets mounted in a frame to create a single display. The company has 108″ and 136″ monolithic FullHD displays in the Commercial LED Displays (CLD)
One of the features of the AOTO CLD modules is that they are very clean looking with no cables. The CLD series is available in a range of pitches at 0.98/1.25/1/5/1.87/2.5/3.1 and 3.7mm. The modules have a 16:9 aspect ratio and are 27″ diagonal so that four can basically replace a 55″ LCD. Each cabinet can be handled and installed by a single person and they can be used for rental or for fixed installations. The displays are designed to have a matt finish when they are powered off.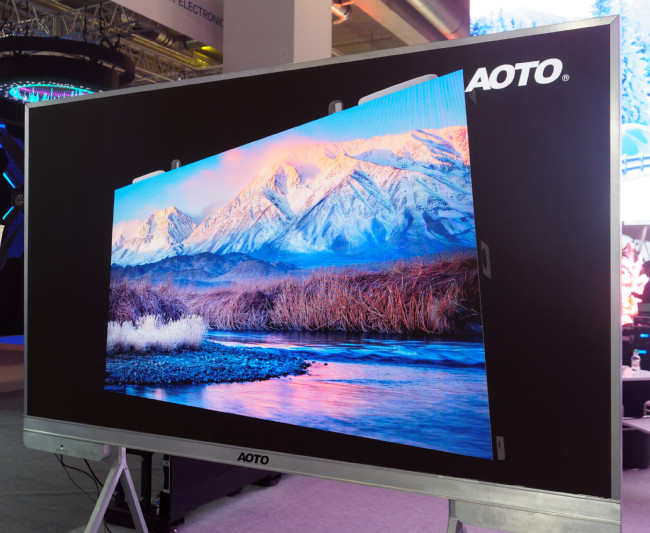 Aoto has developed monolithic 108″ and 136″ FullHD Displays. Image:Meko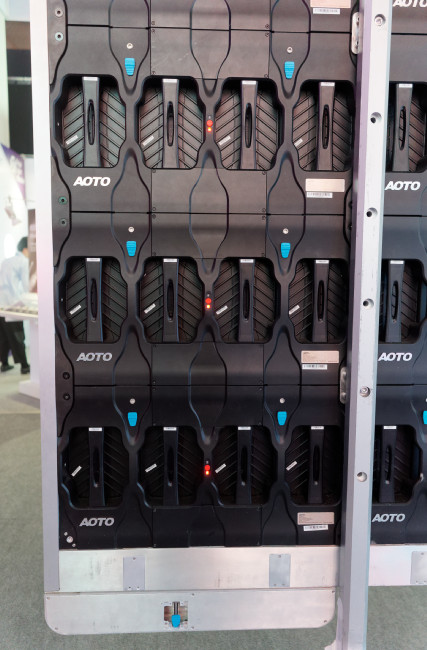 Aoto display cabinets are very clean. This is the reverse of the monolithic display. Image:Meko