The Wearable Technology Show took place at London's Excel Centre and also included AR & VR topics which it labelled as the AVR360 Show, although it was effectively just a few of the booths at the event. There was also an area devoted to Digital Health and another area for IoT. We only expected to see a couple of suppliers, but there were a number of vendors that were interesting and that we hadn't met before.
British Aerospace (BAE Systems) was at the show to talk to potential suppliers and partners and was showing its concept helmet which will be fully launched at the Farnborough Air Show, in June. The system uses gaze tracking and all instruments and controls are virtual – there are no physical instruments at all. Special gloves track where the pilot is pointing and the gaze tracks where attention is focused. Haptics feed back control operation.
Hammamatsu is a provider of components and we spotted an interesting laser plus MEMs projection demonstration. The main application is automotive HUDs and the company has already had some success with Jaguar Land Rover. The mirror is 13mm x 3mm and is supplied in a sealed package. The system has been developed with Lemoptix of Switzerland, which was acquired by Intel back in 2015 (Intel Acquires Lemoptix)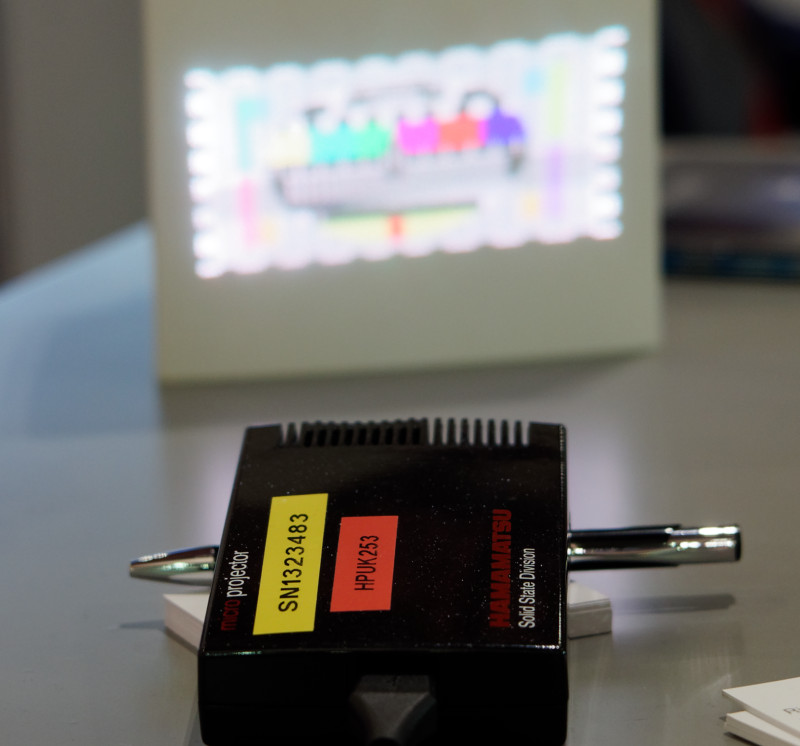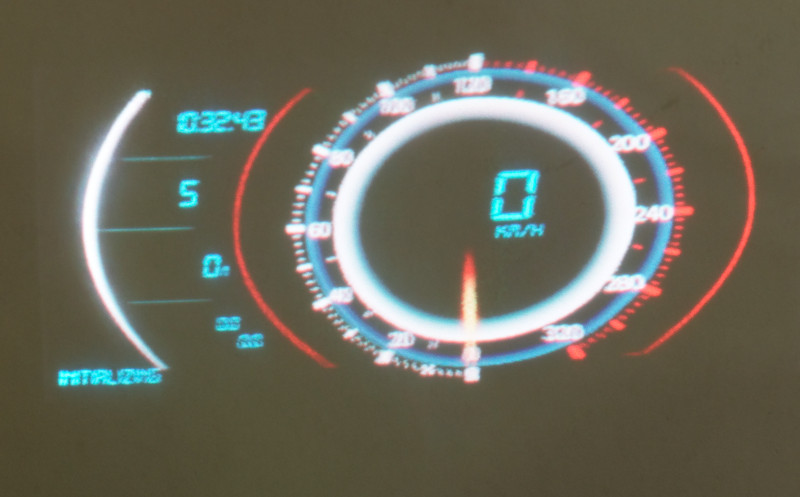 Hammamatsu's MEMs is already used in a Jaguar Landrover HUD. Image:Meko
Kopin was not showing any new displays at the event as it had made announcements at CES and so at the show it was highlighting the products that its partners are making as well as its own Solos glasses. The company was also keen to remind us of the deal it has for making OLED microdisplays with Olightek and BOE. Also at the show was the RealWear HMT-1 which is made by a spinout from Kopin that is developing the Golden Eye product line that Kopin started. RealWear raised $17 million in Series A funds last month for its development.
The company was showing helmets from Scott Safety, glasses from Lenovo and the Vuzix, as well as the Garmin Varia.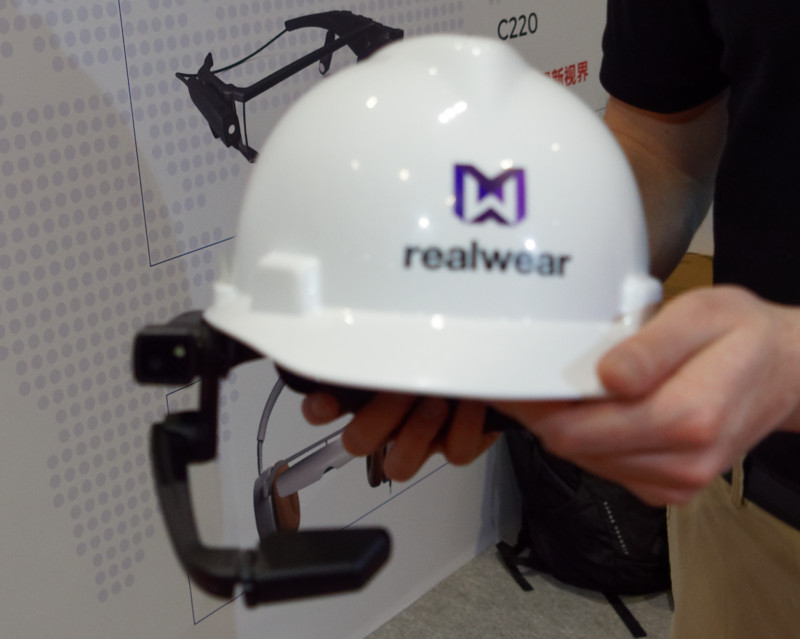 The Realwear eyeset is based on Kopins GoldenEyes (apologies for the poor focus – still getting used to the new lens!)
Leicestershire Fire and Rescue Service is using VR for training. The organisation was exhibiting with a contractor, RiVR which has developed a system for laser scanning areas, such as the scene of a fire and then mapping the photography onto a 3D environment that is very realistic and can be used for training purposes. The company told us that few people are properly exploiting the realism of using photograpy, with most using fully artificially rendered environments. The greater realism helps trainees to really feel as they are in the actual location. As well fire scenes, RiVR is working on driving applications and crime scenes.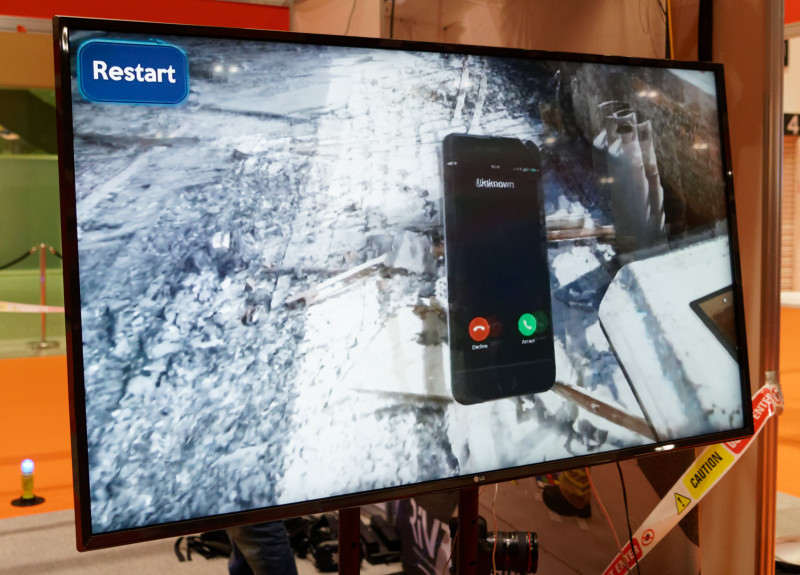 Unfortunately, the stereo imagery on the LCD don't communicate the realism of the RiVR solution.
Optinvent is from Rennes in France, and is one of the companies that has evolved out of the Thomson R&D facilities that were centred there. The company was showing its plastic waveguide in an AR application which was being driven at 800 x 480 resolution by an LCOS imager with 3,000 cd/m² in its latest ORA-2 glasses. This gives a field of view of 23º and provides 42 cpd. The use of a lower cost waveguide means that a complete system based on Android can be offered at €699, although there was a special show offer at €550. The headset has 9 axis tracking and a camera.
The next step in development is to boost the processing power and the company then hopes to move into consumer applications. The waveguide technology is very scalable and the firm believes that it can get to 30º to 35º field of view.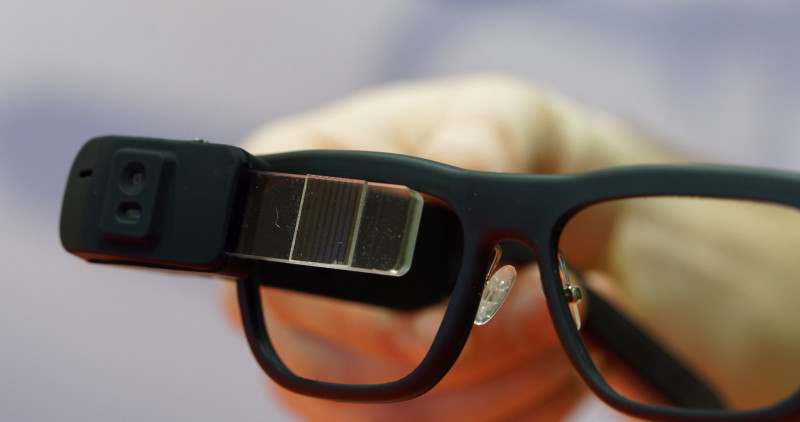 Optinvent's waveguide is made of plastic. Image:Meko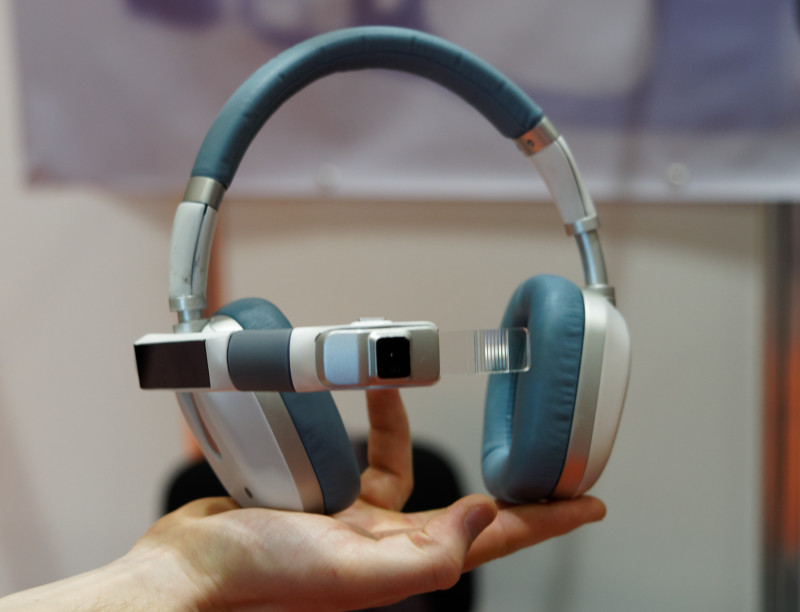 Optinvent is developing consumer concepts. Image:Meko
SwimAR is a UK-based start up that is developing an AR system that is specifically designed to help swimmers. At the show, it had its Phase 1 product, which was about developing the concept and uses a separate Raspberry Pi-based box that is fitted to the back of the head. However, in Phase 2, the company will integrate the system into a single unit. One of the challenges for the company is that the design is built around a Sony microOLED and optical system, including the waveguide, and volumes of that display are not likely to be available until the end of Q3.
A feature that the company is considering for Phase II is to add GPS as there is quite a lot of interest from open water swimmers. It has also seen a lot of interest from triathletes, who are used to having a lot of data on their bikes.
Pricing is as yet undecided as the company is weighing up different volume options.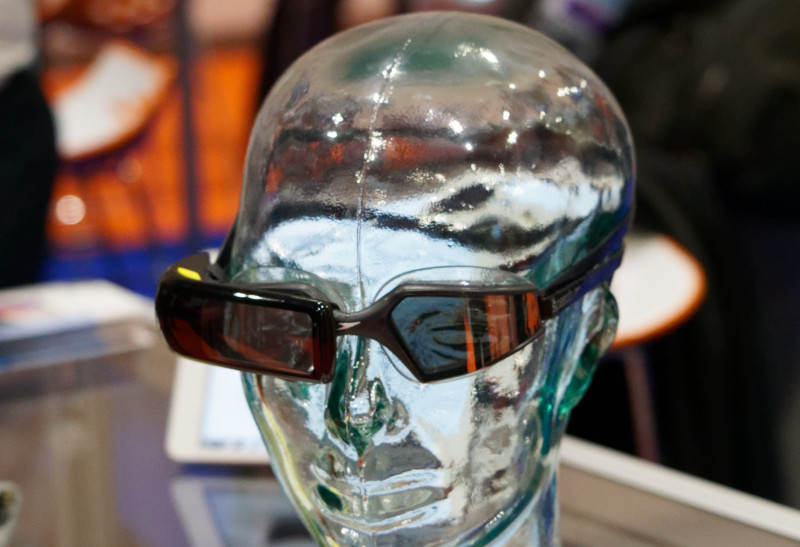 SwimAR is developing this special AR system. Image:Meko
Trivisio Prototyping GmbH is based in Luxembourg and has been making headsets for AR for a long time in that country. Existing clients of the firm include SAP, Thales, Volkswagen and the US National Guard and the focus is on industrial applications. The company uses OLED imagers and LCDs in its systems and it has mono and stereo headsets that are designed to be run by HDMI. At the show was an existing 'imager over the eye' stereo HMD using a beam splitter for optical integration. The Ars.30 has dual 1280 x 1024 OLEDs with RGBW configuration and providing 300 cd/m² to 400 cd/m². Optical transmission is 50%.
We had a look at a new product, the Loc.20 which has 800 x 600 resolution at 60fps, using an LCD, and with 130:1 contrast and designed for single eye operations. The optics are more than 90% transmissive and the FOV is 20 deg optical or 18º for the display. There is an integrated 5mp camera and audio facilities. The Loc.20 is driven by a dedicated control unit based on a TI OMAP4460 processor with 1GB of memory and an integrated PowerVR SGX540. Storage is by flash with 4GB. Cost is around €1,800.
Trivisio also has a binocular VR HUD using the same imagers.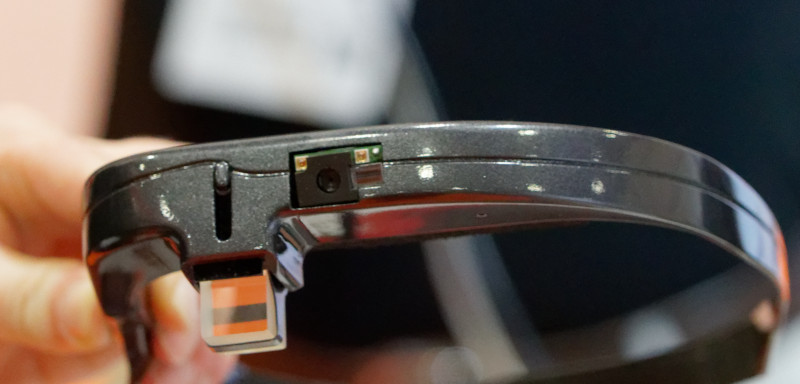 Trivisio has a range of headsets made in Luxembourg. Image:Meko
WITGrip is a start up that has developed a patented design for putting intelligent devices on the wrist. The company is ready to discuss the technology with potential licencees.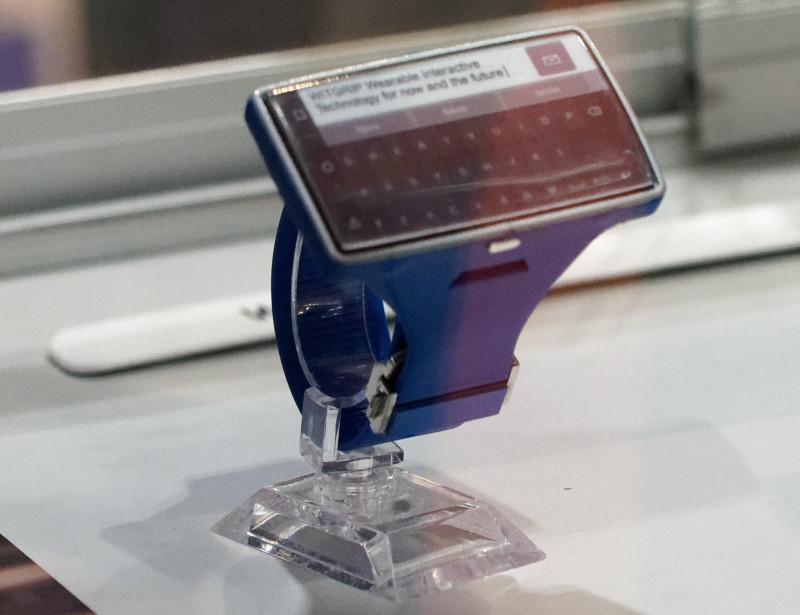 WITGrip has a patent for mounting electronics on the side of the wrist. Image:Meko