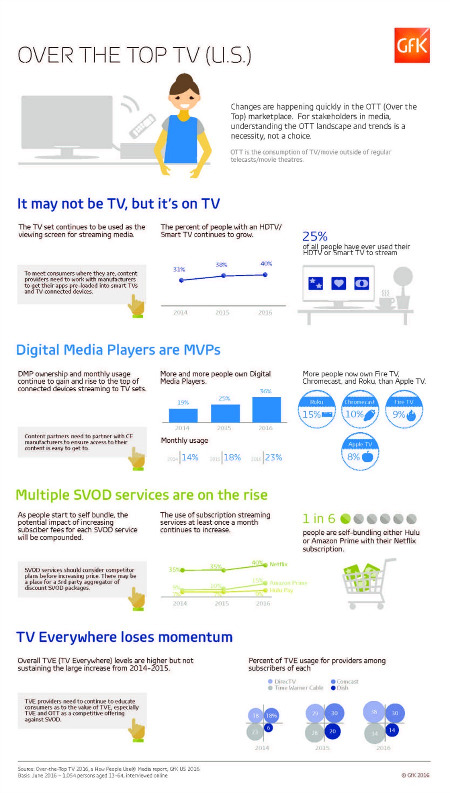 Click for higher resolutionGfK said that 16% of the viewing population* have multiple SVOD (subscription video-on-demand) services in their homes, up from 10% three years ago.
Those who pay for combinations of Netflix, Amazon Prime, Hulu, and other subscription streaming services – are more likely to have kids under 18 in their homes (50%, versus an average of 41% among all weekly viewers of any type).
"Self-bundlers" also have higher mean incomes than average weekly viewers – at $90,000 per year versus $76,000 – but are less likely to subscribe to traditional pay TV services (67% versus an average of 75%).
The implications for content creators and brands alike are striking. Marketers want access to high-income households with very young consumers – who often influence their parents' purchase decisions – but may have less access through standard channels (such as pay TV) if they self-bundle.
Overall, GfK measured subscribing to 16 for-pay over-the-top (OTT) streaming video services, with consumers who pay for any two or more considered to be "self-bundling." Roughly half (49%) of the viewing population subscribes to at least one of these services; almost two in ten (17%) have Netflix and Amazon Prime; 9% have Netflix and Hulu Plus; and 5% have all three of the major services.
Specific combinations of subscription streaming services are associated with different effects; for example, households with Netflix and Hulu (59%) are less likely to have pay TV service than those with Netflix and Amazon Prime (67%).
"As consumers start to self-bundle, the potential impact of increasing subscriber fees for each streaming service will be compounded," said David Tice, SVP of Media and Entertainment at GfK. "The last one to a price increase party may be the first one cancelled – so individual streaming services need to consider competitor plans before instituting price hikes. There may also be a place in the market for a third-party aggregator of discounted streaming services."
* The "viewing population" includes all those who watch any video at least once per week via any means – regular TV, streaming, or otherwise. This is 95% of the total 13-to-64 US population.