ViXS has been through something of a traumatic year. We met with Perry Chappell, VP of Worldwide Sales who filled us in on recent developments. The company has not been bringing in revenues in line with the cumulative investment of $250 million or thereabouts in R&D spending over the years. As a result, the company changed CEO in September to "unlock value" for investors and appointed Sohail Khan as CEO and President to replace Sally Daub, a co-founder of the company.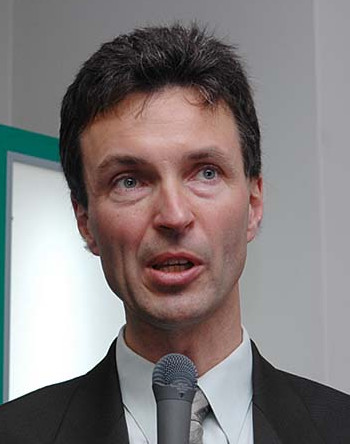 ViXS's Perry Chappell Image:Cantechletter.comChappell told us that an independent valuation of the firm's IP assets alone at between $60 million and $100 million, although the company's market capitalization was $18.14 million at the time of writing this article. Clearly, there is some scope for "unlocking value".
The company has a lot of good technology in video decoding and transcoding, but has not been able to get very large design wins for its chips. It is therefore looking for "selective" opportunities where it can make profit and develop its business. ViXS has had some success in the Japanese market for Blu-ray recorders and has an UltraHD reference design.
However, a bit opportunity that ViXS is working on is Vidity. Chappell explained this video service to us. While Netflix has said that it will "never" stream UltraHD at bit rates as high as the 100MBit that the highest quality video needs, there are companies that are interested in making very high quality video available to consumers using downloads. The idea is to use broadband connectivity to pre-download very high quality video to the local storage of a user and then to charge a premium to the viewer to access the content. This could be used to offer something that is more convenient than packaged media, but of higher quality than streaming media.
Studios are interested in this idea, as the can exploit both the "long tail" for high quality video, but could also offer a premium service for new movies, which could even go as far as offering the opportunity to see cinema content at the same time as theatrical release, if there is enough of a premium. Content, of course, has to be secured on the user's storage system.
The Vidity service is run by the Secure Content Storage Association (SCSA) which was founded in January 2012 by Twentieth Century Fox, Warner Bros, SanDisk, and Western Digital (WD now owns SanDisk). It has now been joined by Universal and Chappell told us that Samsung is supporting Vidity so that its UltraHD sets can play back content from, for example, WD's Passport storage system. ViXS's SoC is used in the My Passport Cinema Vidity player.
Another area of product development for ViXS has been in helping consumers to get access to local TV. Some consumers are "cutting the cord" to eliminate cable, but they still want access to local terrestrial TV channels to get local news, weather and sports coverage. The firm has developed a "Chromecast-ish" stick that includes a tuner and puts a 1080p stream from a tuner onto an IP network to allow local channels to be viewed on networked devices.
Finally, we covered HDR, which ViXS has been working on for some time. The firm told us that it has had customers asking for the Philips/Technicolor HDR technology as well as the HDR10 implementation. Chappell said that WCG is also an opportunity for the firm because it has some experience in remapping colour gamuts, for example, from Rec. 709 to Rec. 2020 formats. He believes that ViXS has the "most complete" solution for tone mapping and upscaling. The company's architecture allows some programmability, so changes to or new HDR schemes can be supported by existing hardware, for example, the Philips/Technicolor technology combination.