OEM manufacturer Delta offers some of its projection and display products under the brand name Vivitek. At InfoComm they debuted several new projector models, as detailed below. A 4K laser rear projection cube, 4K projector, LCD and LED modules are covered separately.
The Qumi Q8 is said to be the world's smallest native 1080p LED projector (188 x 112 x 42.5mm, 500g) and is aimed at entertainment, education and business applications, allows playback at the projector or via wireless connectivity to other sources. It offers up to 1,000 lumens of brightness, 30,000:1 contrast and an estimated 30,000 hours of operation projecting a large 120″ (diagonal) image.
The QDU7090Z is a new 6,000 ANSI lumen WUXGA laser phosphor projector is among the quietest laser projectors in this category with 33dB fan noise. As a result, it is designed for auditoriums, conference rooms, worship facilities and museums. Delta/Vivitek is on its second generation of laser phosphor engine, called V-color, that they say provides superior brightness and color uniformity to create an immersive, big-screen image environment. Lifetime of the laser engine is speced at 20,000 hours in full power mode or a 5 year warranty. Contrast is 15,000:1. The DU7090Z is DICOM compatible for use in medical teaching and conferences and is rated for intensive use environments.
The QDU8090Z is the bigger brother to the 7090Z offering 8000 lumens.
The DH759USTi is a 1080p ultra-short throw projector and also a HID driver-free / plug-and-play interactive projector, designed for education and business applications. It offers pen interactivity with optional interactive 10-point touch on a screen size up to 110″ diagonal. The DH759USTi features 3,500 ANSI lumens with a 10,000:1 contrast ratio and is equipped with an impressive energy-efficient lamp that lasts up to 7,000 hours (in dynamic eco. mode) with a total 20W audio power.
Vivitek has also just launched the D830 series that includes three models; the DH833 (4500 lm, 1080p) and DX831 (4500 lm, XGA) and the DW832 (5,000 lm, WXGA). These are lamp-based projectors aimed at SMB and the education markets with 4000 hour lamp life. They are compatible with Crestron RoomView, Extron, AMX SSDP as well as network control, and, the entire series can have the Vivitek NovoPRO added to allow for wireless connectivity and collaboration for up to 64 users in the room. With NovoPRO as the hub, multiple devices can be connected fast and simple at one time, while four can be simultaneously projecting in a split screen. All three projectors are priced under $1,000 and are all shipping.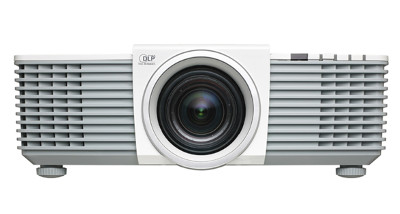 Vivitek expanded its D3000 series of projectors with the launch of its new DH3331, a 1080p projector aimed at corporate and education applications and speced at 5,000 lumens with a 10,000:1 contrast ratio. The DH3331 features new DICOM Simulation Mode making it ideal for viewing grayscale medical images — such as X-rays — for medical training and seminars. Since it's aimed at small meeting rooms, the company added dual 7-watt, built-in speakers and a microphone input so it can act as a sound system, too. – CC
---