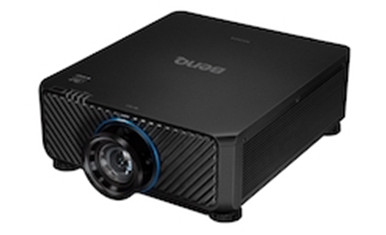 BenQ America Corp. used InfoComm to unveil its brightest projector to date – an 8000 lumen WUXGA resolution model that is laser-phosphor based – and part of the new BenQ professional line of BlueCore laser light source projectors. Engineered for large-venue professional installations such as entertainment applications, corporate meeting rooms, houses of worship, educational facilities and more, the LU9715 features significantly improved color performance through a dual RGBY color wheel system. The projector supports 360-degree and portrait projection and 24/7 operation for expanded installation opportunities – the first time BenQ projectors have been able to do this.
J.Y. Hu, vice president, business line management at BenQ America Corp said that, "Our BlueCore laser technology allows full control of light output, enabling a super-high 100,000:1 contrast ratio, so every subtle detail is revealed during dark scenes. The LU9715 will enable attendees to witness the incredible color-accurate performance of BenQ projectors."
The basic configuration of the BlueCore 1-chip DLP engine is detailed in the diagram below. Note that the yellow phosphor wheel is illuminated by the blue lasers and that there is a clear segment to let this blue light thru for this color component. In the LU9715, dual blue laser banks are needed to reach 8K lumens. The color wheel is a RGBY configuration.
The lifetime of the solid state light source is rated at a conventional 20K hours in full brightness mode (to 50% of original brightness). Users can also operate the projector at 80% of its peak rated output and extend the life to 40K hours. In addition, the Custom Light Mode allows adjustment of the brightness level – which will help when blending projectors for uniformity.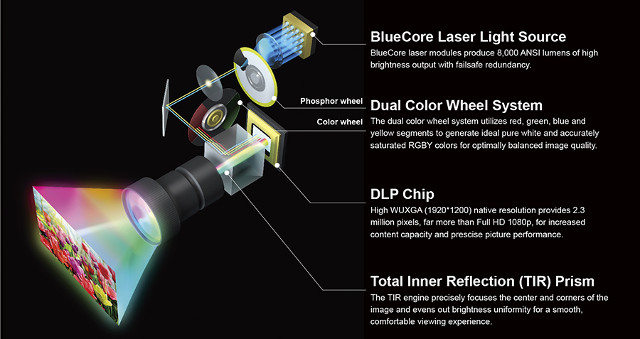 The optical engine and laser bank is hermetically sealed to eliminate dust damage and image degradation for extended long-term durability. Dust on the laser phosphor wheel is known to rapidly degrade light output.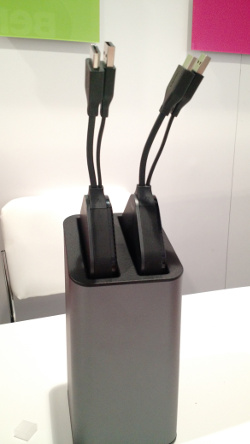 BenQ BlueCore laser projectors feature HDBaseT for long-distance full-HD signal transmission via network cables up to 100 meters. LAN control compatibility with leading third-party solutions as well as BenQ MDA software allows IT managers to remotely monitor and control a large number of projectors on the network. The LU9715 also features comprehensive connectivity, including 3G-SDI.
The BenQ LU9715 BlueCore laser projector ships in late June with a choice of eight optional lenses that feature all-glass construction with throw ratios ranging from 0.38 to 8.19.
BenQ also unveiled the new CH100, the first portable LED projector specially designed for web designers, graphic artists and all visionary storytellers. That's because it delivers accurate picture quality with 100-percent sRGB color fidelity and full HD 1080p resolution, displaying colors the way they are meant to be seen. Its high-contrast performance is enhanced by five picture modes— sRGB, Motion Graphics, Lectures, Vivid Color and Cinema settings — making the CH100 equally adept in a variety of presentation environments and business applications.
Outputting 1,000 lumens and up to 20,000 hours of operation, the CH100 delivers "long-lasting colors that won't degrade or fade over time."
This message of color accuracy is one that BenQ has been stressing for some time and it was emphasized again this year. The company had been trying to use the HK effect to pitch a higher lumen value to customer, but this was not well received so they have dropped that messaging.
BenQ also introduced InstaShow – a ClickShare 'knock off' that uses a USB cable for power and the HDMI connect for signal. Barco's ClickShare only uses on USB port – even to send video so this is more clever than it appears. – CC