The UHD Alliance was at IBC to explain what it is up to. First, we heard that the UHD Forum had released new guidelines for compatibility just before IFA (UltraHD Forum Updates its Phase 1 Guidelines). The group told us that it has new members in the EBU, the Fraunhofer IIS and Intel. There are now a good number of premium TV sets and content is starting to come through. 34 titles have so far been certified and a further 29 have been created and submitted, but not yet certified, so that will mean 63 titles before long.
The group is keeping an eye on the developments in HDR, with HLG becoming more discussed, especially after the release of BT.2100. The group may consider adding support for the technology if it is adopted by the EBU/DVB or by ATSC so that certified broadcast may be possible, as, at the moment, the requirement for distribution is that the SMPTE ST2084 EOTF (PQ) is used for premium content. There might be news on developments by the time of NAB next year. There are also on-going discussions about how to develop a certification scheme for mobile devices as more than 50% of CE dollars are now going to mobile devices and services. Companies including Verizon are involved in those talks.
We reported on Vidity, which is a download platform for digital content in our CES report and there is discussion in the Alliance about how that content can be certified, as Blu-ray content currently is.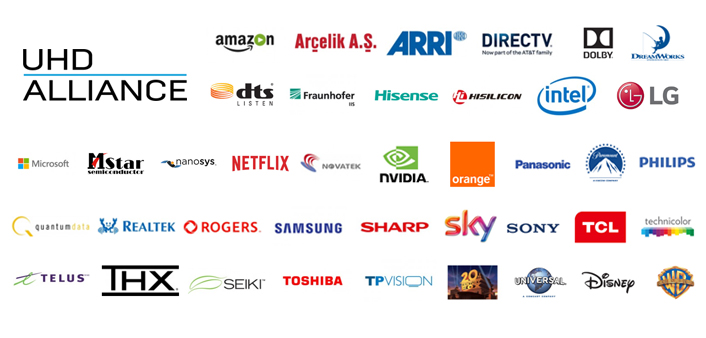 Blu-ray is Developing Well
Both the UltraHD Association delegates that we spoke to are also heavily involved with Blu-ray. There are now seven announced players that support UltraHD with the Samsung, two from Panasonic, one from Funai and three versions of the X-Box (and we have reported on one from Oppo (Oppo to Join Sony, Samsung & Panasonic). There are expected to be 100 disks available by the end of this year, from the 63 now.
UltraHD Blu-ray sales are going well in the US, with 10 times the number being sold compared to the first year of the first Blu-ray players. We were told that there have been 7.9 disks per player sold so far (although judging by the reported sales from the CTA, recently, most of those titles may well be regular Blu-ray rather than UltraHD). Sales of disks may have been helped by the decision of most disk sellers to include not only an UltraHD disk, but also a standard Blu-ray disk and also rights to access the content digitally. That means that consumers can buy the disks now, even if they haven't yet got access to a full UltraHD playback system. Fandangonow is an online service that allows UltraHD content to be streamed and it has 40 UltraHD titles. (it seems to be only available in the US on Roku 4 and on LG & Samsung smart TVs – Man. Ed.)
There have also been good developments in the technology and triple layer disks are now available with 100GB of capacity.
We commented that we had been surprised that the latest Sony PlayStation Players don't support UHD Blu-ray playback, given the decision to support that feature on the X Box. It seems that this may be just a question of timing.
Analyst Comment
The UHD Alliance still hasn't published its technical requirements, beyond the top level. For example, there has been a lot of controversy over resolution, with the developments in sub-pixel addressing, so some of us would like to understand what is meant by resolution in the requirements. The Alliance believes that releasing its specification would lead to unnecessary argument over the details, as it is basically intended as a simple consumer label. My view is that getting independent technical commentators to be confident in the label would add to the trust that will eventually accrue. The Alliance takes the view that the list of big names involved means that the the label must be right. Hmmmm…
We heard that the "ISO" definition for resolution is used and we wrote down a quotation "Pentile would not qualify". (BR)