4K – After Aldo Cugnini incisively dissected the question of what the 4K in 4K-TV actually means, you may have thought Display Daily was done with UHD-TV articles – at least for this week.
Sorry. No such luck. UHD-TV remains in the news, in part because it is becoming mainstream much more quickly than most analysts imagined it would. The reason, not surprisingly, is that the price of at least some UHD-TV sets has gone from stratospheric to bargain-basement in less than two years.
Seiki, the Chinese company with the Japanese name that started the price dive, currently has its model SE39UY04 39″ UltraHD set on sale at Walmart.com for $339 (plus tax) with free shipping.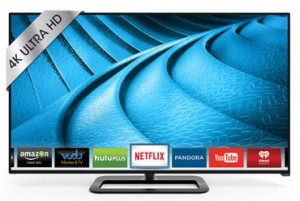 If you think that 8 million pixels on a 39″ screen is overdoing things, you have many other affordable choices. Vizio has fulfilled the promise it made last January at CES. It is selling a 50″ UHD-TV with 240Hz refresh and 5 HDMI inputs at Costco.com for $999.99, and Costco throws in free shipping. Vizio's 60″ ($1649.99) and 70″ ($2449.99) sets are both out of stock at Costco.com as of yesterday. The 55″ is on sale for $1299.99.
Costco also has a sale on the Hisense 65H8CG, a 65″, "Class 4K," 120Hz Smart UHD-TV. Sale price is $1299.97 with free shipping.
Even the Tier-One brands have some UHD-TV sets at less than eye-watering prices. Samsung's 55″ model UN55HU7200FXZA is smart and curved, and on sale at Costco.com for $1679.99. (Note: TVs sold at Costco sometimes have unique model numbers to spare conventional retailers the embarrassment of having their prices compared directly with those at a warehouse store.)
Costco is also knocking $600 off the price of an LG 65″ to sell it at $2699.99, which is more in line with comparable Samsung sets. The Samsung 75″ is a tad under $6000, which would have seemed unbelievable last year.
And if "almost 4K" is enough for you, Best Buy has a 60″ Sharp Aquos Q+ with 240Hz refresh on sale for $1399.99 ($1099.97 for a refurbished unit). Delivery is free.
Okay, so prices are going down. What's the result?
The Yonhap News Agency reports that LG Display shipped 674,000 UHD-TV panels in September, up 24.8% over August. LG is developing low-priced panels for the Chinese market, Yonhap says, and high-end products for the rest of us.
And the Chinese are enthusiastic about UHD-TV. From the Mid-Autumn Festival (September 8th this year) to October 1, market penetration of UHD-TV was 27.3%, up 23% over the same period last year. (Incidentally, 1000 AMOLED sets were sold during the period, mostly by LG, up from 200 last year.)
Strategy Analytics says global UHD-TV penetration will be just 4% this year, but will rise to 41% in 2020. (And 33% of North American households will have a UHD set.) TrendForce puts this year's number at 6% or more, for total shipments of 14 million sets. Which brands account for the largest shipments? Skyworth, Changhong and Hisense.
So, despite the persistent nay-sayers (who should give up now), large-screen UHD-TV is coming to a living room near you. – Ken Werner