TVLogic had four of its (relatively) new monitors on display at NAB-NY: the 7" F-7H, the 17" LVM 171S, the 24" LUM-240G and the 31" LUM-310R. "New," to TVLogic and most other vendors at NAB-NY, meant introduced this year, mostly at either NAB or IBC. They did not introduce any new monitors at NAB-NY.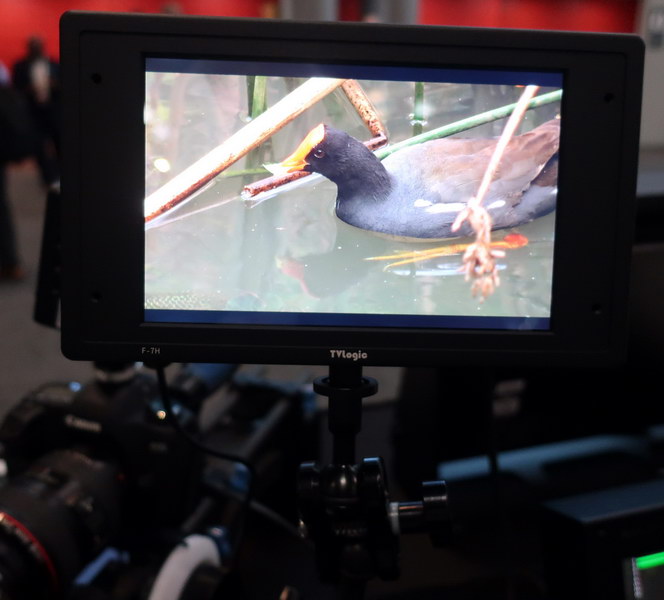 The TVLogic F-7H with 3600 nits is intended for on-camera use and can be used in bright outdoor locations. (Credit: M. Brennesholtz)
The F-7H is an on-camera viewfinder monitor for field use, with a brightness of up to 3600 cd/m² and with full HD resolution (1920 x 1080). While it is not an HDR monitor, it has HDR emulation modes for PQ, HGL and S-Log3 signals. It also has full SDI ↔ HDMI cross conversion, with both SDI and HDMI inputs and outputs. TVLogic had previously shown the F-7H at IBC.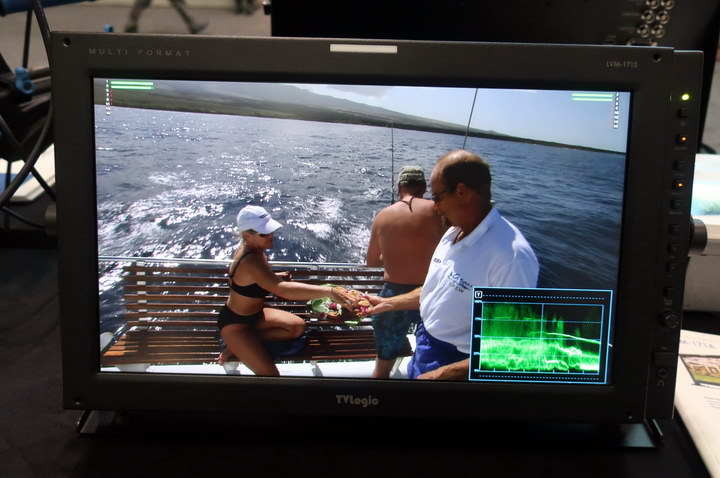 TVLogic's LVM-171S Quality Control Monitor. (Credit: M. Brennesholtz)
The 17" LVM-171S, previously shown at NAB, is described by TV logic as a "Quality Control Monitor" and is not intended as an editing or color grading monitor. This full HD (1920 x 1080) monitor has 450 cd/m² and the uses a 10 bit, wide color gamut, wide viewing angle IPS panel that provides 1500:1 contrast. The color gamut is said to be 99% of DCI-P3. Inputs include 1xDVI-I, 1xHDMI, 3xBNC for Analog (?!) and 2x3G-SDI for A/B comparison.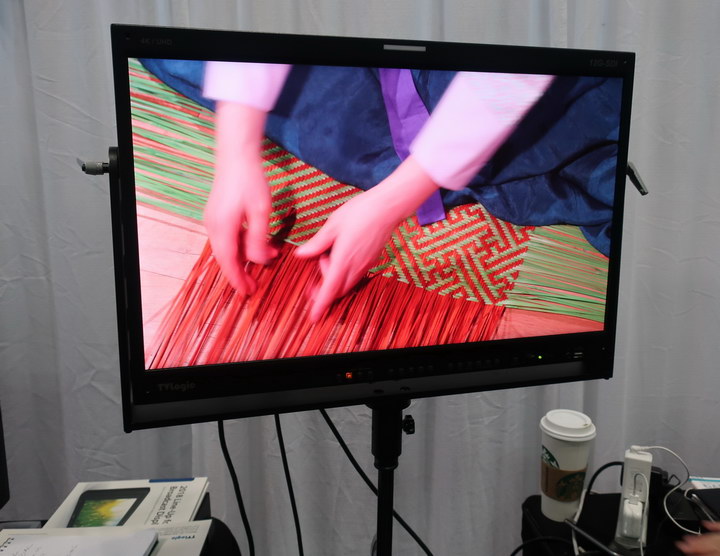 The TVLogic LUM-240G was mounted on a stand at NAB-NY, corresponding to how it would normally be used in a studio. (Credit: M. Brennesholtz)
The 24" LUM-240G is mostly intended for in-studio use as a monitor to allow the director and others on the set to see the image being recorded and was shown mounted on a stand at NAB-NY, the way it would normally be for that application. It has 4K-UHD resolution (3840 x 2160), a color gamut up to DCI-P3, 1:1 pixel mapping for SD, HD and UHD inputs, 10 bit color depth, HDR emulation, 350 nits brightness and 1000:1 contrast. The 4xBNC inputs support dual 12G-SDI for A/B comparison and up to 4x3G-SDI signals. The HDMI input also supports 4K/UHD signals. There are four BNC outputs to support 12G-SDI or 3G-SDI loop-through.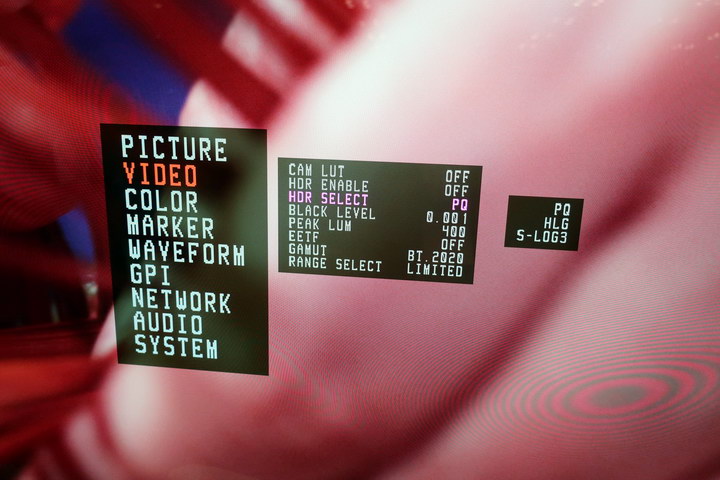 HDR Selection menu on the TVLogic LUM-310R color grading monitor (Credit: M. Brennesholtz)
The 31" LUM-310R is a true 4K (4096 x 2160) color grading monitor and was shown previously at NAB. It has true HDR with 10bit color depth, 2000+ LED backlight dimming zones, 2000 nit peak brightness, peak contrast of 1,000,000:1 and support for PQ, HLG and S Log3 EOTFs. Inputs include 12G SDI, multiple other SDI formats over 4xBNC connectors and 4K HDMI.
While SMPTE 2110 Media over IP technology has been approved and is available from some vendors, None of these new TVLogic have a ST 2110 Ethernet port. Nor do they have Ethernet ports that support the older SMPTE ST 2022, the SDI-over-IP standard. All of them depend on traditional video interfaces like SDI and HDMI. Maybe next year's NAB. –Matthew Brennesholtz