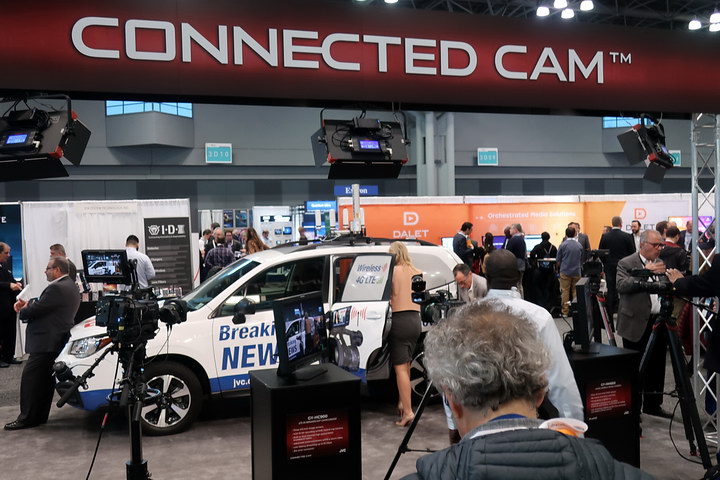 The JVCKenwood Connected Cam display took up a large portion of the JVC booth at NAB-NY. (Credit: M. Brennesholtz)
One new product introduced at NAB-NY were the new members of JVCKenwood Connected Camera series. These cameras are designed to stream video over IP (Internet Protocol) from the camera to the destination, whether that is a monitor, a recorder or a live stream to the end-viewer. This streaming over IP uses the existing SMPTE ST 2022 protocol, which is essentially SDI over IP, and not the recently approved SMPTE ST 2110 protocol, which does not use SDI encoding and is more flexible than ST 2022.
The new 500 series of 4K cameras, which use a single 1.0" sensors, was introduced at NAB-NY to complement the existing 3-chip FHD GY-HC900 Connected Cam (MSRP: $13,950 without lens), which uses three 2/3" sensors. The GY-HC900 was launched earlier this year at NAB and received "Best of NAB" awards from several analysts. Three chip cameras are preferred (if you can afford one) for many field applications such as ENG (electronic news gathering) and sports events because of the greater depth of field of a three-chip camera compared to an equivalent single-chip camera. For ENG, for example, the newsman in the foreground and the event in the background can both be in focus with a three chip camera.
JVC's Connected Cam Ecosystem (Credit: JVCKenwood)
The Connected Cam series and related products are intended to unify all communications between field production and the studio using IP, including both the video to the studio and return video from the studio to the field. This IP can be via Wi-Fi, LAN or 4G-LTE service. Like SMPTE ST 2110, the ST 2022 standard for SDI via IP requires a managed network and does not work properly over the public Internet.
There are three cameras in the 500 series of Connected Cams, the GY-HC500 ($3,900 MSRP), the GY-HC500SPC ($4,400) and the GY-HC550 ($5,500). These lower-cost cameras are intended for use at events that do not justify a large crew with multiple cameras and a production truck. The 500-series cameras are all expected to ship in January 2019. These prices include an integrated 20:1 zoom lens. When shooting in HD with these 4K cameras, lossless 40x dynamic zoom is possible. The cameras can achieve up to 12 stops of dynamic range with high sensitivity and low noise. The can can record HDR footage in the HLG (hybrid log gamma) mode or 10-bit J-Log mode. The cameras can record 60Hz UHD or 120Hz FHD content.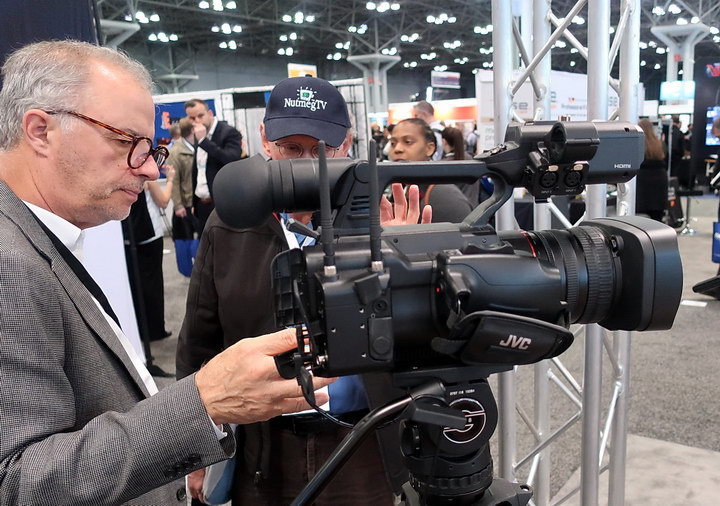 Nutmeg Public Access Television employee examining a JVC GY-HC550 Connected Cam at NAB-NY. This is the sort of small facility targeted by the 500 series. (Credit: M. Brennesholtz)
The HC500SPC is designed especially for sports applications, including coaches recording a game or practice or single-camera/single operator coverage of local sports. This unit can add logos and other content to the image, such as scoreboard data. This data can come from a properly equipped scoreboard, from a tablet connected to the camera via a USB connection or uploaded via IP from a remote location. The HC550 has the features of the HC500SPC plus it includes dual external antennas with built-in wireless LAN, integrated GPS, and Zixi error correction with automatic repeat request (ARQ). The GY-HC550 also adds MPEG-2 and MXF recording to the variety of HD and UHD formats supported by the HC500 and HC500SPC. –Matthew Brennesholtz