Professional monitor maker TVLogic, a wholly owned subsidiary of Seven Star Works Co., Ltd., unveiled a total of 10 new models at NAB including four aimed at 3/6/12G UltraHD workflows in broadcast, production, post-production, and multi-viewer monitoring segments.
The four 10-bit 12G-ready UltraHD models will come in 17", 24", 42" and 55" sizes. The 17: and 24" will ship in May for $4600 and $8300 while the other two were prototypes that are expected to ship later this year. Pricing on the 42" is TBD but the 55" is priced at $9000. These join a 31" DCI 4K model launched in 2015. Connectivity includes one 12G SDI, one 6G SDI and four 3G SDI ports, plus an HDMI 2.0 connector.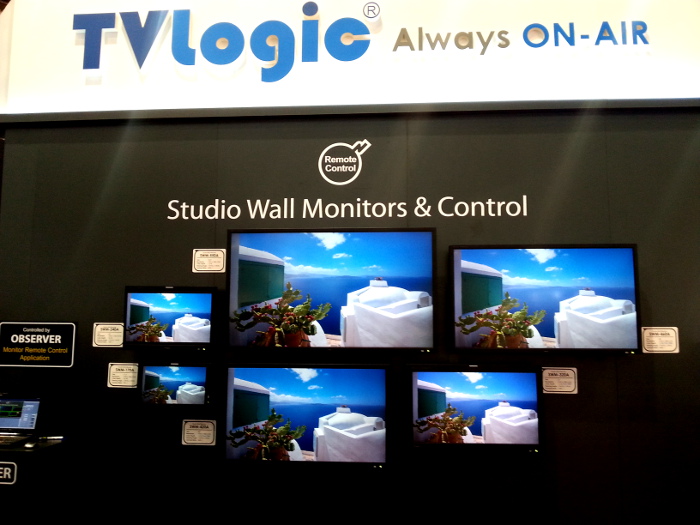 The 17" and 24" models support Rec 709 and P3 color gamuts while the 42" and 55" are only Rec 709 capable.
These models do NOT include HDR support, although booth personnel said they were working on solutions now.
In addition, the company launched three new 1920×1080 10-bit 17" broadcast and color-critical models, two new 7" field and on-board monitors, and a new 5×3.5" rack monitor.
TVLogic also announced a new partnership with Colorimetry Research Inc. (CRI), a provider of color measurement devices, to facilitate more accurate color reproduction for their broadcast monitors and calibration service for customers. After six months of testing, the company has elected to standardize on CRIs state-of-the-art colorimeters and spectroradiometers for product development and to maintain colorimetry throughout the working life of its monitor products.
TVLogic will distribute CR series color measurement devices through its sales channel and will continue to collaborate with CRI to further improve and enhance the color calibration experience for customers. -CC