Thinklogical (Milford, CT) has been a higher end provider of KVM, switching and extension solutions for a variety of industries where low latency and high fidelity are important parameters. Now it has responded to the market need to distribute uncompressed high quality (4:4:4, 60 fps) 4K video using a newly developed solution. This solution is a new multiplexing scheme that uses one or two 10 Gbps ports to deliver the uncompressed video plus, USB 2.0, keyboard, mouse, audio, serial and stereo elements using only two fiber optic cables or CATx cables. The solution was on display at ISE.
A DCI-4K (4096×2160) video with 4:4:4, 10-bits per color and 60 fps requires nearly 16 Gbps! Therefore, any scheme that uses only 10 Gbps channels will have to either compress this signal or reduce the fidelity. That is why two 10 Gbps paths are used, but multiplexed with signal management.
Thinklogical's current switching and extension products use a 6.25 Gbps transceiver and a single, multiplexed stream approach. The basis of this innovation is U.S. patent 8,880,928 and European Union patent EP2274679 that describes what it calls its Multi-rate Transmission (MRTS) technology. The newest approach increases the bandwidth to 10 Gbps and allows the multiplexing over signal over two paths. The technology is patent pending, but will be incorporated into a series of products called TLX.
Think of TLX as an alternative concept to HDBaseT which has its own way to multiplex video, power, control, Ethernet and audio onto a CAT cable. With TLX, the multiplexed elements are different to reflect the needs of the customers that the company typically serves. This includes mission-critical, video-rich applications in defense and intelligence, broadcast and post-production, oil and gas, energy management, air traffic control, simulation and visualization, rental and staging, and other markets with advanced customer requirements. Unlike HDBaseT, Thinklogical can use one or two cables and these can be fiberoptic (single or multi-mode) and/or CATx cable.
Thinklogical MRTS 6.25 Gbps Multiplexing Scheme over a Single Fiber Optic Cable
TLX allows the transmission of these signals up to 50 miles using single-mode fiber or 100m using CAT 6A cable. In addition, it does so with very low latency (microseconds). Any scheme that uses compression for the video is going to add some latency (milliseconds) which may not be acceptable for mission-critical applications. The company also says the solution has no visual artifacts, jitter or lost frames.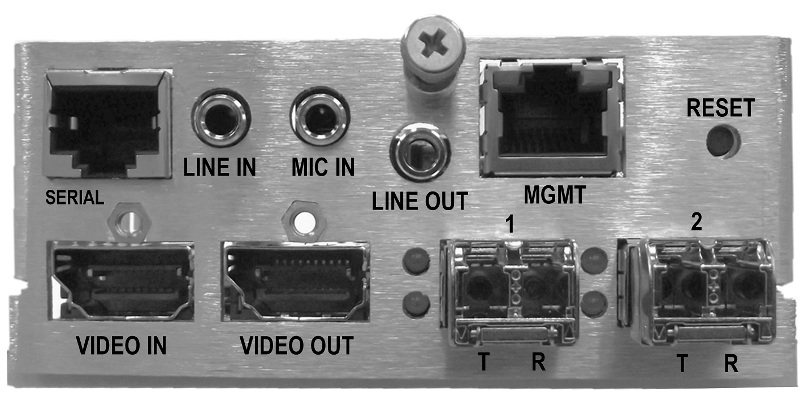 The TLX series can support the following configurations (and others) with either extenders or switchers:
A single display up to 4096×2160 @ 30Hz with full 4:4:4 color depth, over a single fiber or CATx cable (or dual displays up to 1920×1200 @ 60Hz with full 4:4:4 color depth)
A single display up to 4096×2160 @ 60Hz with full 4:4:4 color depth, over two fibers or CATx cables (or dual displays up to 4096×2160 @ 30Hz with full 4:4:4 color depth)
Dual displays up to 4096×2160 @ 60Hz with full 4:4:4 color depth, over four fibers or CATx cables
The company's TLX matrix switchers can be configured with 16 to 640 non-blocking, protocol-agnostic ports, each with 10 Gbps capability.
Both the matrix switcher and extender products also incorporate a novel new connector that can be used on the input and output side. Since most non-broadcast content sources output over HDMI or DisplayPort, Thinklogical created a connector that can accept either HDMI or DisplayPort. That makes it easy to use either one, or make upgrades later without having to swap out hardware.

Analyst Comment
New methods of multiplexing and/or compressing multiple elements are emerging to fit the specific needs of vertical industries or users. Thinklogical's approach is aimed at very high fidelity AV plus keyboard and mouse needs. HDBaseT seems aimed squared at mainstream ProAV and in-home applications where power delivery is prized. And, we have just learned of Sony's Networked Media Interface which provides for the distribution of 4K video, audio, reference, metadata and control over an 10 Gbps IP-based CATx or fiber networks, but adds light compression to the mix. This looks aimed at broadcast and post production. These are very interesting and novel ways to push more down the pipe. Where will it all go? – CC

---