Starting a number of years ago, but accelerating after a report about the dirt and bacteria (and worse!) on touchscreens in McDonalds fast food outlets (Synchronicity In the Dirt), there has been an increasing interest in 'touchless touch'.

I've written about this before (most recently Touch or Touchless Touch?) and so when I saw that the US in December, there was a "Self-Service Innovation Summit". I missed it at the time, but one of the advantages of virtual events is that they are on line still, so I was able to catch up with a particular session that was titled "State-Of-The-Art Touchless Options for Kiosks and Vending", so I thought I'd listen to the experts. It was an interesting talk, but I was partly relieved that I didn't hear anything that I hadn't heard somewhere else.
The session was led by Elliot Maras, Editor of "Kiosk Marketplace & Vending Times" and featured:
Saurabh Gupta | Director of Product, Out of Home | Ultraleap
Woody Kassin | CEO | Capital Provisions
Jim Kruper | President & Co-Founder | KioWare Kiosk System Software
Lawrence Lerner | Head of Product | Avanti Markets
Each introduced their firms. We have reported a number of times on Ultraleap over the years (on that firm and on the two firms that combined to create it, Motion Leap which developed hand recognition and Ultrahaptics which developed touchless haptics based on ultrasound). Saurabh Gupta from the firm set out the reason for the discussion.
"80% of people now think public touchscreens are unhygienic"
The firm has developed a solution using both recognition for control by gestures and feedback in mid-air that can work on top of existing user interfaces and includes tuition for users.
The next speaker was Jim Kruper of Kioware, a firm that specialises in kiosk software that has developed a new web-based service that can connect a smartphone to an existing kiosk allowing the user to control the kiosk using their own device as a touch surface. The connection is made using a QR code on the kiosk. He showed a video of the system in action.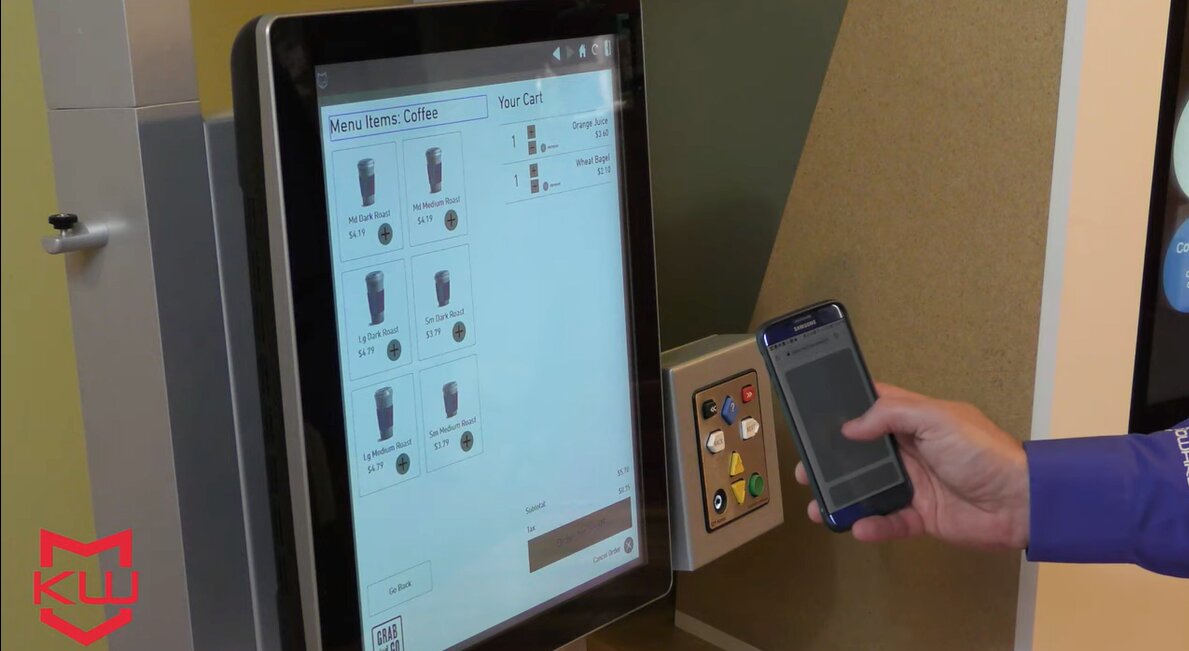 Woody Kassin is CEO of Capital Provisions, an operator of vending operations, rather than a technology developer. The company operates kiosks and micromarkets in Southern California. He said that touchless operation and cleanliness of facilities has become very important. His firm has found that around 85% of its existing operations can be converted to touchless operations. Some facilities are likely to be used only occasionally, such as in transport areas. In those places, systems have to be very simple. However, where a system may see a degree of repeat business, then users are happier to download an app or learn how to use the system.
Laurence Lerner explained that Avanti Markets operates kiosks and lockers as well as self checkout micromarkets and unattended retail operations. The firm has gradually been introducing touchlesss features and he distinguished between touchless choice and touchless payment. Around 70% of transactions use some kind of credit card and the use of cash is declining, with stored value cards and mobile payments increasing. In lockers, the firm is already at 100% of no-touch for payments.
Lerner gave the example of ATMs. When first introduced, users were very sceptical about using an ATM, but now local bank branches have been closed in many places. Later in the discussion it was agreed that within five years you could get to 90% or 95% cashless operations, but that 100% would be extremely difficult. At the moment there doesn't seem to be a trend to mandate the acceptance of cash.
Kruper said that touchless operation has to go beyond just dealing with sanitation issues and needs to make the whole operation quicker and easier. The verticals that are going touchless and automated are retail and food service. Up-selling is a key part of food service and touchless doesn't really change the opportunities for that. The technology sits on top of the existing application.
Gupta echoed the comments by Kassin that transient use cases can need different solutions. She also said that the concern about hygiene pre-date Covid and the firm conducted a 500 consumer research project in the UK and US to come up with the number that 82% of users would prefer touchless options (based on mobile, voice and gesture).
Lerner gave the example of Uber as a service where the whole transaction from booking to payment is all done on a mobile device and with no contact with the service provider. Again, sometimes you need to consider the point of sale and the point of payment as potentially different.
In a discussion on different input methods such as voice, it was revealed that 50% of millenials search using voice with services such as Google Assistant. The use of voice can be very useful for maps and guidance systems. (here, I'll mention, again, the opinion I have heard from remote control and interface designer, Ruwido, that voice only really works if you know what you are looking for, not for browsing).
Kruper said that he thought that gesture and voice will come together and Gupta highlighted that it is critical that the industry 'stitches together the different technologies'. Standards could be important, especially when you get to facial recognition, Lerner said, although in the US, legislation could be five years away. The privacy issues of facial also apply to all biometric identity systems.
Gupta said that one of the keys to handling privacy and security issues is to avoid storing personal or identifiable data and to do computing locally.
There was some discussion of video and chat. At the moment, limited bandwidth to support video might be an issue although 5G might be a solution for that. Live chat could be introduced, but Gupta said that its use depends on the retailers omnichannel model and decisions on how each interaction should take place. Chatbots are getting more intelligent and that could be helpful.
Finally, there was a brief discussion about accessibility. Kruper said that moving the interaction to a smartphone could be helpful for those with difficulties, but the reality is that the kiosk needs to be accessible anyway.
In another of those 'syncronicity' moments, I noticed that Intel has launched Touchless Control Software (TCS) for converting an existing kiosk or digital signage for touchless operation using a RealSense Depth Camera D435 which can support landscape or portrait operation from 11″ to 32″.