At the SMPTE 2016 exhibition in Hollywood, the Teledyne LeCroy exhibit featured a preview of the forthcoming HDR Test Option "HDR Lab" for the 980 test platform. Aimed at HDR device manufacturers and post-production, Teledyne LeCroy has worked together with industry experts Florian Friedrich and Joe Kane to develop this new test option.
Teledyne LeCroy's HDR Lab is an optional package that includes HDR test patterns and selected HDR still picture reference images from motion picture material. But almost as important, is an innovation that provides the ability to change the format parameters and metadata of the video signal.
One of the 980´s main advantages is that it can run dedicated workflows including pass/fail tests, thus reducing valuable engineering time when QC tests are performed. Usng the HDR Lab option and a dedicated workflow, users can take the guesswork out of HDR, claims Teledyne LeCroy.
Among other use cases, the HDR Test Option will allow to test for:
Correct transmission and processing of HDR Metadata (all HDMI devices in a signal chain)
Tone mapping behavior of the display device
Color decoding issues of the display device or any video processor in the chain
Signal level distortions of sources, video processors, HDMI distribution devices and more
Peak brightness of the display device
Native contrast of the display device
ABL (average brightness level) stability of the display device
Signal clipping (all HDMI devices in a signal chain)
Wide color gamut representation of the display device
HDR Lab was demonstrated with a Samsung SUHD TV (LCD TV with HDR and more than 1000 cd/m² peak brightness) and also included some of Florian Friedrich's test patterns from the Samsung HDR Reference Disc 2016. Some of the patterns will be available in additional formats (such as Ultra HD Blu-ray and uncompressed files for post-production) so various devices and production workflows can be compared to the reference generator.
Friedrich, who provided demonstrations at Teledyne LeCroy's SMPTE exhibit, says, "This is the end of the uncertainty in the HDR ecosystem. The 980 with the HDR Lab option will allow anyone to evaluate what's going on in the HDR video world. Comparing devices and workflows to a reference source is a critical milestone in achieving the highest quality possible. The 980 HDR Lab option adds significant value for professionals due to the 980's full control over the metadata and superior control of signal outputs, as compared to consumer devices."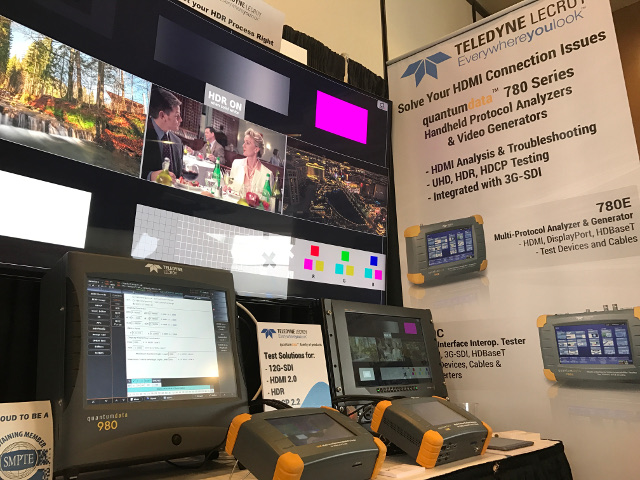 Many existing 980 devices can be upgraded to support HDR Lab. There are many options for this test platform, so you need to contact Teledyne LeCroy for price and availability. – CC